By Newslineglobal
Israel's Prime Minister, Benjamin Netanyahu, has said Israel is embarking on a 'long and difficult war' with Hamas, vowing that their hideouts will be turned to 'rubble'.
He spoke after a surprise attack by Palestinian militants from the blockaded Gaza Strip Saturday, which led to hundreds of deaths, the seizure of dozens of Israeli hostages, and sparked fears of a regional escalation.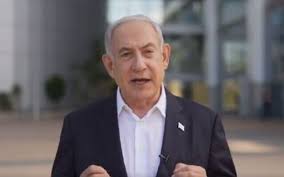 Netanyahu
On Sunday morning, as Israelis struggled to comprehend the scale of the attack the day before, the possibility of a ground invasion into Gaza and wider conflagration with Hezbollah in Lebanon loomed large.
The Iranian-backed armed group, Hezbollah, said it had fired rockets and artillery into northern Israel "in solidarity" with the Palestinian people.
The Palestinian ministry of health, said at least, 256 Palestinians in Gaza have been killed as a result of Israeli airstrikes and shelling. He said that with that number expected to rise amid electricity and communications cuts as well .