Chicago State University (CSU) has released at least 32 documents relating to the academic records of Nigeria's President, Bola Tinubu and other students of the institution to Nigeria's former Vice President, Atiku Abubakar's lawyers as ordered by a United States court.
The academic records include certificates of a number of other students as requested by Atiku so that the lawyers could fish out alleged discrepancies.
Chicago university released the documents to Atiku on Monday in compliance with the order of a US District Court in Northern District of Illinois.
President Tinubu had lost his emergency appeal to the United States District Court for the Northern District of Illinois in Chicago to stop Chicago State University from releasing his academic records to Atiku.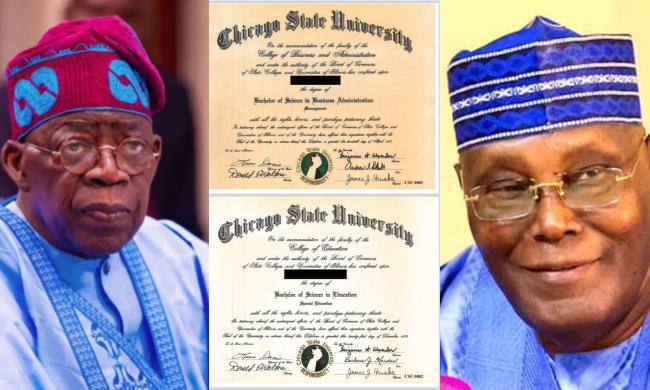 In her ruling on Tinubu's emergency application in case No. 23 CV 05099, Judge Nancy L. Maldonado overruled "President Tinubu's objections to Magistrate Judge Gilbert's recommended ruling, and therefore adopts the ruling in full".
Tinubu appealed against the ruling of Judge Jeffrey T. Gilbert, sitting at the United States' District Court of Northern Illinois which ordered the university to release all relevant records pertaining to him to Atiku.
Atiku Abubakar's lawyers were studying the documents obtained from the university and could make them public later in the day.
In response to Abubakar's third request — which was to release a copy of the diplomas issued in 1997 — the university said the certificates match the format of the Tinubu replacement dated June 27, 1997.
Several samples of diplomas (certificates) awarded in 1979 to other students were released by the university as demanded by Abubakar
CSU v Abubakar -Document -Production -10-02-23.pdf
Tinubu had previously claimed to have lost his original certificates but presented a replacement for his CSU diploma to the Independent National Electoral Commission (INEC) for the 2023 presidential election.
Atiku intends to use the CSU academic record in pursuit of his appeal at the Supreme Court where he is challenging Tinubu's victory in the February 25 presidential election.
But Tinubu's legal team has argued that the documents would be of no use at the Supreme Court