Operatives of the Anti-Cultism Tactical Square of Enugu state Police Command have arrested eighteen (18) male suspected members of Black Axe Confraternity, hatching their plans to execute sinister activities to mark the group's 7/7 day celebration
The suspects were arrested between 6th and 7th July 2023 at different locations of the State.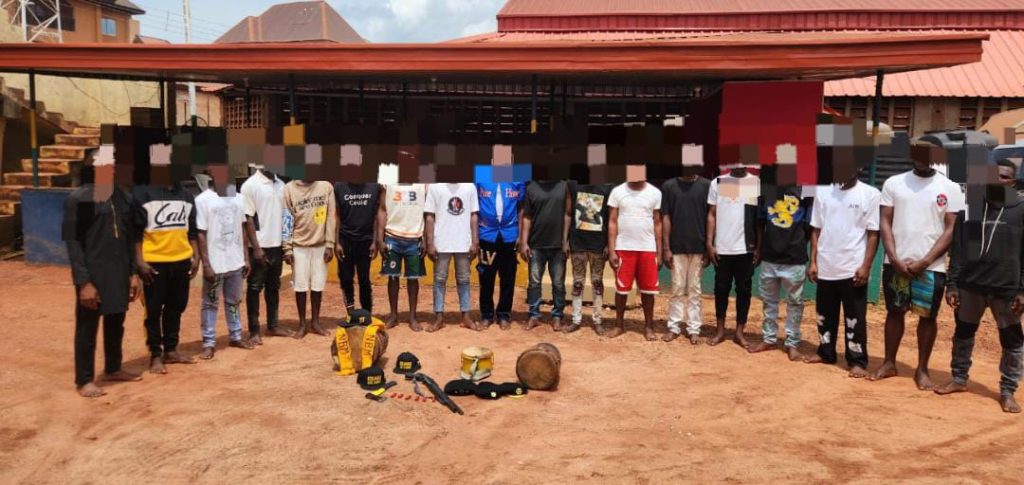 According to the statement issued by the Police public relations officer, DSP Daniel Ndukwe , on Monday,July 17, their arrest and recovery of some items were due to intelligence report, which operatives acted upon. The statement read in parts:
"Items recovered from them were one (1) Pump Action gun with six (6) live cartridges, one (1) Sharp battleaxe, three (3) Black berets (3) inscribed "Black Axe", three (3) black-yellow colour Face-caps inscribed "Ezeagu Sub Zone 7 7", a yellow in colour Muffler and three (3) Drums.
"Among those arrested is one Nweke Chukwuemeka (a.k.a Anya-Oku) aged 22, identified as the Head of Kilimanjaro (KJ) Temple, which is the name for the Enugu State University of Science and Technology (ESUT) cluster of the secret cult group. Others include: Edeh Obinna aged 24, Nku Chinedu aged 20, Chukwu Ikenna aged 38, Eze Odinaka aged 21, Obiora Nnamani aged 29, Onu Nwangwu aged 26, Ugwu Alexander aged 25, Benjamin Edeh aged 25, Ugwu Valentine Kingsley aged 24 and Nwafor Chiemerie David aged 25. Also arrested is Ugochukwu Victor Ikwuakolam aged 28, Ugwu Dickson aged 25, Chidiobi Onyekachi aged 31, Calistus Uzoechi aged 34, Eziechina Ikechukwu aged 21, Onyebuchi Udeh aged 23 and Onyemaobi Chigozie aged 35", Ndukwe said..
The Command's Police public relations officer said that ,"ongoing investigation shows that suspects confessed to being members of Black Axe Confraternity and had unlawfully assembled in the locations of their arrest, to carry out illicit acts to mark the group's 7/7 day celebration. Some of the suspects were found to have been previously arrested and arraigned in court for similar criminal acts".
Ndukwe said that the suspects shall be arraigned in court once ongoing investigation is concluded.