A Philanthropist and Chief Executive Officer (CEO) of Atlas Oranto Petroleum Ltd., Prince Arthur Eze, has donated N100 million to an apex Igbo socio-cultural group, Ohanaeze Ndigbo.
This is contained in a statement by the National Publicity Secretary, Ohanaeze Ndigbo Worldwide, Dr Alex Ogbonnian in Monday in Enugu.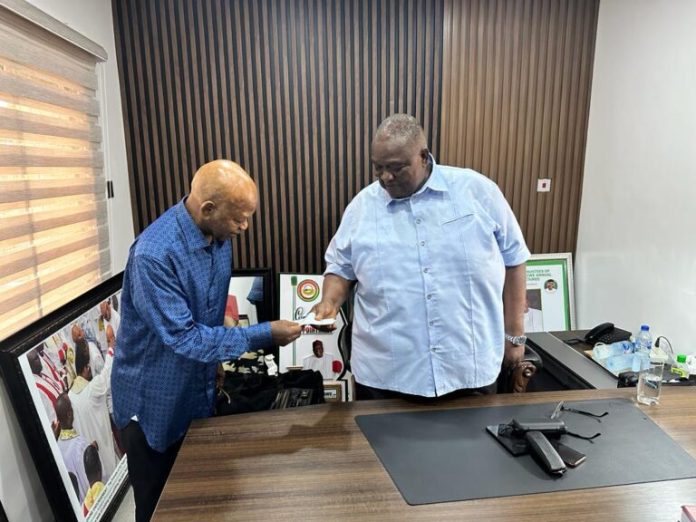 Pix- Prince Arthur Eze making the donation to Ohanaeze PG worldwide, Iwuanyanwu
gbonnia said Eze announced the donation while speaking to an assemblage of Ndigbo at Imo State Government Lodge, Asokoro, Abuja, on July 10, lamenting that Ohanaeze Ndigbo, led by Chief Emmanuel Iwuanyanwu, should be funding its activities from its pocket.He said Eze had stated that Iwuanyanwu had paid his dues to the Igbo in diverse ways beginning from the war times.
He added that Eze equally commended the development agenda as articulated by Iwuanyanwu on how the Igboland can be transformed, using the Igbo natural endowments and creative potentials.
Ogbonnia said the oil icon supported the vision of Iwuanyanwu on how he would lift Ohanaeze from its present habitat to a glorious and enviable pedestal, where it can command the followership and loyalty of all Igbo, both at home and in the diaspora.
"He pledged N100 million to the body which he redeemed when he visited Iwuanyanwu in his Abuja residence," Ogbonnia said.
Eze assured that he would continue to lend support to the Iwuanyanwu-led Ohanaeze Ndigbo.
Ogbonnia said receiving the money, Iwuanyanwu was very delighted with Arthur Eze, whom he qualified as a trail blazer; a worthy Igbo son who was always actuated by a deep sense of empathy, affection and an over-flowing kindness.
Similarly, Ogbonnia said that a good spirited businessman, had also donated a set of seats to Ohanaeze Ndigbo National Secretariat while another prominent Igbo son provided a space to Ohanaeze when they were in Lagos on a visit to the Alaba tragedy and many others.
He explained that the former Governor of Imo State, Senator Rochas Okorocha, started a gigantic project at the Ohanaeze Secretariat, adding that the list of all the benefactors would be made public at an appropriate time.
"While we wait for the day of reckoning, Ohanaeze cannot withhold an immense gratitude to Governor Hope Uzodimma for his relentless support to the organization.
"Iwuanyanwu added that while Uzodimma was in the Senate, he was the only Igbo senator amongst his colleagues that looked the way of Ohanaeze.
Author: Maureen Ikpeama