Realising their natural roles as home makers, and peace brokers, women group ," Nkata Ndi Inyom Igbo"( NNII)partners of Igbo apex socio-cultural group, Ohanaeze Ndi Igbo, Tuesday , held the third edition of it's annual conference, with a call for an official inclusion of women in peace talks and patnership with men in nation building.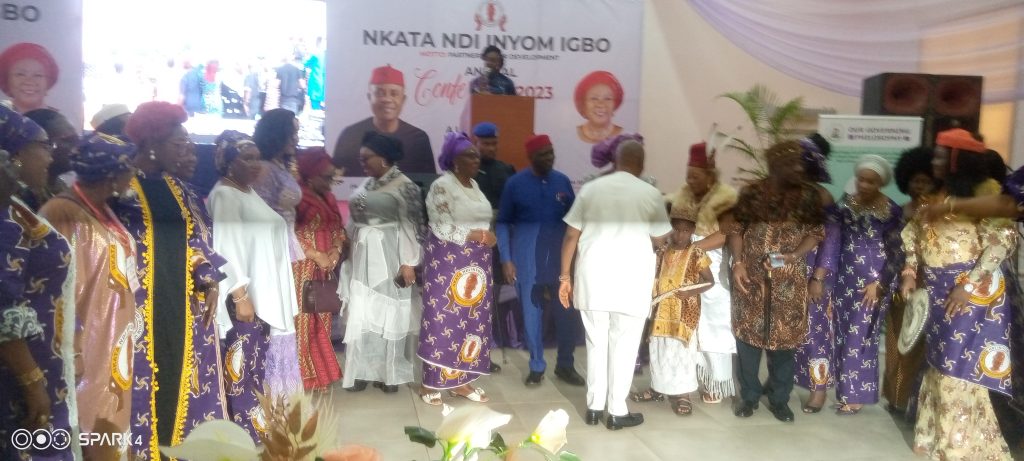 Deputy Gov Ossai in group pic
At the event held at old Government lodge, G.R A. Enugu, the women lamented the spate of insecurity , kidnapping, banditry, killings in the country, especially, in the South East, pointing out there was an urgent need to address the challenges .
Speaking at the event, the Governor of Enugu State, Dr. Peter Mbah, stressed the need for the inclusion of women in social development, peace and nation-building.
Represented by the Deputy Governor, Ifeanyi Ossai, Governor Mbah said women have been veritable tools for societal development and more partnerships with them on societal issues could bring progress.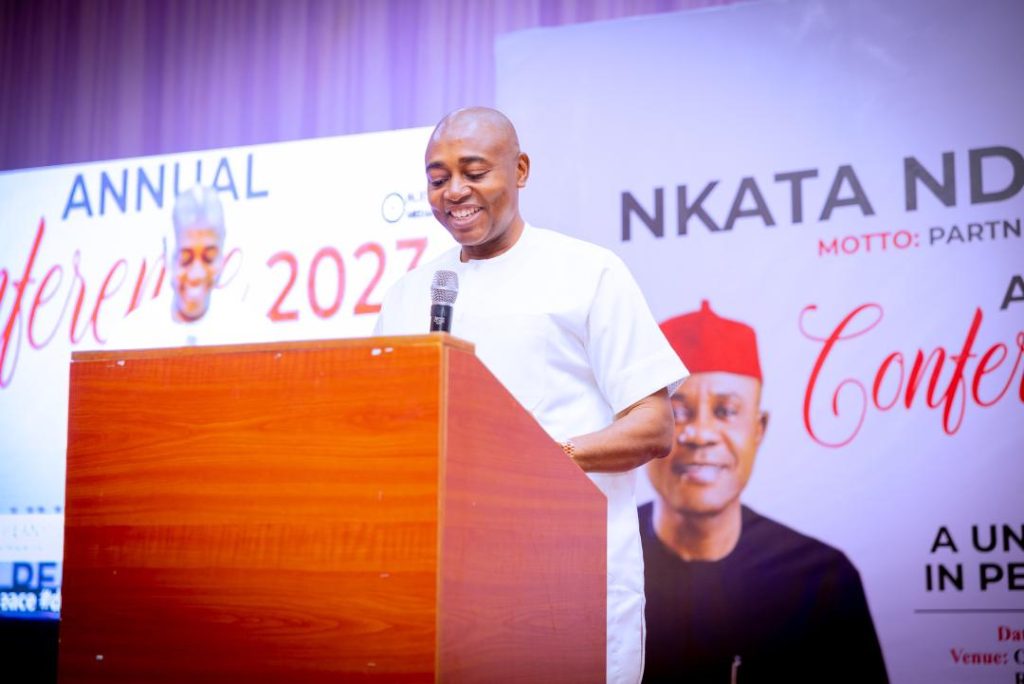 Deputy Gov Ossai
He pointed out that gone were the days when women were relegated to the backgrounds of societal affairs, subjugated and maltreated by their male counterparts.
Governor Mbah's said if prosteriy would forgive the forefathers for engaging in such act out of ignorance, the present generation would not be forgiven should they resort in such act.
"When we talk of the capacity and ability of women to build our community, local government, and the country, anyone who pretends that it is not true is only paying lip service to the reality that we all have to face. Most of the developments in the communities are the product of the women's August meetings. The initiative they took is what gave birth to some of those projects we see in our communities.
"The Aba Women Resistance as we have just learned is still ongoing even in government. It is still the women who come to the office, asking of things that are not personal to them; public schools, child vaccination, rural development, etc. So, women are those same people who call our attention to the vital things that we need to get our society functioning. They always have a way of dragging everyone back to their senses," the governor said.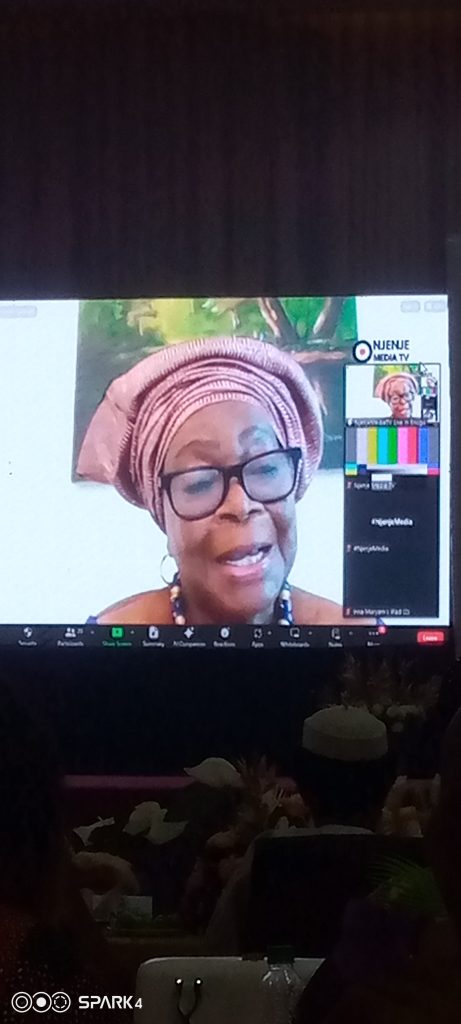 IAmadi Njoku
In a virtual speech, the Chairperson of the group's Board of Trustees, Regina Amadi-Njoku said that the need for the conversation is borne out of the fact there is a need for speedy healing of Igbo land, as no society developed without security, justice and peace.
According to her, women are the daughters, wives, and mothers that fuel the informal sector, yet they become the biggest victims of the dysfunctional formal sector where modern development seems to have excluded their input, assuring that the conference would enable them to rub minds, proffer solutions in unison as they harness the ideas of men and women.
"Women play undeniable roles in peacekeeping, arbitration, and the institutionalization of justice in communities in ways that douse tension and promote peace. This is possible because, unlike men, women are tripodal in nature, they are daughters, wives, and mothers and they never totally leave any of those roles. So, they work for peace on all fronts and circumstances," Amadi-Njoku said.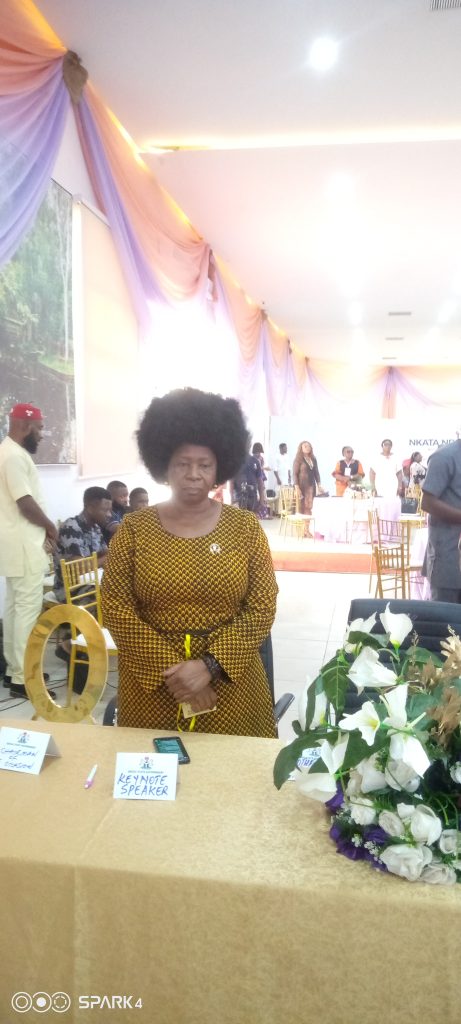 Eneh Obi
In a Keynote address, a human Rights activist ,Eneh Obi , speaking on the theme of the event, 'Women: Unifying Force in Peace building", stressed the need for women to come together, work for sustainabile development'.
She lamented killings in the South East , discrimination against women ,and gender violence Eneh Obi urged women to teach their male children, respect for the female children and stop violeting women.
She urged women to stand on the part of the truth " It is very important to first identify who you are. You need to stand for your children, stand for yourself . We need to get organised in cities. We need women. We need to.know what is happening Mothers should speak posetively to their children .There are networks to work with.We should be there for.
Iyom Anenih
Earlier in her welcome address, the Founder and President General of Nkata Ndi Inyom Igbo, Iyom Josephine Anenih, decried that things were getting deteriorated in Igbo land, as all that are seen on a daily basis are tears, sorrows, and blood, bemoaning that women are the greatest victims of the insecurity wreaking havoc in the Igbo land.
Anenih recalled that the Igbo children whom they saw as the hope for the future were all running away from home and those who remained were roaming the streets due to unemployment, while those in far away places who wanted to invest in their land were reluctant to come home because of insecurity.
"We have sadly looked on, but it is obvious we all need a team spirit for the wrongs to be righted. We must all look in the mirror to see what ails us and how we can partner for the progress of the third tripod in a Nigeria that seems to be at a crossroads, politically, economically, and socio-culturally. The South East needs the urgency of now to address the insecurity that has made the region lose billions if not trillions of naira for a region known for its industry and commerce," Mrs Anenih said.
In a chat, the public relations officer, Nnedinso Ogaziechi, , said Nkata ndi inyom is not about feminism , equalism. It is about looking back, seeing the roles of the women in the past and going back to our core values and history to realise that women as daughters, wives and mothers are the centre piece of peace talks in our communities.
She urged people to hold people in leadershio position accountable.
Some of the dignitaries who attended the event were the President General of Ohaneze Ndigbo, Chief Emmanuel Iwuanyanwu, who was represented by the National Publicity Secretary, Dr Alex Ogbonnia, former Minister of Power, Prof. Barth Nnaji; Amb. Bianca Ojukwu, Senator Grace Bent, a human Rights activist, Eneh Obi a host of other.
Author: Maureen Ikpeama