Israel is debating whether to use a "Leningrad approach" to starve out Hamas fighters in the Gaza Strip to avoid a ground invasion.
United States U.S. investigative journalist Seymour Hersh who disclosed that said that course of action may kill some 100,000 residents as well, Hersh said, citing an Israeli national security veteran.
"The big debate today … is whether to starve Hamas out or kill as many as 100,000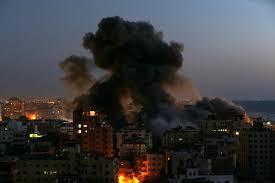 Hamas now only has a two or three-day supply of purified water and that, along with a lack of food … may be enough to flush all the Hamas (forces) out," he added.
On Monday, Israel announced a full blockade of Gaza, cutting off food, water, medicines, fuel, and electricity.
The situation in Gaza has already been dire due to round-the-clock airstrikes on civilian sites, including on mosques, hospitals, educational institutions, and residential buildings.
Hersh cited the source as saying that Hamas' forces are believed to primarily live underground so the Leningrad approach would avoid the potentially difficult and costly ground offensive that would involve building-by-building fighting.
and the country's military leadership have not been confident that their forces could handle a ground offensive in Gaza given that many have not trained for combat and are used primarily as security guards in the West Bank, the source said.
The Leningrad approach may also force Hamas' hand to release some Israeli women and children that it had taken hostage in exchange for supplies, the source said.
The situation is highly fluid and unpredictable, and Israel may decide to move forward with a general ground invasion, the source said.
Some 360,000 reservists have been undergoing crash training since being called up and Israel could decide on its military strategy by the end of the week, the source said..