As part of the measures put in place to to run an inclusive development and boost the economy of the state, Enugu state government has organised a Two-Day retreat for Local Government Chairmen, treasurers and Heads , planning research and statistics at the Nike Lake Resort ,Enugu, with a charge on participants to apply due process in their what they do inorder to get things right.
The state Governor, Dr. Peter Mbah who gave the charge, Friday October,13,said that following Due Process  involves keeping accurate records of activities carried out, and  doing things right . He noted that Due Process  enhances efficiency, and saves  people  from getting involved in corrupt practices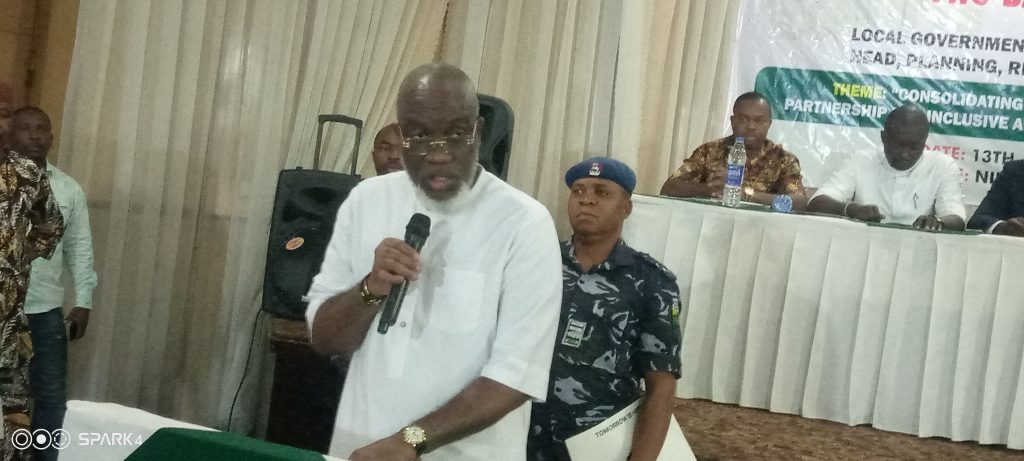 SSG, Prof Onyia
"He advised the chairmen to  ensure due process was followed running the day to day activities of their  local government, noting that failure to do that may lead them to jail after their tenure  "My prayer is none of you will go to jail after you left office". He advised treasurers to be careful and help the  chairmen to go through Due process especially in finance inorder to avoid getting into trouble and facing ICPC or EFCC .
Declaring the event opened, the Governor, who was represented by the Secretary to the state  Government, Professor Chidiebere Onyia, urged the chairmen to work together,align and show commitment at the retreat..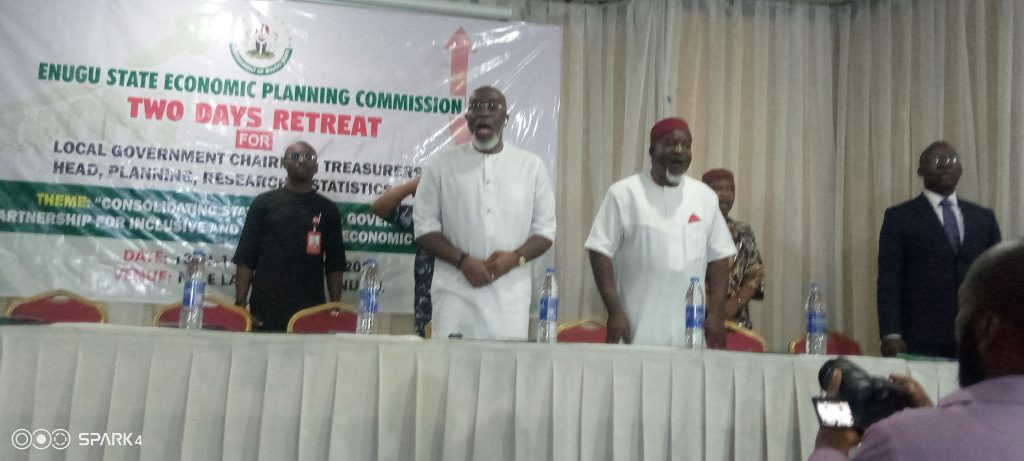 L-R Prof Onyia, Deacon Ogbodo, ALGON chairman Edeh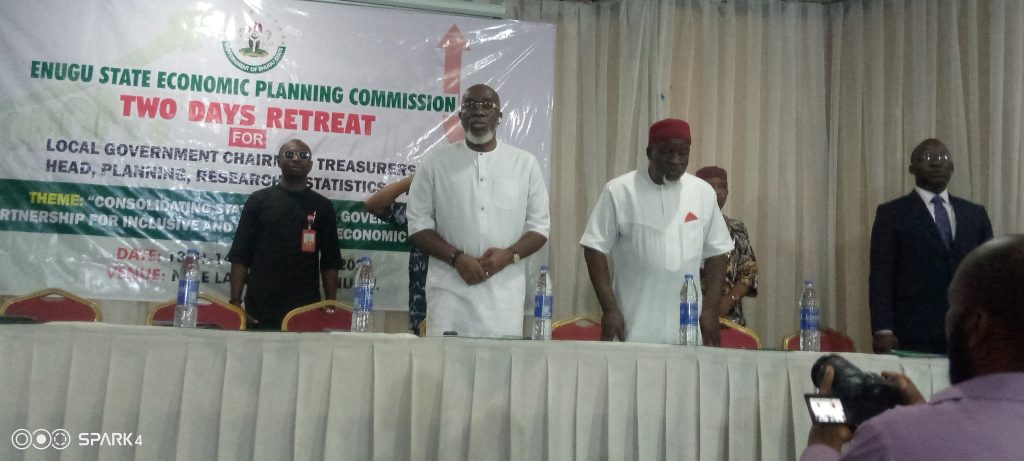 He said the Theme  of the  retreat,  "Consolidating state and local government patnership for inclusive and sustainable economic growth", was timely.
Governor Mbah listed areas of patnership between local governments and state government to include poverty elimination, ease of doing business, human capital development', financial model, healthcare, education, security and community leadership
He explained that  the mining trust fund  is for the trust . "The trust group  willv be responsible  for the remediation . What we have here is environmental law .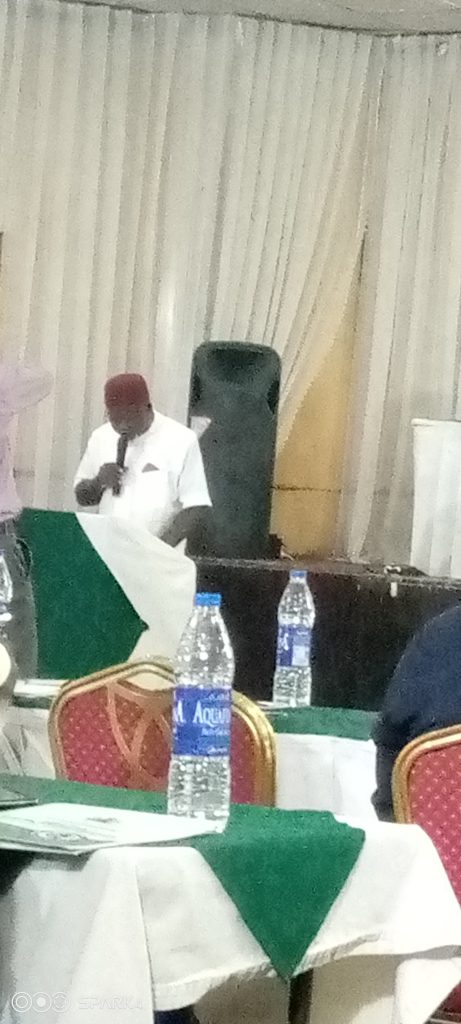 Deacon Ogbodo
ÌSo, if you do business that will cause degregation in our  in our environment, you pay for it ". He emphasised that Primary Healthcare  critical. Find said that his administration will build 260 SMAR schools in every ward. The schools will be equiped with modern facilities and the model  schools  will change teaching and learning. positively.
In his opening address, the Commissioner for local government, rural development and chieftaincy affairs, Deacon Okechukwu Ogbodo, said the state Governor,Dr. Peter Mbah" has the stream of transforming Enugu into modern state, with improved infrastructural provisions and amenities, in a manner that will position it as the preffered investment destination among states in Nigeria.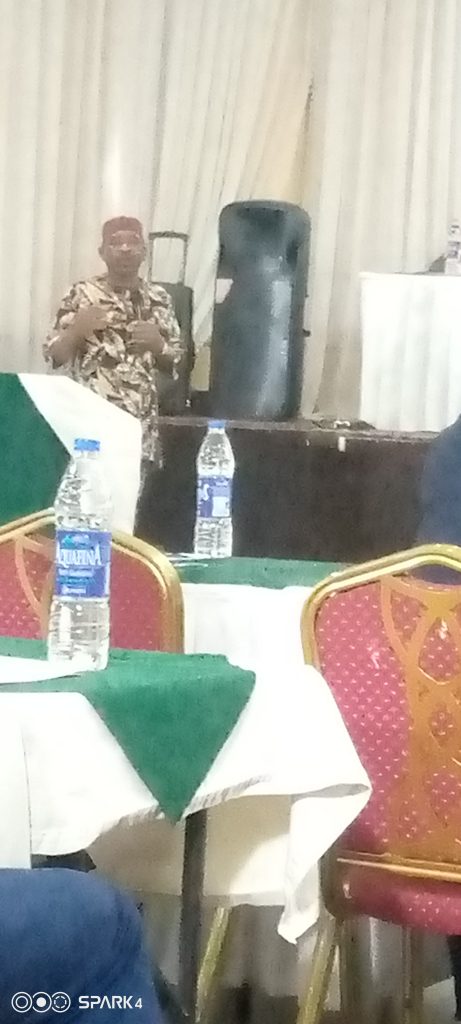 .Onyeishi
" This requires new capacities, hard work and commitment. Most importantly, it requires innovative approaches. and new ways  of doing things, which we can obtain  through knowledge gained  in programmes like this.
" We are doing away with the old fashioned style of remaining glued to slow paced bureaucratic procedures that is not yeilding the desired results because they have outlived their efficacy. We want to adopt evidence based strategies that are cognizant of our present realities and we will do this by rejigging the status quo.", Ogbodo said.
He called on the local government chairmen to key into the development  vision and appropriate it  as their mission. "The Governor's manifesto  is a social contract  that readily provide a roadmap  to sustainable development. When the local councils become drivers  in this project, the desire to attain a holistic state growth will be achieved.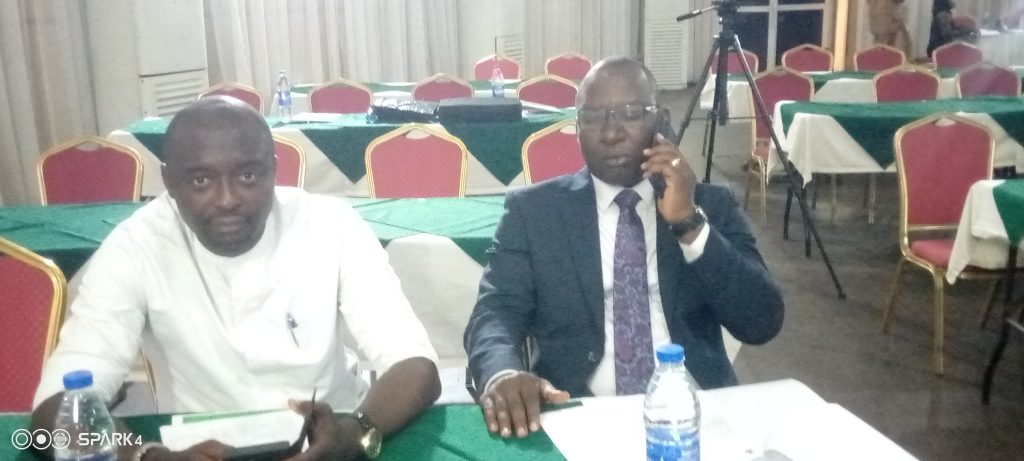 Nnadozie Edeh
"We are driven by the passion and unweavering focus of our Governor on ensuring that the people of Enugu state stand tall and proud among our contemporaries in Nigeria. Let us all Stan d behind him to move our state forward,", he said.
Earlier, in his opening remarks/ objectives of the retreat and workings of the Commission , the  Executive Secretary ,Enugu state Economic Planning Commission, Dan Onyishi, said that the retreat will help the participants  to strengthen partnership at the local government.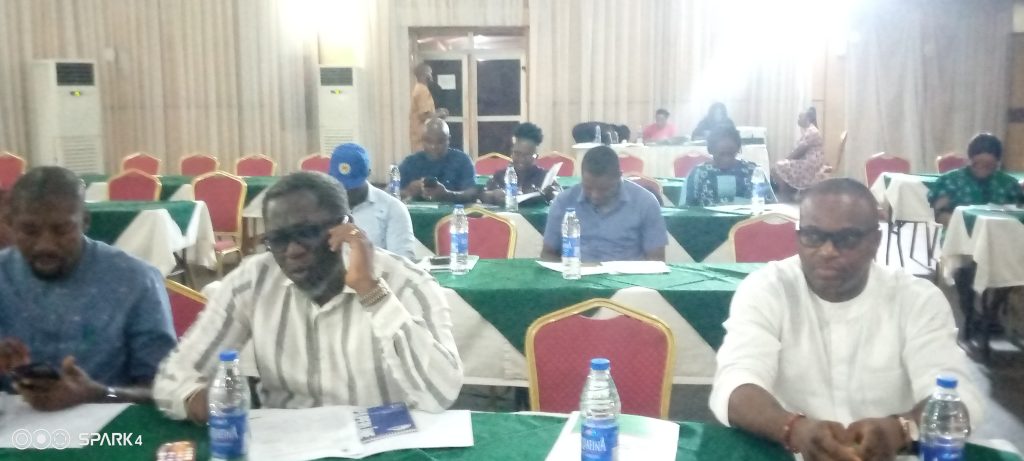 ." The Government is trying to see how it could partner with the local government. If the state will take 60 percent and local government,40 persmcent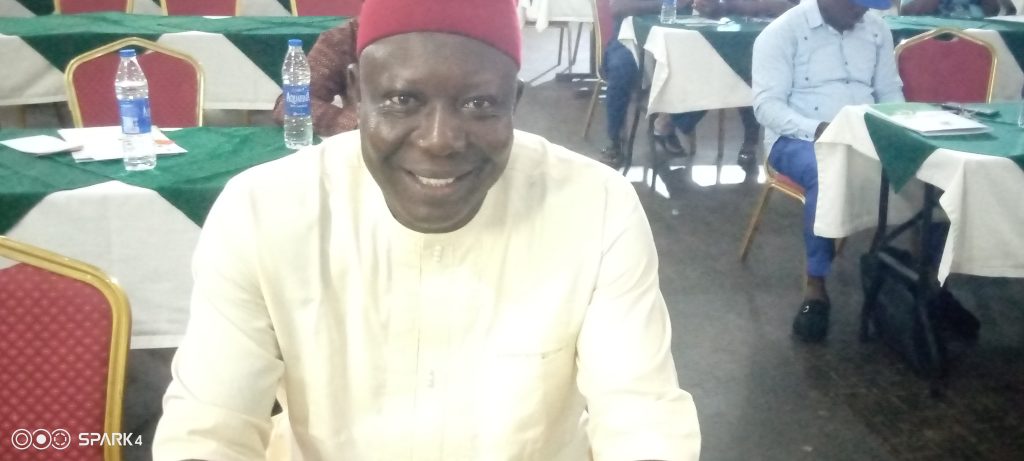 The Executive Secretary added that there is need to  have a due process at the local government level, saying that it will help them to get things  right.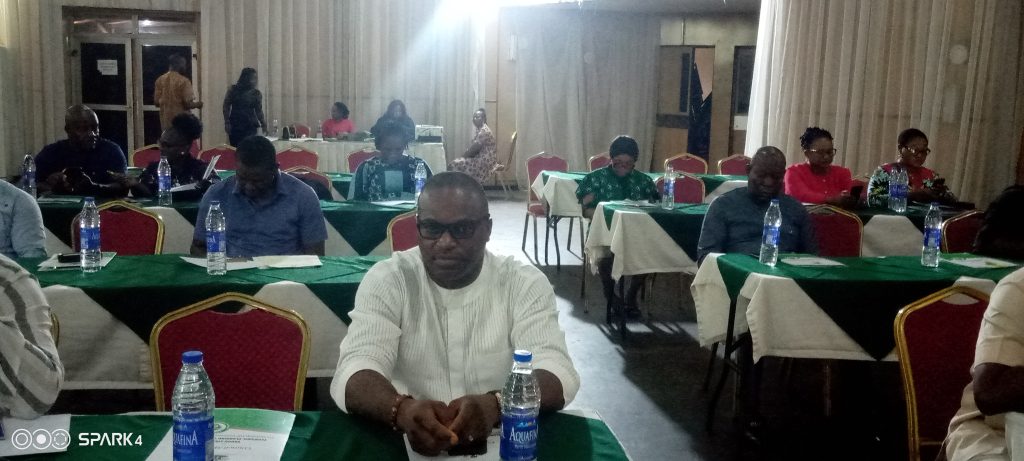 Onyishi announced that a Communique will be raised by ALGON at the end of the retreat ."  The  presentation of of the Communique  in the economic commission meeting will become a legal document. It is very important that we get your commitment in this meeting   that way, they will institutionalise   everything they are doing ," he said
Author: :Maureen Ikpeama