Body of the late Appeal Court Judge, Hon. Justice Raphael Chikwe Agbo has been committed to mother earth in his Obollo Eke home, Udenu local government area of Enugu state.
In his homily, the Bishop of Catholic Diocese of Awgu ,His Lordship, Most Rev. John Okoye, noted that it was love that brought people to the funeral of Late Justice Chikwe Agbo.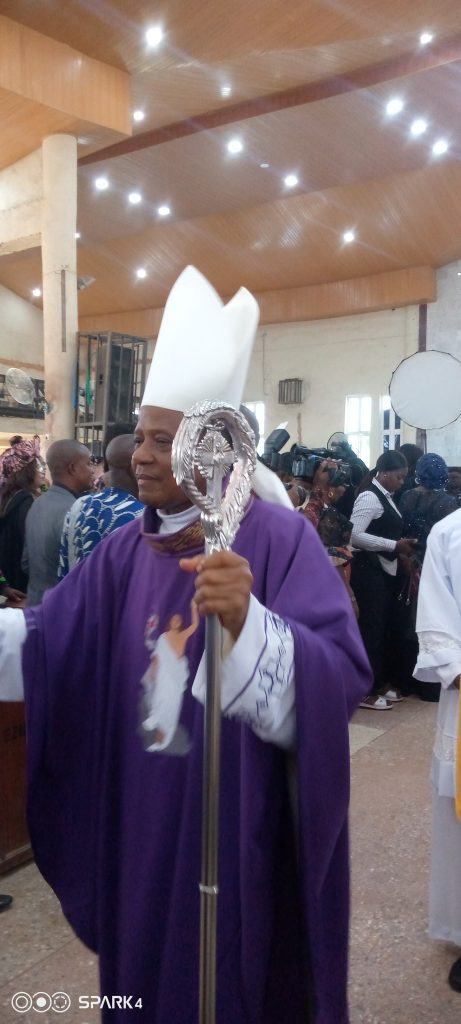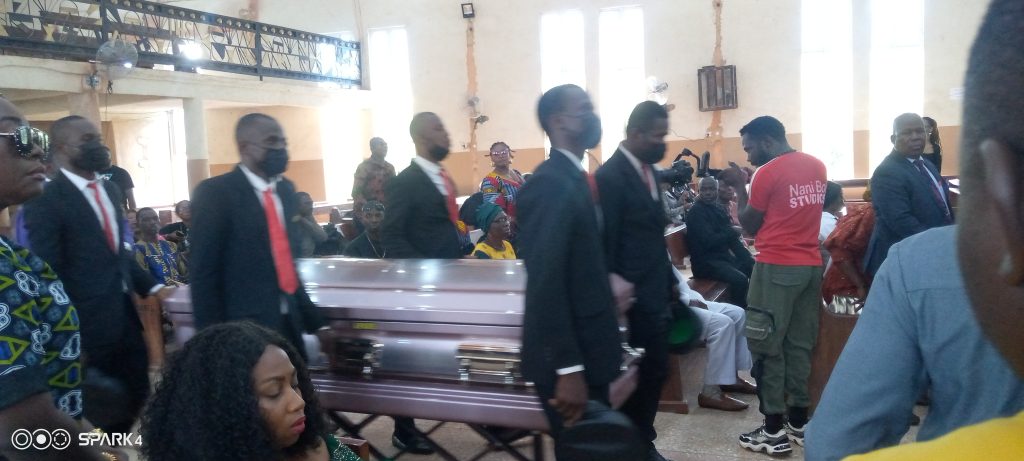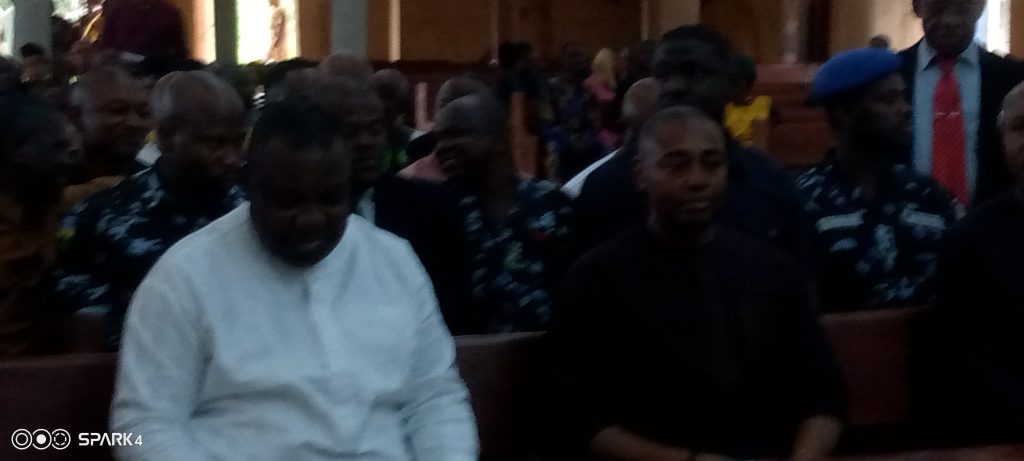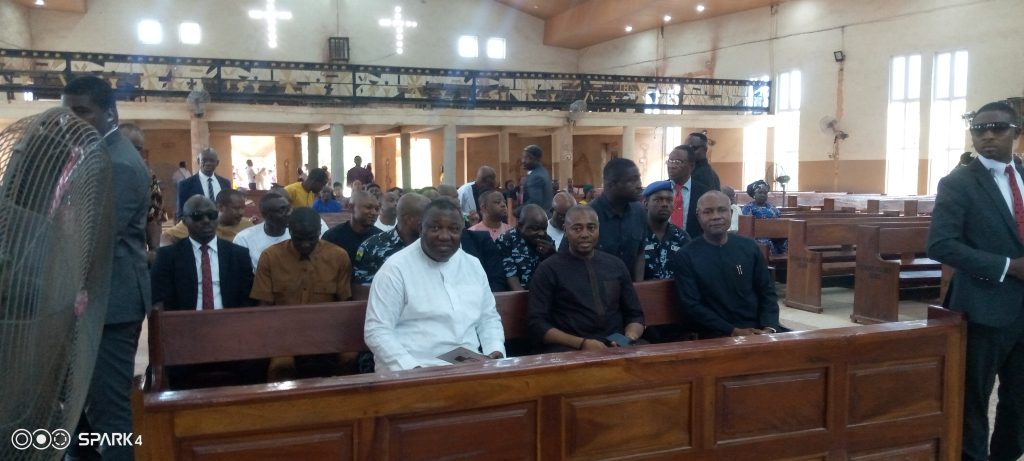 Speaking on the life of Hon Justice Agbo , relating it to the readings-
First Reading, Daniel 12:1-3, ,Second reading , Thessalonians 4:13-18, and Gospel from Mathew 5:1-12.
Bishop Okoye who was his secondary school mate at St. Theresa's College,Nsukka, thanked God that Hon. Justice Agbo lived a fulfilled life. "We are grateful to God for the grace He endowned him with ", the Cleric said.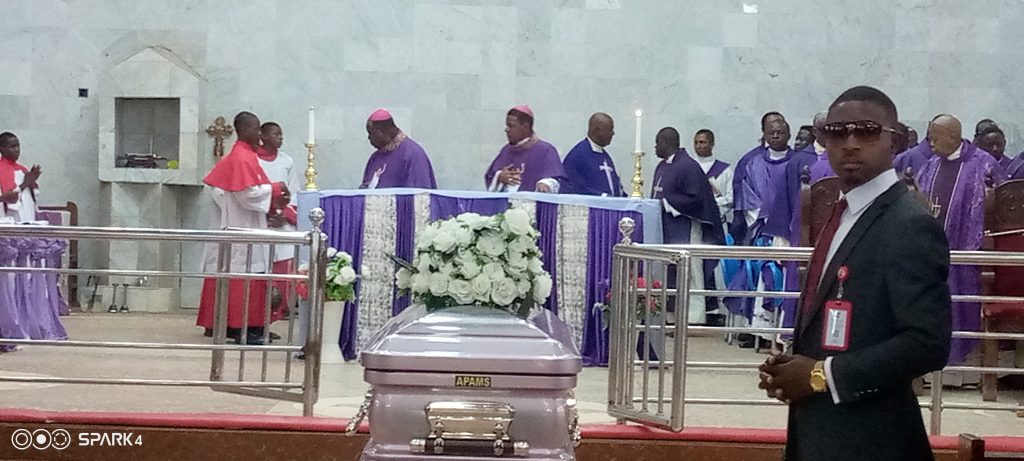 Relating the life of Hon. Justice Agbo to the gospel reading taken from Mathew 5:1-12, Bishop Okoye said, "In the Gospel, the Beatitudes teaches us that the kingdom of God is real. God is the ultimate. In God, we got everything, On our own ,we cannot get anything. Our brother invested so much in God. He believed that it was God who directed his steps. Our lives should be Christlike. We should do everything that Christ did to grow with Christ. Our brother in his life showed that he was very much in the presence of God.. He was dependent on God. At his death now, he will be among those who will be in the presence of God.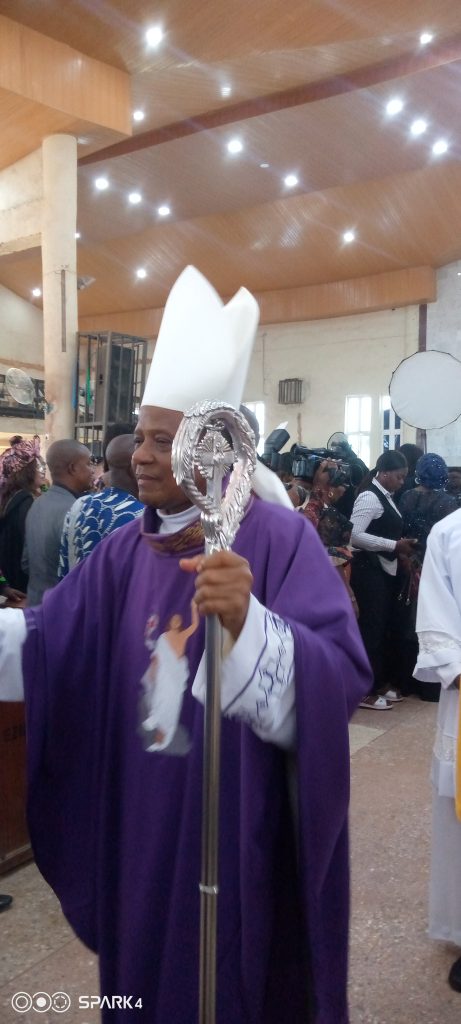 Bishop Onah
"Blessed are those who do things rightously ,orderly, the way God wanted. Our brother n his career ,was a tool of God. He dispensed justice. He followed just finding to put things right; how it should be. Those things will give us hope that he is in the presence of God.
"Speaking on the response of the responsorial psalm, "One day in the court of God is more than thousand days elsewhere," the Bishop said, "from the testimonies of people , he(Hon. Justice Agbo) dedicated himself to the service of God.
"The life of our brother challenges us to be dependent on God, have hope in God, live a just and righteous life. Do just to your familes,provide to the needs of your spouse, children, and others.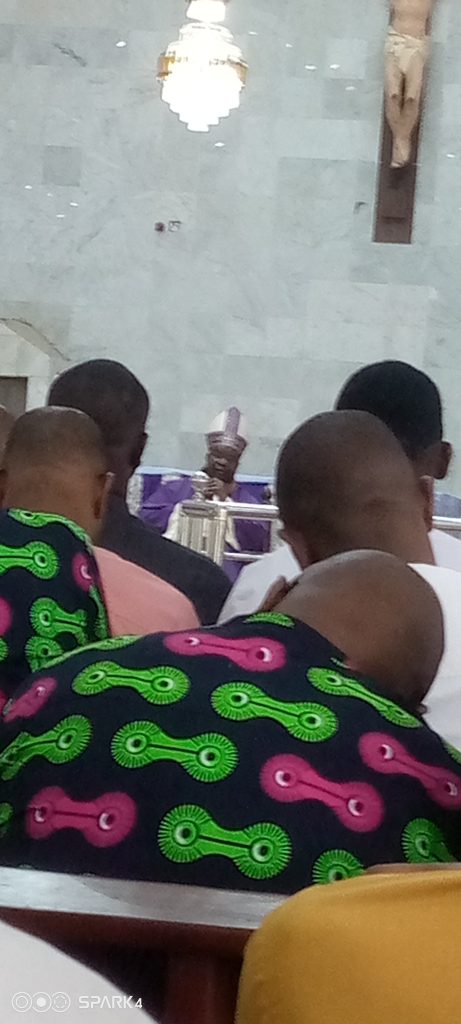 Bishop okoye
"We are challenged to teach our children to read hard. He was always in " A "class. How do you challenge your children? Do you ask them what they read in school? These are the challenges Hon. Justice Agbo gave to us.
"We pray God to give us the grace so that we re-unite ourselves and grow in the love of God .Continue to live in peace.," he said.
In his speech, the Chief Celebrant and Bishop of Nsukka Catholic Diocese, Most Rev. Prof Geoffrey Igwebuike Onah spoke on the state of the nation. He said enemies of the Igbo people destroyed education in Igboland "and our cultural values". He thanked the former Governor Ifeanyi Ugwuanyi for returning missionary schools to the Church. Bishop Onah equally thanked Governor Peter Mbah ,for not saying he will not support it.
He blamed the Civil Servant for not working to improve the standards.
To the congregation, he told them to give their children the best training, so that they will be useful to themselves and to the society.
To the wife of Justice Agbo, Mrs Mabel, " your consolation will be the life your husband lived for you and your children"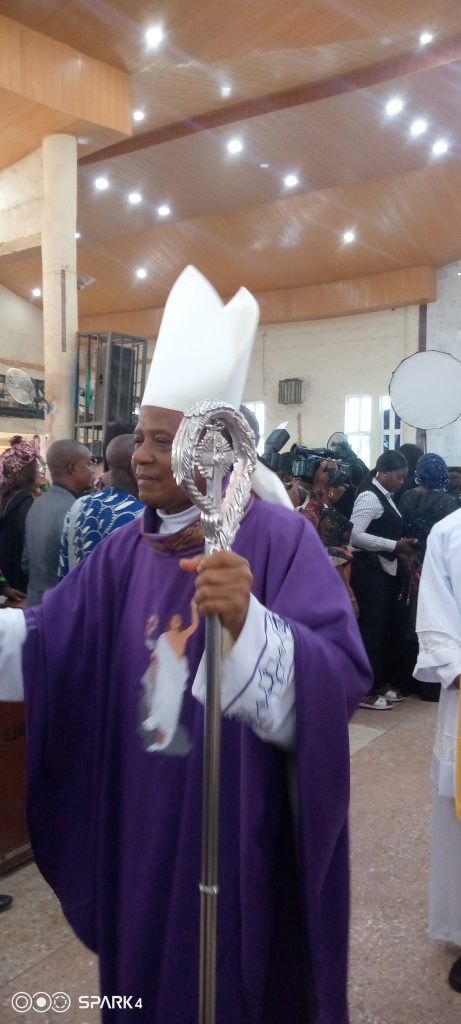 Bishop Onah stressed the need for people to strengthen the institution."We should build our society, build a strong institution, that is the only way we can survive. If we don't give respect to people and strengthen our institutions, no matter how strong our personalities were, we are doomed. Ralph ,will be remembered for not leaving Obollo. I pray that more people will invest in Obollo as Raphael did, he said..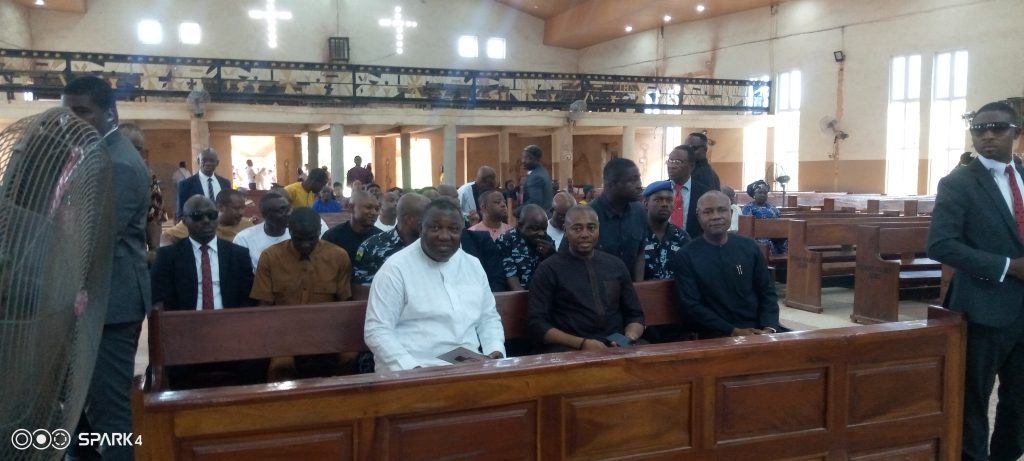 Former Gov Ugwuanyi (L)Deputy Gov Ossai (M) Gov. Mbah (R)
In a remark, the parish priest of St. Martin's De Poress, Obollo-Eke, said that the late Hon. Justice Raphael single handedly, renovated the church, sunk borehole for the community, did the tiling , amongst others.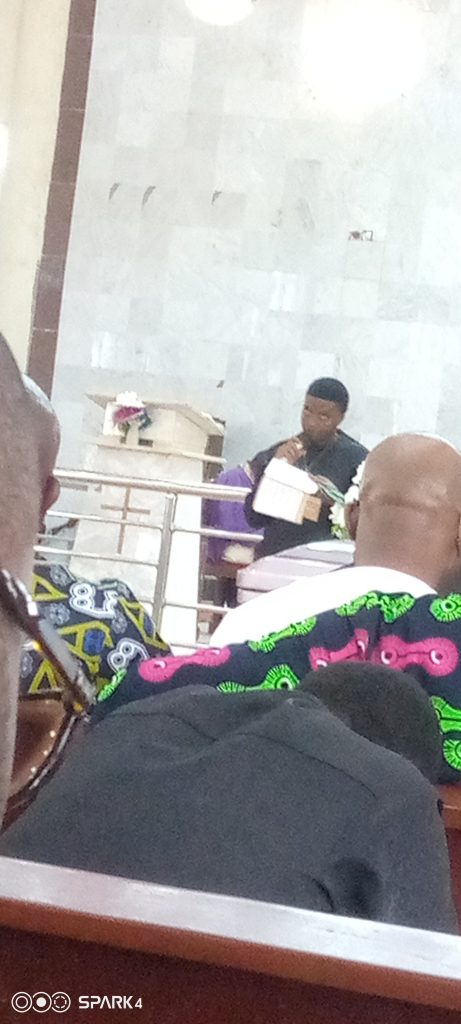 Ralphael Agbo, jnr.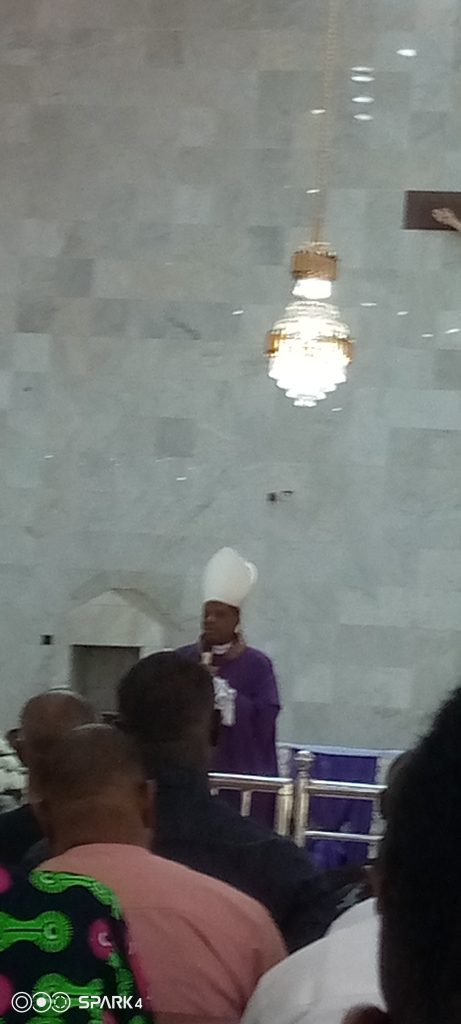 Dignatries at the church service included, the Catholic Bishop of Nsukka Diocess, His Lordship, Most Rev. Prof Geoffrey Igwebuike Onah, the Catholic Bishop of Enugu Diocess, Most Rev Dr. Callistus Onaga, represented by the Enugu Diocesean Secretary, Rev Fr Charles Ezeonu, the Catholic Bishop of Awgu Diocese, Most Rev. Dr. John Okoye, Over fifty priests, the Governor of Enugu state, Dr. Peter Mbah, the Deputy Governor, Ifeanyi Ossai, former Governor of Enugu state, Rt. Hon. Dr Ifeanyi Ugwuanyi, , the former Governor of Enugu state, Okwesirieze Nwodo, the former Deputy Governor of Enugu state, Hon(Mrs) Cecelia Ezeilo, Senator representing Enugu north zone, Okey Ezea, former President General, Ohanaeze Ndigbo, Chief Nnia Nwodo, Chief Judge of Enugu state, Hon. Justice Raymond Ozoemena ,members of the state executives council.
Author: Maureen Ikpeama