Enugu State Governor, Dr. Peter Mbah has inaugurated the state's Joint Accounts Allocation Committee (JAAC), his administration reconstituted, saying that local government funds must be made to lift the people out of poverty.
Inaugurating the Committee at the Government House, Enugu, on Thursday, Governor Mbah described the local government as the layer of government closest to the people and charged members to ensure that the incomes of LGAs are boosted through the State Joint Local Government Account.
He said: "Local government account for us, is a very important account and we believe we must ensure that the people who will manage and ensure the allocation, monitoring, and distribution of this account are credible people because the local government is that arm of our government that is closest to the people.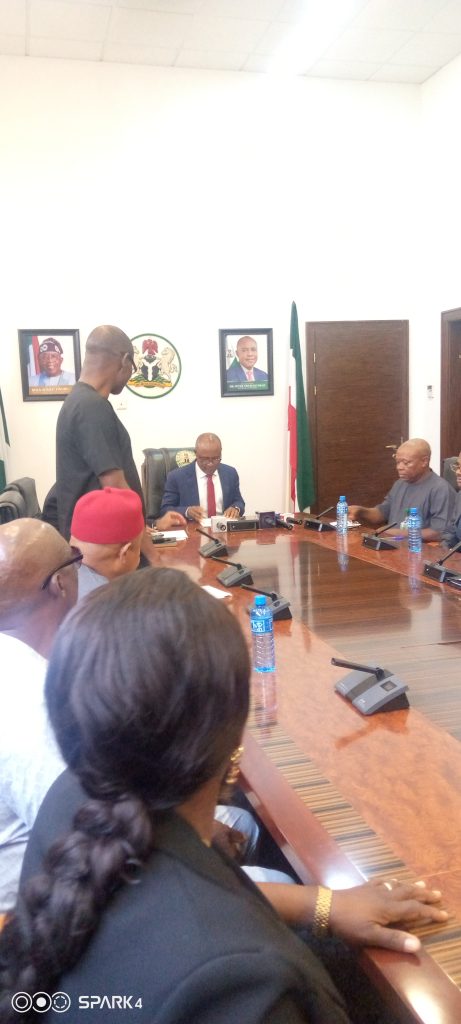 Pix- Gov Mbah at the inuaguration
"Ours
is to make sure that we lift our people out of the pit of poverty and we do not believe that there is a better-positioned arm to do that than the local government. Therefore, local government funds must not only work for the wellbeing of our people, but must be seen to be doing so.
"This is why your management, monitoring and distribution of the local government account are critical and we have selected you as people, who are credible enough to discharge these duties," he said   
The Governor noted that the selection of the members of the committee was in line with Section 162 (6 – 8) of the 1999 Constitution (as amended) which  provides, among others, that each state shall maintain a special account to be called "State Joint Local Government Account" into which shall be paid all allocations to the Local Government Councils of the State from the Federation Account and from the Government of the State, which shall be distributed among the Local Government Councils of that State on such terms and in such manner as may be prescribed by the House of Assembly of the State.
Speaking, Chairman of the Committee, Comrade Anthony Udeh, while thanking the Governor for finding members worthy to serve on the Committee, pledged the readiness of the Committee to discharge its functions in tandem with the vision and principles of transparency and accountability espoused by the administration.
"We are also not unmindful of the fact that we are facing very serious financial challenges across the globe, Nigeria, states, and local governments. But inasmuch as the task before us is challenging, we are equal to it. We will align with your huge vision and principles of transparency and accountability", Comrade Udeh assured.
The Committee has Comrade Anthony Udeh as Chairman, Dr. Peter Aneke as Secretary, while other members include the Accountant General of the State, Mr. Tony Okenwa, and the Chairman of the Association of Local Governments of Nigeria, Enugu State chapter, Hon. Okechukwu Edeh.