Remains of late Lady Ezinne Jane Udewo Nnamani , wife of the former Senate President, Ken Nnamani, was on Friday, June 16,2023, interred to mother Earth in her country home,at Amechi Uwani -Awkunanaw, Enugu South local government area of Enugu state.
In a sermon at the funeral service, the Methodist Archbishop of Enugu, Most Rev Christopher Ede, said that human lives were like a flower that blossoms but withers away afterwards.
He urged Nigerians to help and assist one another especially those who were in need before death finally comes their way.
The clergy lamented that love for money and power had made most Nigerians not to bother on the level of atrocities and wickedness they inject in the land.
"These ill-gotten wealth and political power have made many to start living life-style that is clearly abnormal and do not glorify God or do people around them any good. But just vanity at the end of the day," he said.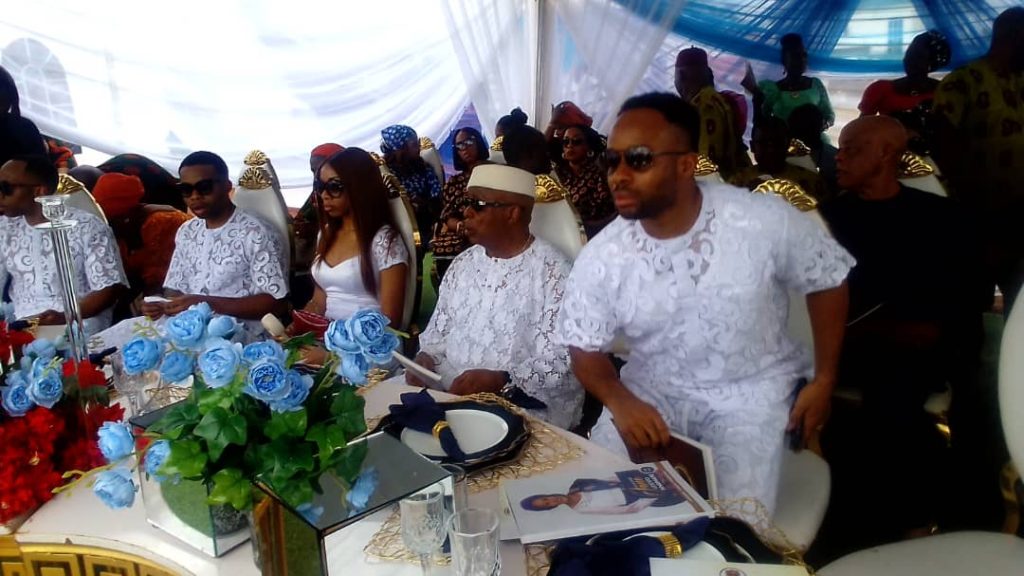 In his condolence message, President Bola Tinubu, who was represented by the Senate president, Dr Godswill Akpabio, prayed God to grant the late Lady Jane eternal rest. He noted that it is not how long one lived that matters , but how well.
The president described the death of Mrs Nnamani as a monumental loss to the former Senate President, Sen. Ken Nnamani, who had made huge contributions to the nation's growth both as a politician and businessman.
He said, to the distinguish Sen. Ken Nnamani, it was with immense sadness that I learnt the demise of your beloved wife, Ezinne Jane Nnamani.
"There is no doubt that her lost was a monumental one to you and the entire Nnamani family.
"The enviable milestones you have achieved in your political career and even in private as a businessman, would not have been possible without the psychological and emotional support of your beautiful and lovely wife.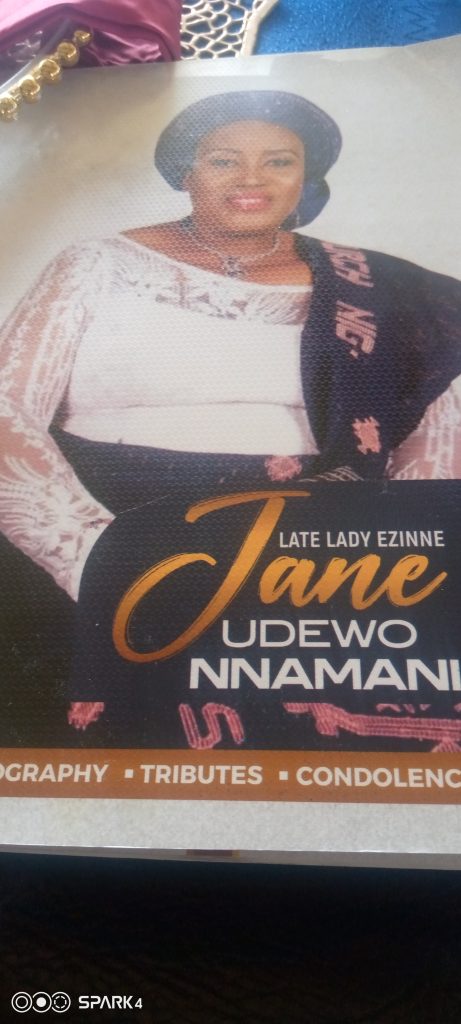 "Even though, she died at very young age of 58; hers is apt vindication of the adage that it is not how long one lives but how well that matters," he said.
Tinubu said that the late Mrs Nnamani would surely continue to inspire positive memories in the hearts of those who love her and whose lives she touched.
"As her remains are buried today, I pray that God Almighty will grant you (Sen. Nnamani), the children and every member of the family the strength and fortitude to bear the lost and to carry on without her," he said.
On his part, the Senate President, Dr Akpabio wrote, "Jane's death is devastating , not only to you and your immediate family but to those of us who knew her closely. We cannot question God's decision. He prayed God to grant her rest.
In his tribute, tagged," My better half is gone" her husband, Senator Ken Nnamani, said, " many women are beautiful but few are graceful. Many women are attractive but few are adorable. Many wives are lovely but few are sacrificial. Many mothers provide for their family but few are true nurturers. Lady Jane, my wife embodied all these Grace's and more.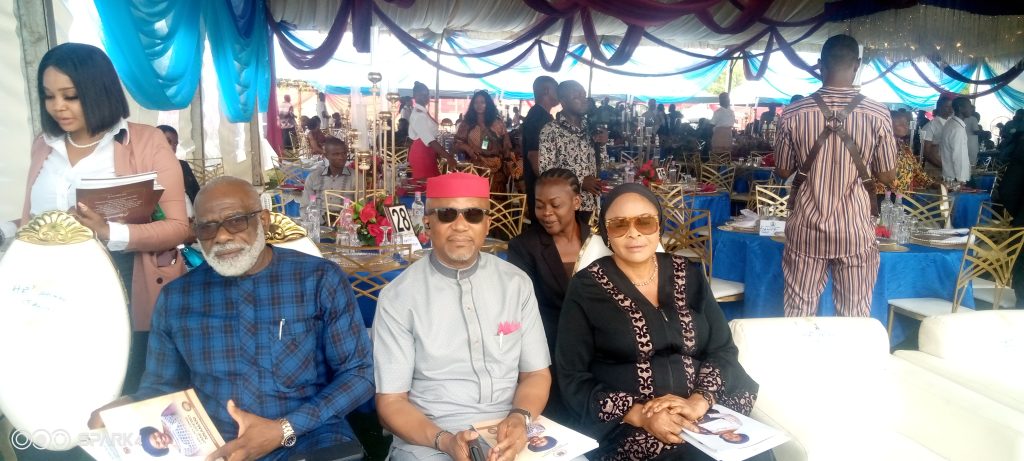 F- R,Hon.Ezeilo( Fmr. Deputy Gov)
"While I was in Nigeria engaged in public service , Jane  stayed back in the US with the kids and provided extraordinary motherly and fatherly nurture and protection for the children.She succeeded by ensuring that these children all tread the right path to success. 
"In a world that is increasingly slippery, where even the most cautious and careful could easily stray away, Jane
wisely and effectively guarded the children  away from the slippery slopes and nudged them towards the solid path of enduring success. Today, all of them  are  graduates of top Universities and emerging leaders  in their various endeavours.", Nnamani said.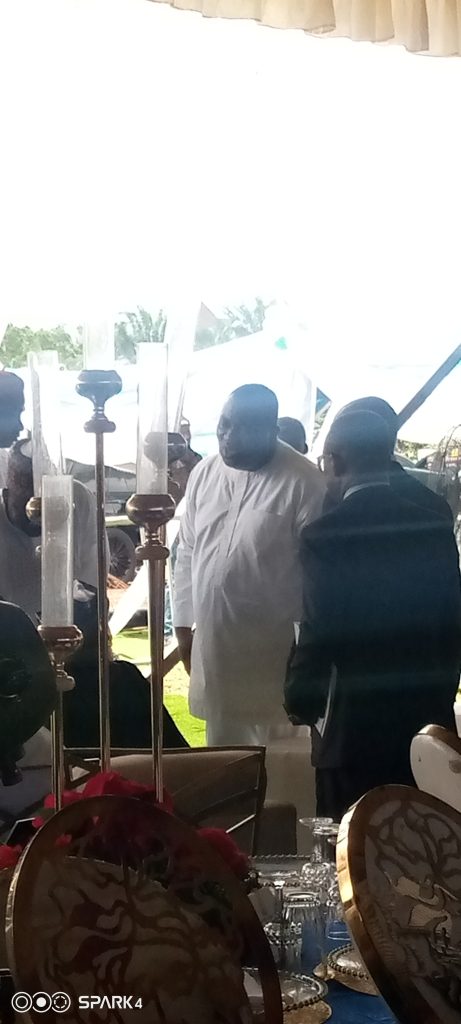 Pix- In white, Rt. Hon.(Dr) Ifeanyi Ugwuanyi, immediate past Gov,Enugu state
In their respective condolence messages published,   Enugu state Governor,  Dr Peter Mbah,  described the death of Lady Nnamani as "a grievous loss. He wrote, 
" Though cut in her prime, however, it is consoling that Lady Jane Nnamani led a noble life of service to God and mankind.
"Quite an unassuming lady, she was a philantropist, an entrepreneur, leader in her own right a devout Christian , who channeled her resources to the promotion of the Gospel of Christ, and an epitome of motherhood, who made all the sacrifices to care for her family and raised wonderful children.
" Importantly, she gave her best to our dear state, serving as a member of the Governing council of the Enugu state University of Science and Technology", Mbah said.
The Deputy Governor of Enugu state, Ifeanyi Ossai wrote,' In times as these, words may not sufficiently sooth the bereaved, but as Christians, we must take solace in our hope of better life after death".
Former president , Dr.Good luck Jonathan, wrote, "Mrs Nnamani was an amazing woman who made a remarkable impact in the society and touched the lives of many people who knew her. She was kind ,compassionate and God- fearing for which she will be remembered"
On his part, former Vice President and presidential candidate of the Peoples Democratic Party,PDP, Atiku Abubakar wrote,"The loss of a dear wife and  long- term confidence is traumatic and can be  incredibly destabilising.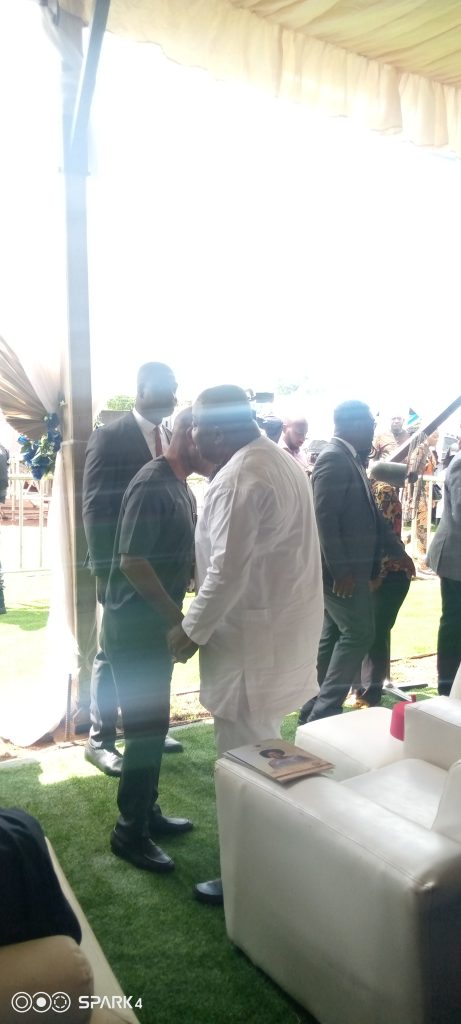 Pix- Gov Mbah and Fmr Gov.Ugwuanyi
"While alive, Lady Jane has been the  hub around  which her family and everything else about Senator Ken Nnamani  revolves." He condoled Senator Nnamani and his family over the loss of his wife and their mother.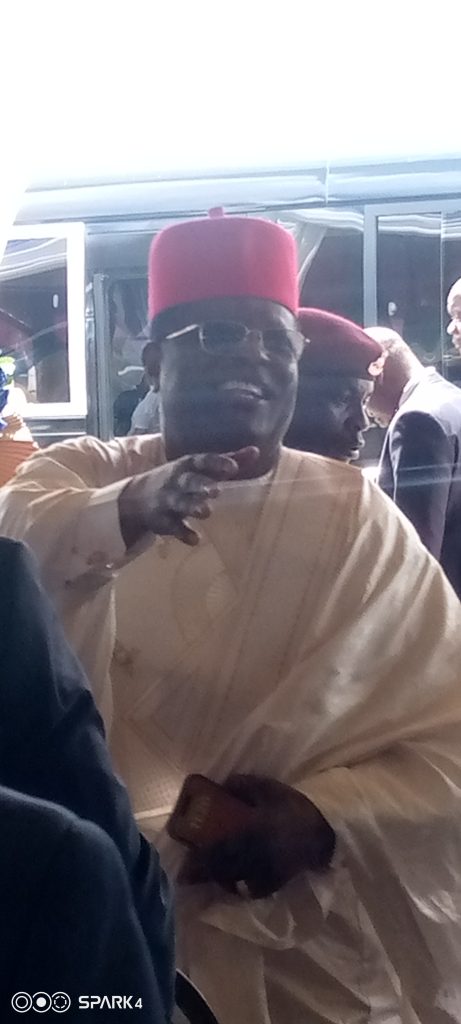 Pix-Senator Dave Umahi
Former Vice President,Namadi Sambo, wrote," The matriarch, no doubt was a good wife, an examplery mother, a  pillar of support to your family, a community leader and  a devout Christian  whose selfless service to humanity will not be easily forgotten. She will be missed by all and sundry."
Former Senate president, Anyim Pius Anyim, in his tribute described the death of Mrs Nnamani as a great loss.
On his part, former Chairman of Nkanu East Local Government Area, Pastor Sam Iyiogwe,described the late Ezinne
Jane Udewo Nnamani as a good woman. A woman who has given so much support to the development of her community. He prayed God to console her family and lead them in all they do, especially their father.
He said that what matters in life is what one has done and not how long one lived.
Pastor Iyiogwe prayed for the repose of her soul.
A close aide to Senator Nnamani, Uche Anichukwu wrote, "Her Excellency served God with passion, investing her resources in the promotion of the gospel. She contributed to the physical infrastructural development of the Church and was a respected and prominent member of the St. John's Methodist Church Amechi-Uwani Women Fellowship. While in the USA, she was a devout member of Good Hope United Methodist Church in Silver Spring, Maryland, USA. She was equally a Lady of John Wesley Methodist Church.
"Yet in all this, Lady Jane Nnamani did not relent in her self-development efforts either. In fact, she was in the final year of her doctorate programme in Business Management when the Grim Reaper came,"Anichukwu wrote.
Lady Jane Nnamani was born on October 1,1965 in Portharcourt into the Umu-Okonwegwu family in Umunnugwu,Amechi Uwani, ,Awkunanaw,Enugu south local government area. She died on May 4,2023 at Orthopedic hospital, Enugu. She left behind her husband, Senator Ken Nnamani, four children and numerous relations and well wishers.
Dignatries at the funeral ceremony were the former governor of old Anambra state, Senator Jim Nwobodo,and his wife,Patricia Nwobodo, immediate past Governor of Enugu state, Rt. Hon. (Dr) Ifeanyi Ugwuanyi, Former Deputy Governors of Enugu state, Rev Ralp Nwonye, Hon(Mrs) Cecilia Ezeilo, the Deputy Governor of Enugu have,Ifeanyi Ossai, former of Ebonyi State and serving Senator,Dave Umahi, immediate past Speaker of Enugu state House of Assembly,Rt. Hon. Edward Ubosi, former chairman of Nkanu East local in government area,Pastor up Sam Iyiogwe, the Head of Communications,Enugu Electricity Distribution Company,EEDC, the Chairman South East traditional council, HRH, Igwe Ambassador Lawrence Agubuzo, Senator Rochas Okorocha, former and serving National Assembly members-, serving and former Enugu state House of Assembly,Serving and Former members of the Enugu state Executive members,traditional rulers, clergymen.
Other dignitaries that attended the burial were Sen. George Akume, the Secretary to the Government of the Federation; Malam Nuhu RIbadu, Special Adviser to the President on Security and Chief Hycienth Ngwu, General Manager Business Development of Federal Airport Authority of Nigeria (FAAN) Sen. Sam Egwu; Sen. David Umahi; Sen. Rochas Okorocha; Sen. Victor Umeh; Sen. Ibikunle Amosun; Sen. Anyim Pius Anyim; Sen. Ali Ndume; Sen. Chukwuka Utazi; Sen. Kelvin Chukwu as well as the Deputy Speaker, Hon. Benjamin Kalu.
Retired Gen. Azubuike Ihejirika; Sir Emeka Offor, an International Businessman and Archbishop Emmanuel Chukwuma.
Sen. George Akume, the Secretary to the Government of the Federation; Malam Nuhu RIbadu, Special Adviser to the President on Security and Chief Hycienth Ngwu, General Manager Business Development of Federal Airport Authority of Nigeria (FAAN).
Author: Maureen Ikpeama