Enugu State Governor, Dr Peter Mbah has lamented the devastating effects of the Mondays sit-at-home to the economy of the state, saying that each Monday that people did not come out to work over N10billion in economic activities is lost .
The Governor added that investors cannot be attracted to the state if people only work four days in a week.
Dr Mbah made the disclosure Monday,June 5, 2023, while addressing traders at Akwata/Ogbete and Mayor Markets, Enugu, on the need for them to be coming to market on Mondays and end the unlawful sit-at-home order.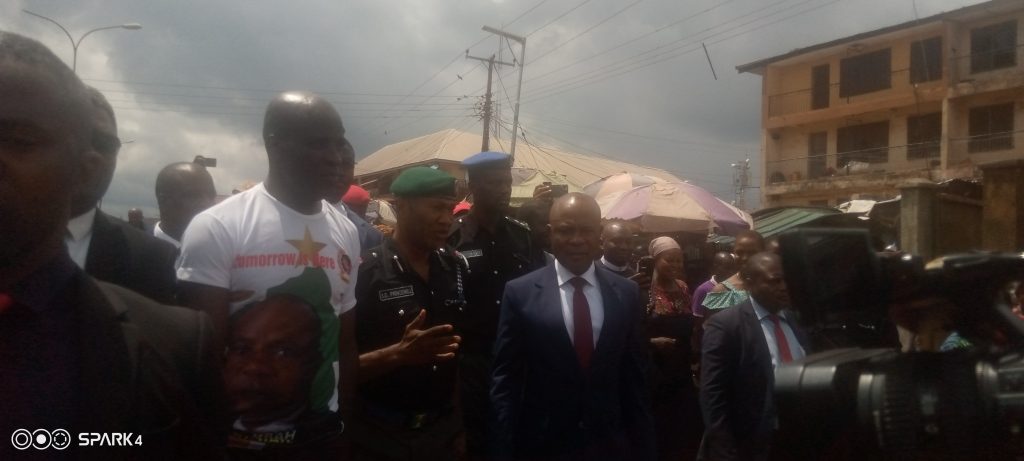 Gov Mbah at Mayor market, Agbani road
The Governor who visited some public places in Enugu metropolis to monitor the level.of compliance of the end sit-at-home order he issued on Friday,June 2, said the call was for traders, and workers to come out enmasse on Mondays and do their businesses.
"What we had experienced or what we are experiencing in this sit -at- home thing, the devastation it's eroding, the erosion of our social values, erosion that is unimaginable. Each Monday we  did not come out to work, we are loosing N10 billion in economic activities. If you imagine  any Seven days we  do not come to work, it means we are loosing N70billion , that is unacceptable.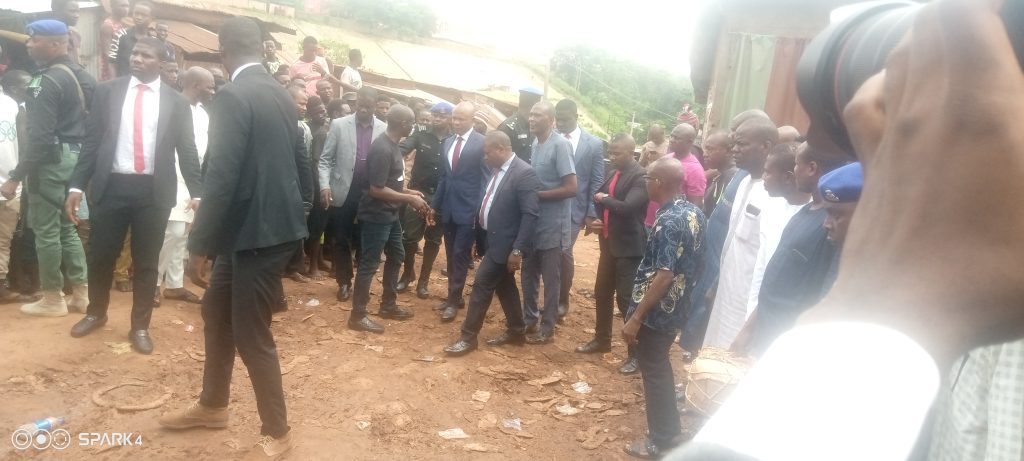 At Akwata/Ogbete market
"Here, we are talking about the people we want to lift out of the pit of poverty. How can we achieve that if we do not take advantage of those economic activities that we carry out on Mondays? How can we attract investors to a state? If an investor is to make a choice as to which state to go to and he has a state they work for four days and five days, of course ,you know as investor, decision won't be difficult for him.
"So, we believe that those who love us will encourage us to come out and be productive. Those who love us ,will do everything to protect our spirit of industry. We have to reinstate those values of hard work, those values of commerce, industry, and that's why we are calling on our people to come out enmasse and do their businesses.
"Those people who are threatening our businesses, let it be known, that we will identify them, pursue them and we are going to prosecute them," he said.
Governor Mbah went on to say, "You cannot love a people and destroy their lifewire and you claim to love them. It is not possible, you claim to love them and all you do is to destroy their livelihood.
"We have the mandate of the people and what we have said to them is to come out enmasse and do your business. Do not subject yourself to the intimidation of people. Come out enmasse and do your business. We are still calling on the people, workers, traders , town union trade union, come out enmasse and go about your business without fear.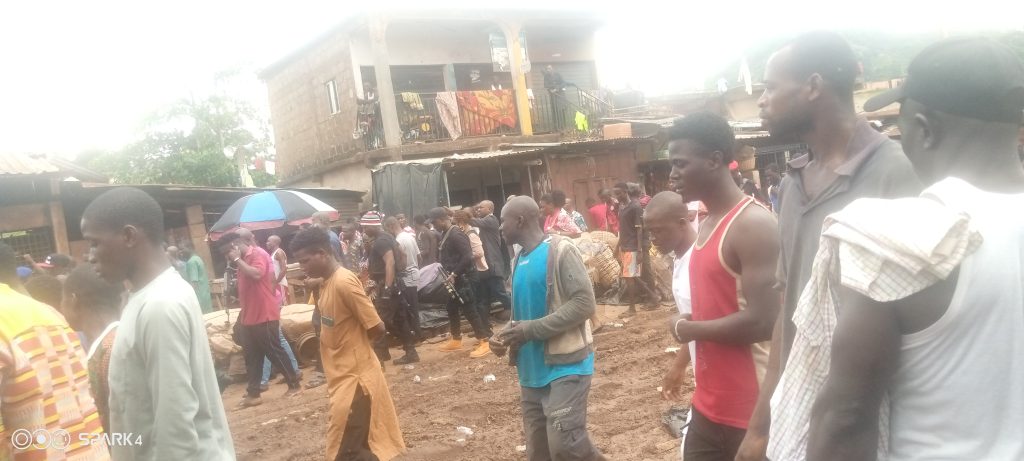 Akwata section of Ogbete market
"We are not going to subject ourselves to the threats of someone who is not even in the shores of this country. who stays wherever and dictates to our people when to go to work and when to sit at home.
What that means if we subject ourselves to that ,it means we are allowing someone to make us feel inferior without our consent.
Even when we have not given them our mandate That is unacceptable," Governor Mbah said. .
The state Governor had earlier visited the office of head of service, state Secretariat, office of Account General to monitor level of compliance by the state Civil servants .
He commended the civil servants, and rated their compliance between 60- 70 percent, expressing hope of total compliance on subsequent Mondays.
He said productivity was key to all the promises he made to the people to drive investment inflow into the state, create jobs, and provide quality services.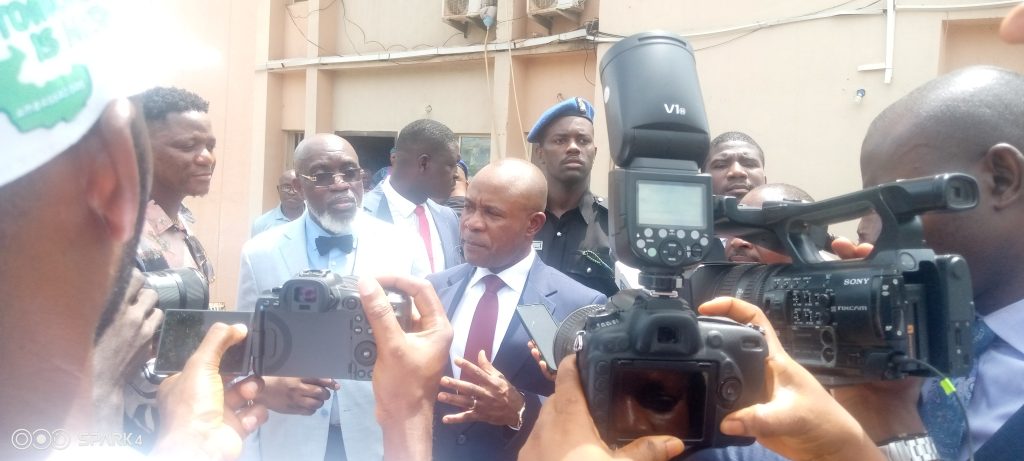 Office of Accountant General
He reminded the people that the power and mandate belonged to them, hence they should never allow people, who had no stake in the state's economy to undermine the peace and prosperity of the Enugu State.
Speaking with newsmen after the monitoring exercise, Mbah said: "The primary objective of my visitations is largely to observe the level of compliance of the directive that we gave last week, declaring that we do not have sit-at-home in Enugu henceforth. The directive was meant to ensure that our people come out on the first working and productive day of the week.
"We do have a compliance level of about 60 to 70 percent; and the order took effect from today. I am aware the circular to this effect was sent out on Friday. It may well be that not all the workers got the information that we no longer have sit-at-home on Mondays.
"Whether we succeed or fail in ending sit-at-home, we do that together as Enugu people. If we succeed, our collective success means we can rise together against intimidation. It is not anybody's or government's success. We need to take collective responsibility for our decision.
"But the truth is that everything we have promised our people in Enugu is anchored on getting the flow of private sector investments into our state; and the private sector cannot come into a state where the people are not productive. The private sector thrives on big markets and a vibrant workforce.
"So, our people are known by their hard work, by their industry and commerce. So, we cannot have people, who kill these spirits in our people and dictate to us the day we should go to work and the day we should sit at home.
"We have to revive that spirit of hard work and culture of commerce and industry that our people are known for. We want to reinstate that; and that is exactly what we are doing".
Mbah assured the people of government's commitment to the security of lives and property every other day of the week, Mondays inclusive.
"Security of lives and property is essentially the oath we took and that is at the top of our priorities. We must ensure the safety of our people. And we have also said repeatedly that our people should go about their businesses.
"Let it not ever be heard that we are going to be listening to people, who do not stake in our economy and social welfare dictate to us when we must come out to work. It should not be heard of.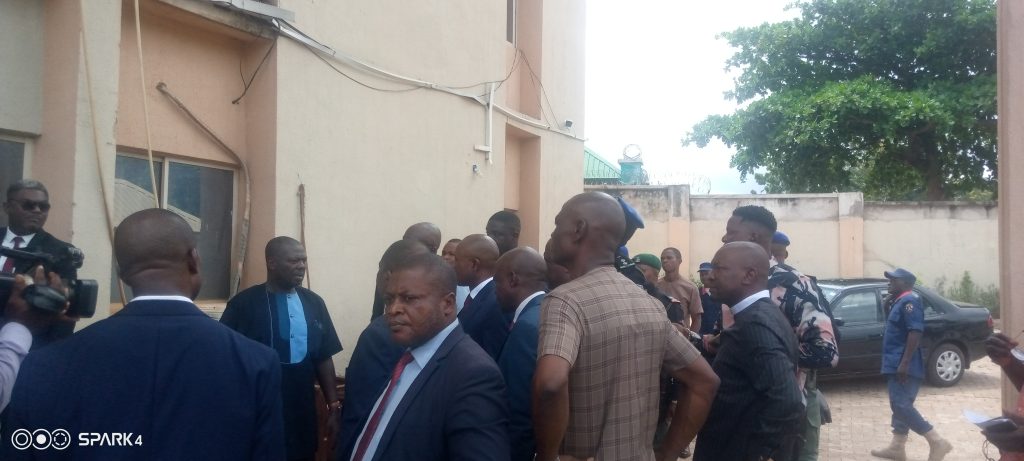 "Think about it, we are here today because we got the mandate of the people. So, could you then have somebody make you inferior without your consent? Someone you have not given your mandate to lead you tells you to sit down and, somehow, you begin to sit at home. And he tells you to go, and you begin to go. That should not be acceptable. It actually undermines our dignity as a people and we shouldn't endorse that", Mbah stated.
Ministries and offices visited included Ministry of Water Resources, Ministry of Commerce, Ministry Capital Territory, Ministry of Inter-Ministerial Affairs and Special Duties, Ministry of Science and Technology, Ministry of Lands, Ministry of Finance, Office of the Accountant-General, Office of the Head of Service, Office of the Surveyor-General, among others, where he was received by the civil servants and heads of MDAs.
The Governor was also warmly received at Akwata/ Ogbete Market, Mayor Market by the traders and their leaders.
Author: Maureen Ikpeama