Enugu state Governor, Ifeanyi Ugwuanyi of Enugu State, on Thursday inaugurated the Independent Corrupt Practices and Other Related Offences Commission (ICPC) prototype office building for Enugu State.
The new office which is located at Plot JQ/4 Bisala Road, Independence Layout, Enugu will now cover Enugu and Ebonyi States ICPC office.
Inaugurating the building, Gov. Ugwuanyi thanked the staff of the commission for their professionalism and diligence it had brought to bear in conduct of its affairs.
Gov. Ugwuanyi who said he was proud of the track records of ICPC, said he was happy to identified with the commission.
The governorvnoted that in the past years his administration had leveraged on the diligence and competence of the ICPC in the conduct of government buainess through active service and training of public officers and top civil servants in the state.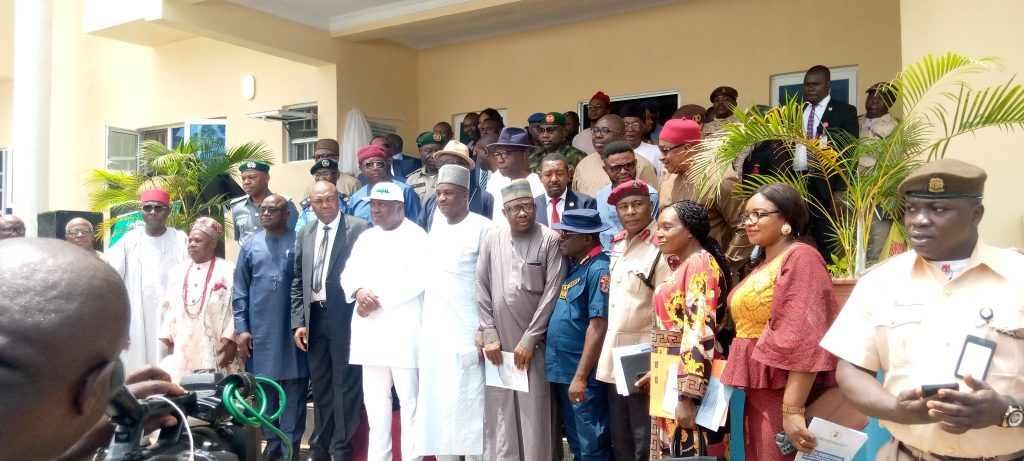 This, he noted, had positively impacted state compliance in due process imperative in governance processes.
"We rejoice with ICPC as it formerly commence operation in its new prototype office building in Enugu after 17 years of operation from its former rented temporary office building," he said.
Earlier in a welcome address, the Chairman of ICPC, Prof. Bolaji Owasanoye, thanked Gov. Ugwuanyi for allocating a plot of land to the commission, adding that since inception , the State office had been operating from a rented building.
Owasanoye represented by the ICPC Board Member, Obiora Igwedibia, said that with the approval of the prototype office complex in 2018, the Current Board in 2021 considered it necessary to site the fifth prototype building in Enugu State.
"I am glad to inform this gathering that His Excellency, Ifeanyi Ugwuanyi, wasted no time in our request to allocate a land to us.
"He immediately directed the Commissioner for Lands and Urban Development to identify a suitable piece of land for this purpose and allocated to us the choice property on which now stands as the commission's prototype state office building complex.
"What we are witnessing here today is the result of 17 months hardwork, tenacity and close supervision on the part of the contract and the ICPC," he said.
Owasanoye further said that fighting corruption was a collective responsibility where all hands must be on the deck to achieve the expected result.
He appealed to stakeholders to improve their synergies with the commission and other anti -corruption agencies to rid the country of corruption.
The chairman expressed hope that the inauguration of the office complex would usher in a new vista of long-term collaboration between the government the people of Enugu state and ICPC.
Highlighting some of the achievements of the commission, Owasanoye said ICPC in 2003 developed National Values for teaching of civic and ethics in Nigerian educational institutions and also conducts Ethics and Integrity Compliance Scores (EICS) in MDAs.