By Newslineglobal
Catholic Church today ( May21) marked the 57th World Communications Day, with a call on media workers to always communicate the truth to the public.
At the Holy Mass celebrated to mark the day at the Holy Ghost Cathedral, Enugu, Catholic Bishop of Enugu Diocese, Most Rev Callistus Onaga, in his homily, said that World Communications Day is a day the Church set aside to commemorate communications as a whole, print media, electronic and social media.
Presenting Pope Francis' message on the Theme: "Speaking with the heart, the truth in love", Bishop Onaga said, "the central idea is to see how we can communicate the truth .The message of the Pope is so essential , especially in this our country ,Nigeria. When we speak the truth with love, the miracle of encounter is made because everybody will understand it if it is done with love"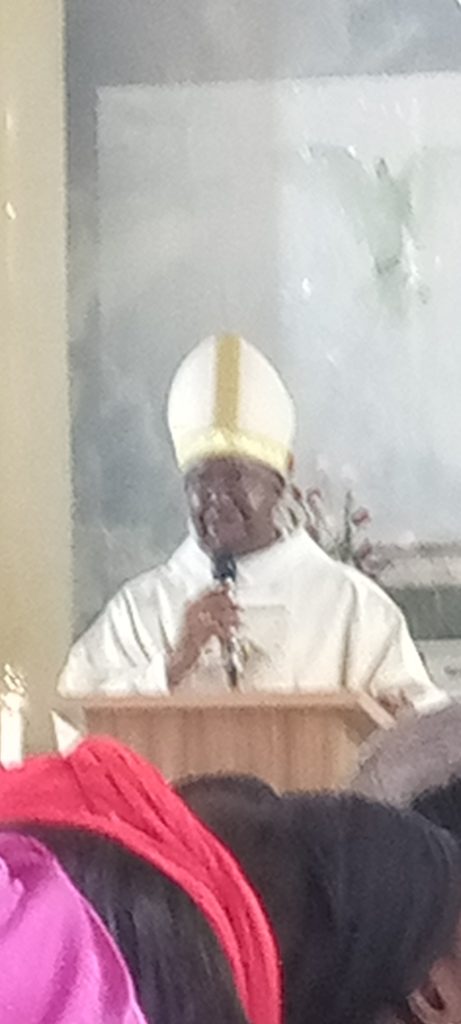 " Communicating with love is for everyone to speak the truth with charity. You don't abuse people. We keep our tongues from speaking evil. With our tongues, we bless God, with the same tongue we curse people. It's a kind of contradiction. Good conversation can build bridges", he said.
The Bishop advised Journalists not to make relationship toxic.
"Don't make relationship toxic, Something that is toxic is poisonous. Communication helps people to easily reflect the reality in which they live.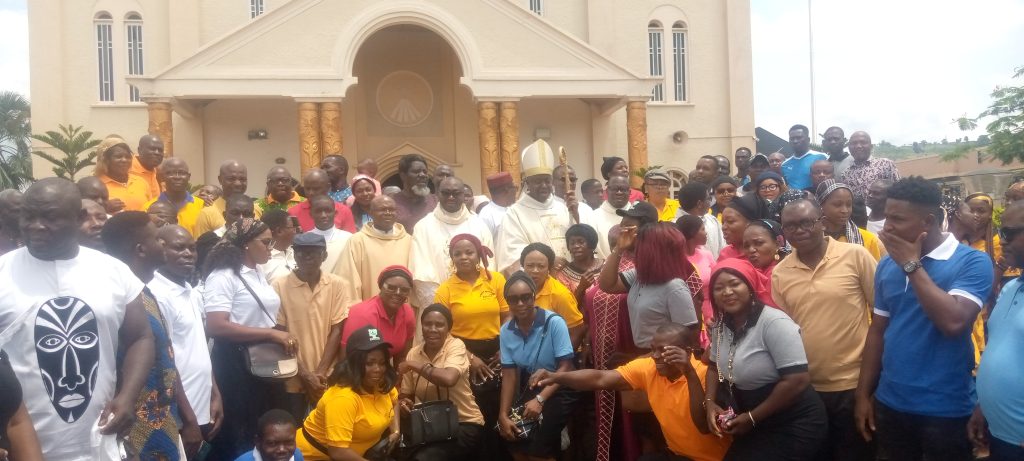 Communication should always come from the heart, and should show love. Communication from the heart he said, is for everyone, media workers, families, leaders. He said people when communicating, should communicate with love and respect.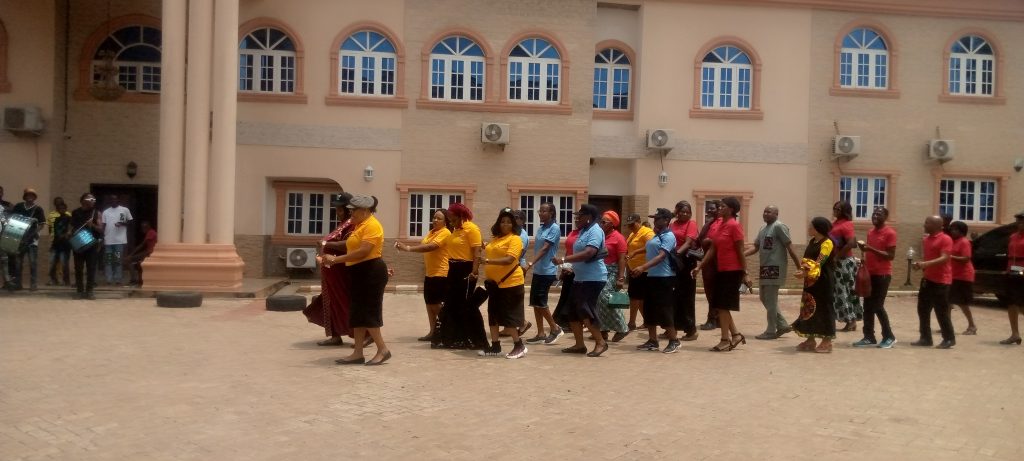 The Cleric urged Journalists to communicate with open heart and mind ,
speak the truth with respect, be mindful of how they use their tongues. " We need communicators who are open to dialogue. Continue to tell the truth .Don't depend on hear say. What should be communicated should be able to resolve misunderstanding and bring peace.', he said.
"In order to speak well ,it is enough to love well .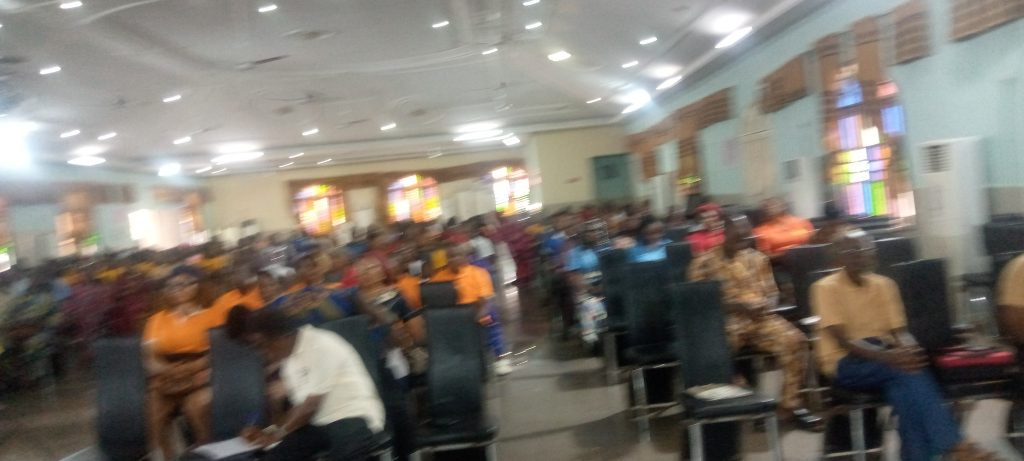 "We should also communicate our anger with love , .Bishop Onaga. advised.
He said that the Holy Father, Pope Francis, said, " We need communicators who are open to dialogue.
True peace can be found in mutual trust.-
He advised Journalists to be factual in their reportage and desist from all forms of propaganda.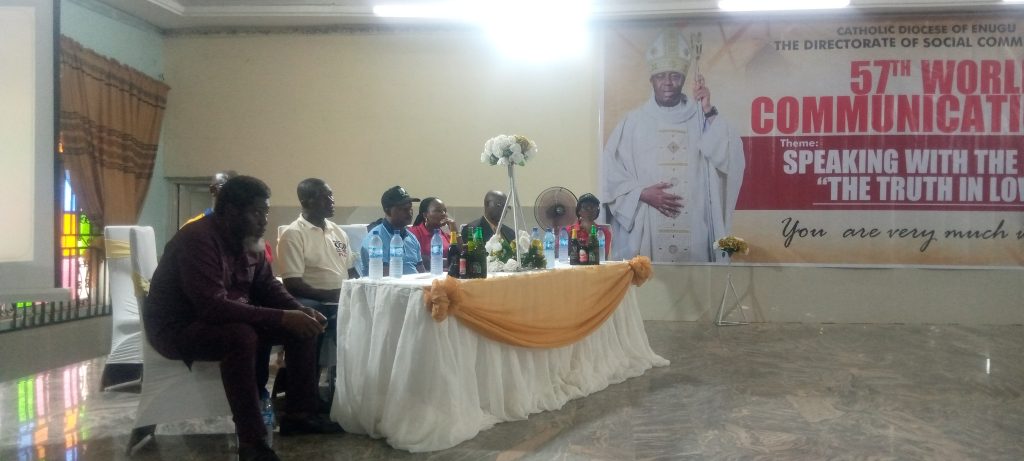 In his Keynote address on the topic, "the place of uncompromising truth in nation building and development , the undisputable role of the Communicators, Head of Mass Communication Department , Enugu State University of Science and technology (ESUT), Prof Ifeanyi Didiugwu, advised that people should deviate from doing anything that will affect the sensibility of the people.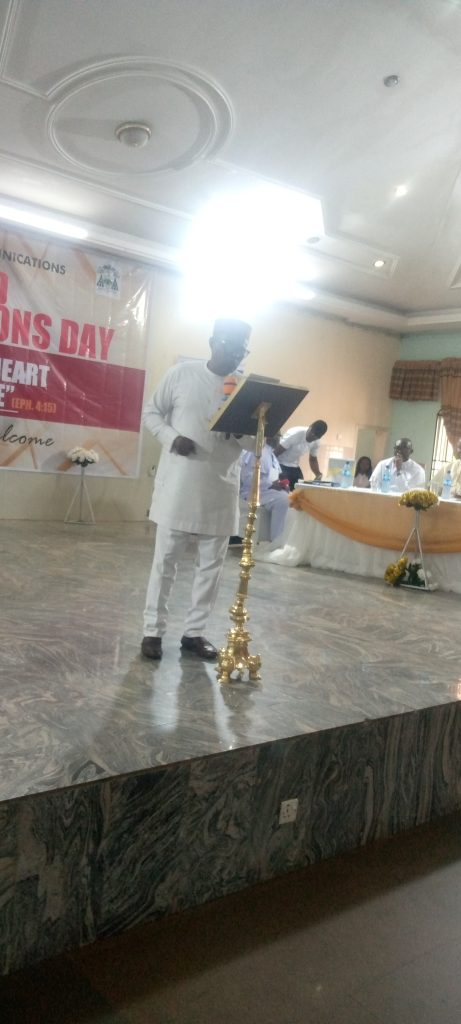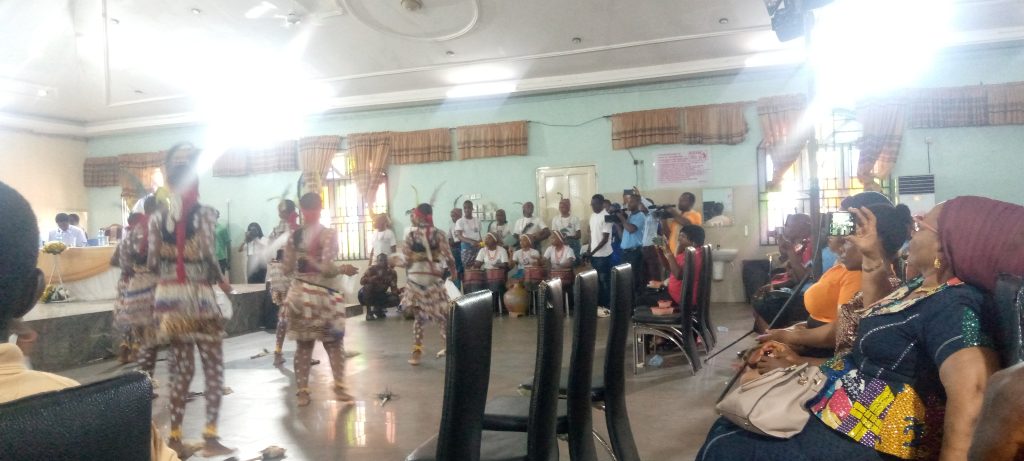 He noted that development will thrive when the truth is communicated with respect and everyone does the right thing .
He advised that media workers should be well renumerated, saying, " this thing we pay as salary is peanut".
On social media, he said, social media has both advantages and disadvantages. "We are all guilty of fake news. Social media provide substance which we enjoy but they cause trouble too. You cannot control the social.media.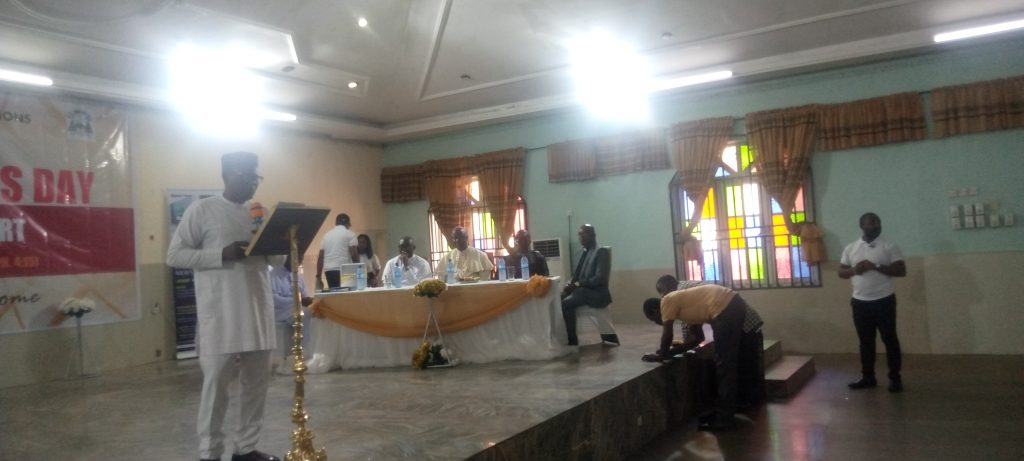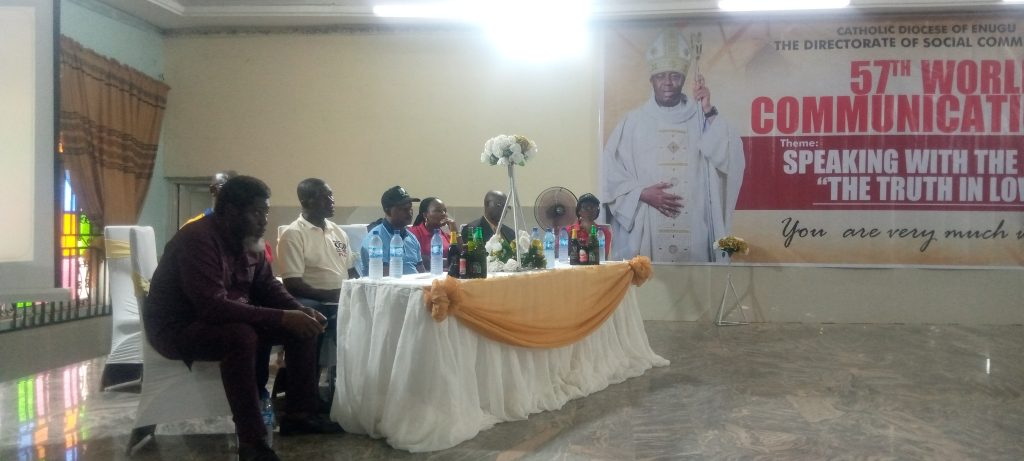 In his presentation ,Rev Fr, Prof. Innocent Ebere Uwah of the Department of Film and Multimedia studies, Faculty of Communication and media studies, University of Port Harcourt, spoke on the topic," Truth in Love(Eph 4:15) Import and Value of Pastoral Communication in the Salvific mission of Church",
He noted that the roles of journalists are gatekeeping and agenda setting.
He urged journalists to communicate with love, respect and compassion, to be communicators who know how to enlighten the truth. He explained that It is a new order for journalists, the church and the leaders.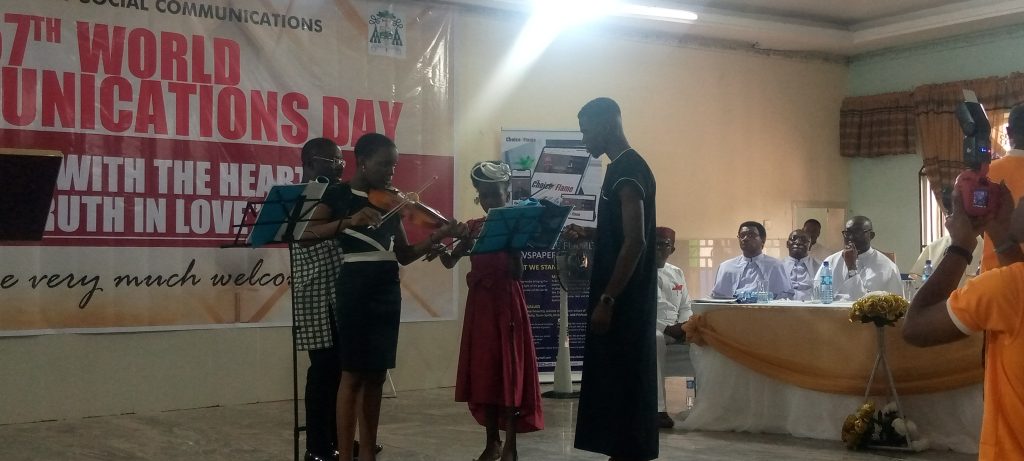 "Heart is the key concept of humanity Heart in Communication, reflects love , speaking from the heart .
"Communicators should respect People's human rights.. Communication can bear further fruit when it takes into cognizance the people it addresses", the Cleric said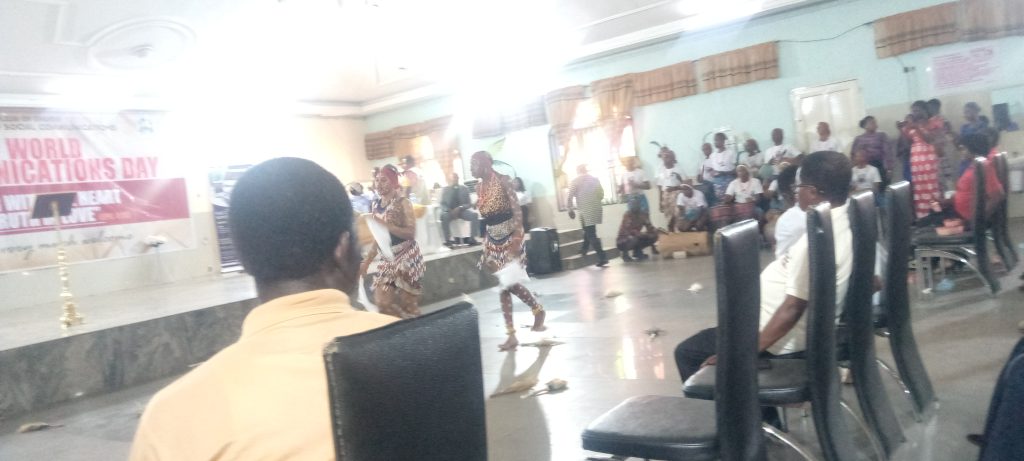 The Guest speaker extolled the bishop of Enugu Catholic diocese,,Most Rev Callistus Onaga, the director of communications,, Rev Fr Anthony Aneke and the immediate past director of communicatiin,Very Rev Fr Benjamin Achi for their roles in promoting Communications.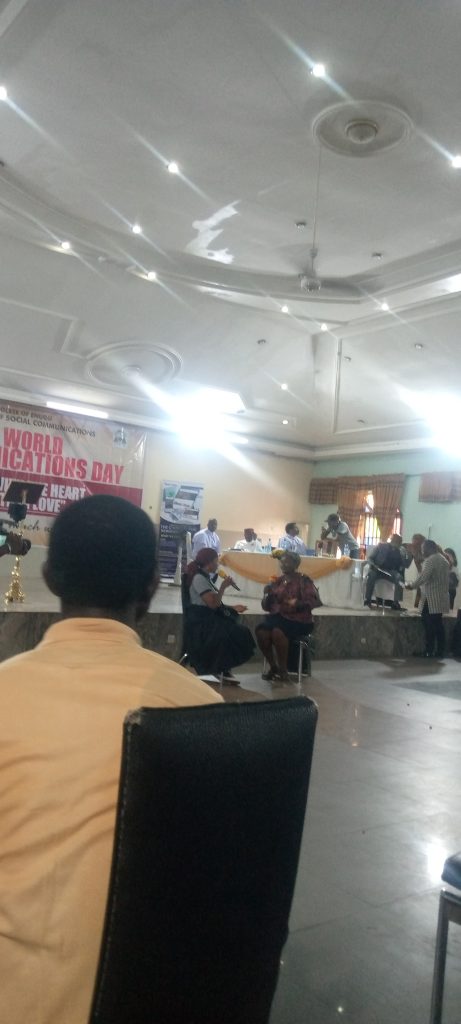 Highlights of the event were match past by various media organisations, drama, musical  and cultural dance presentations.
Author: Maureen Ikpeama