Central Bank of Nigeria (CBN)
on Friday, held it's special day at the 34Th Enugu International Trade Fair, with a call on Nigerians to embrace alternative payment system such as eNaira, USSD and other internet banking facilities to meet up with its cashless policy.
Acting Director, Corporate Communications Department, Dr Abdulmumin Isa, who made the call, said that the country cannot afford to be left behind in the global financial ecosystem.
Represented by the Assistant Director, Communication Department, CBN, Abuja, Esu Imoh, Isa said in the payment's system space, CBN had continued to seek creative ways to ensure that Nigeria takes full advantage of its opportunities and benefits.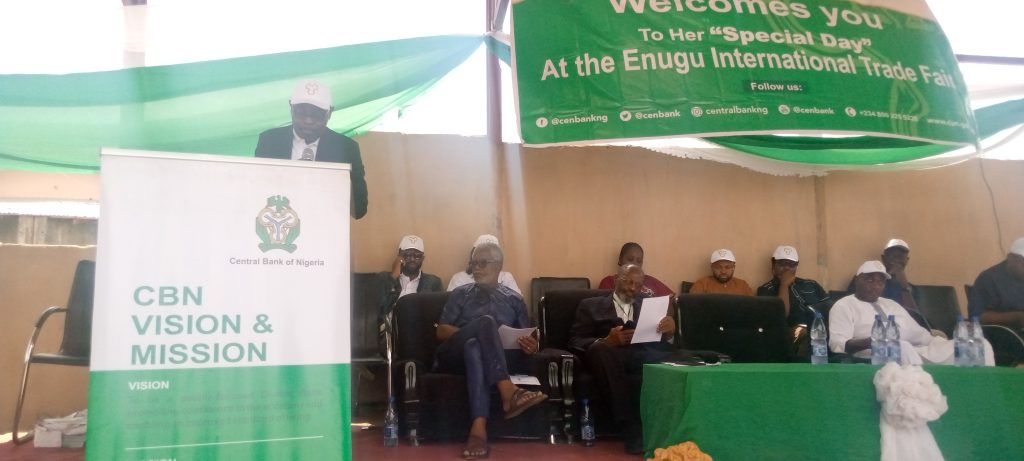 This, he said, led to the launch of the eNaira in October 2021 aimed at broadening the payment possibilities of Nigerians, foster digital financial inclusion, with potential for fast-tracking inter-governmental and social transfers.
He said, "the CBN in collaboration with the Nigerian Inter-Bank Settlement System (NIBSS), recently launched the National Domestic Card Scheme – the first in Africa.
"This is expected to not only lower operating costs for banks but reduce the huge foreign exchange costs associated with operating foreign card schemes," he said.
On the recent redesign of some denominations of the Naira, he reiterated that the policy, which was approved by President Muhammadu Buhari, was in the overall interest of the country and the economy, in addition to aligning with the international best practice.
According to him, the overall, the policy has started strengthening our macroeconomic fundamentals, moderating inflation and upscaled the financial inclusion rate.
"It has also led to relative stability in the exchange rate and supported the efforts of the security agencies in combating banditry and ransom-taking in the country," he added.
Earlier in his welcome address, President of Enugu Chamber of Commerce. Industry. Mines and Agriculture (ECCIMA), Jasper Nduagwuike thanked the CBN for always identifying with ECCIMA and for various intervention schemes of CBN in supporting the growth of businesses in various sectors of the economy.
Represented by Vice President, Publication and Publicity ,Emma Nwankpa, the Ndiagwuike urged CBN to through it's policy measures, save indigenous businesses and the industrial sectors from further glaring cringe.
He said that the chamber was worried that the CBN's recent increase in interest rate from 17.5 per cent to 18 per cent would have adverse effect on accessibility of bank credits by banks.