i
Presidential candidate of Labour Party, Peter Obi has urged Nigerians to vote for him in the February 2023 governorship election, assuring them that Nigeria will enjoy economic boom again as his government would unite and secure the country for rapid transformation of all the sectors.
He also assured them that his government will move Nigeria away from corrupt structure. that if voted to power, he will lead a country that will be the pride of every Nigerian.
He spoke at a presidential rally held at the Michael Okpara Square, Enugu,  on Thursday, January 22,2023.  He said it was time to move the country away from corrupt structure that has given it a bad name, enthroned hunger, starvation, bad governance, poverty and loss of confidence, which has led to mad rush for greener pastures.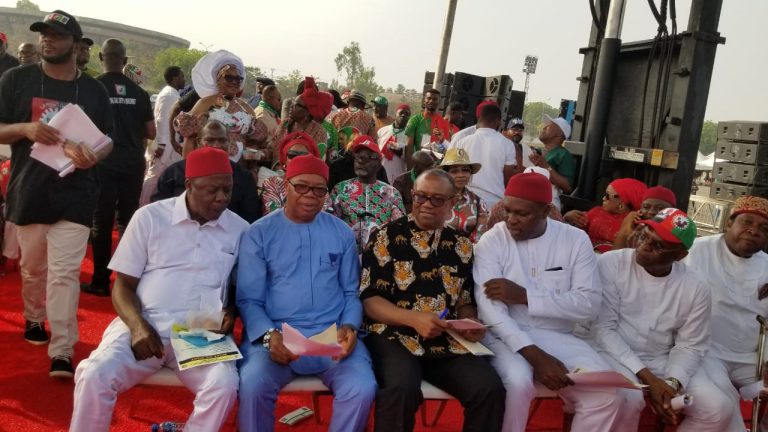 He condemned claims by the All Progressives Congress, APC and the Peoples Democratic Party, PDP that he has no political structure to win the 2023 election, saying his structure was the entire people of Nigeria.
Earlier, the Labour Poverty presidential candidate held discussions with massive crowd at both Nsukka and Enugu campuses of the University of Nigeria, Nsukka, UNN, his alma mater.
Addressing mamonth supporters at Okpara Square, who turned the rally to a carnival of sort with Ijele and Wonder masquerades entertaining, Obi said nobody should be deceived over claims of structure, stressing that it was the turn of the impoverished Nigerian youths to retake the country.They told you I have no structure. What they have is structure of criminality, structure of fuel scarcity, structure of looting, structure of poverty," Obi said.
While advising the people not to be carried away by the promises of the same people who he said had destroyed the country, Obi lamented that "in our country today, 133 million people are living in poverty, how many are left?
"We have more poor people than India and China combined. We have a lot of people living in poverty, we cannot continue this way, millions of people are living without knowing where the next meal will come from.
"Today, moving around the country, you are not secured. I assure you that I and Datti will secure and unite Nigeria."Obi who was flanked by his running mate, Ahmed Datti and his wife Margaret Obi among others, equally enjoined the electorate not to be swayed by religion and ethnicity while casting their ballot.
"I am a Nigerian and I want to change Nigeria. I don't have dual citizenship of any country. I don't have resident permit of any other country.
"This year's election will not be by tribe or religion. No tribe or religion buys bread cheaper.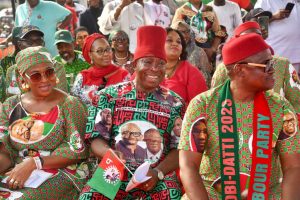 "I am not contesting because I am an Igbo man. I am a proud Igbo man but I am contesting because I have the capacity.
"It is nobody's turn, it is your turn. It is your turn as Nigerians to have something you are doing.
"I told students today at UNN, no more ASUU strike, four years will be four years, five years will be five years," he further stated.
Obi told the youths that it was their turn to be proud of the country, stressing that they would not have reasons to run away from the country as his plan to move Nigeria from consumption to production was achievable.Promising to serve with the best of intentions, he said that he was running in the election because he had the requisite knowledge, ability, character and experience to lead, stressing that the job required someone with energy.
Also speaking, the Vice Presidential candidate of the party, Yusuf Datti Baba-Ahmed declared that the North is ready for the polls.
"This is 2023, it is the turn of Peter Obi and I tell you, nobody and nothing is coming in-between.
"Apart from Peter Obi, any other person contesting is deceiving himself. Peter Obi is that exemplary leader who is moving Nigeria from disunity to unity.
"Peter Obi is that shining Nigerian that is moving the country from consumption to production. We are different and we will lead Nigeria to prosperity differently.
"From the day you hear Mr. Peter Obi, President of Nigeria, we will stop the killing and start the healing. We will stop the stealing and start the giving.
"This election is as good as won; the North say, we are ready," he said.
In their separate remarks, a former Governor of Anambra State, Chief Chukwuemeka Ezeife and the immediate past President-General of Ohanaeze Ndigbo, Chief Nnia Nwodo urged Nigerians to remain committed to the Peter Obi project.
Ezeife said, "The result of the polls is clearly predictable. When people tell me happy New Year, I tell them welcome to New Nigeria.
"God has given us Peter Obi to enthrone equity, justice and economic development. God has modelled Peter Obi in every direction. He has character, capability. The years the locust has eaten, Peter will help Nigeria to recover."
On his part, the former President General, Ohanaeze Ndigbo worldwide, Chief Nnia Nwodo said, "There is God's hands in the Obi project.
"The youths, this is your flight. Our country is in shambles. Our prayer is that Obi will open the door of economic prosperity for the country.
"On behalf of the Southern and Middle Belt Forum and Ohanaeze we wish Peter Obi success," he said.