Court of Appeal sitting in Lagos has upheld the victory of the candidate of the Labour Party, Prof Paul Nnamchi as the duly elected House of Representatives member for Enugu East/Isi-Uzo Federal Constituency.
In a ruling on Friday, the court overturned the ruling of the Petitions Tribunal which nullified Nnamchi's election on the grounds that he did not properly resign from the University of Nigeria Nsukka where he worked as a lecturer
The candidate of the Peoples Democratic Party (PDP), Prince Cornelius Nnaji, was subsequently declared winner of the election by the three-man panel led by Justice A.M. Abubakar.t
Delivering judgement on the matter Friday, the Appeal Court disagreed with the tribunal's decision, insisting that the issue upon which he was removed was a pre-election matter and that Nnaji's petition lacked merit.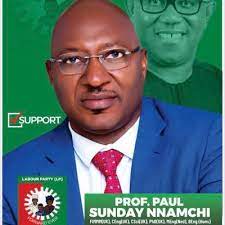 In his reaction, Prof Nnamchi said it was a perversion of justice, revealing that he had instructed his legal team to challenge the judgement at the Court of Appeal.
There was Jubilation in parts of Enugu as the news filtered i