Enugu state Government has called for
collaborations and technical partnerships with Indonesian businesses
State Governor, Dr Peter Mbah made the call in a Keynote speech he delivered at the 2023 Nigerian Indonesian Investment and Trade Forum ,opened Monday, October 23rrd, in Jakarta, Indonesia.
Speaking on the topic, "Discovering Business Potential in Enugu and Indonesia", at the event organised by the Nigerian-Indonesian Chamber of Commerce and Industry (NICCI) in collaboration with the Indonesian Trade Promotion Centre, Lagos, Governor Mbah, suggested areas of patnership between Enugu state and Indonesian businesses to include oil palm plantation management and processing, partnerships in the areas of petroleum gas processing and general petrochemicals, value addition to cassava to produce its numerous upstream products such as flours, starch, dextrins, ethanol etc.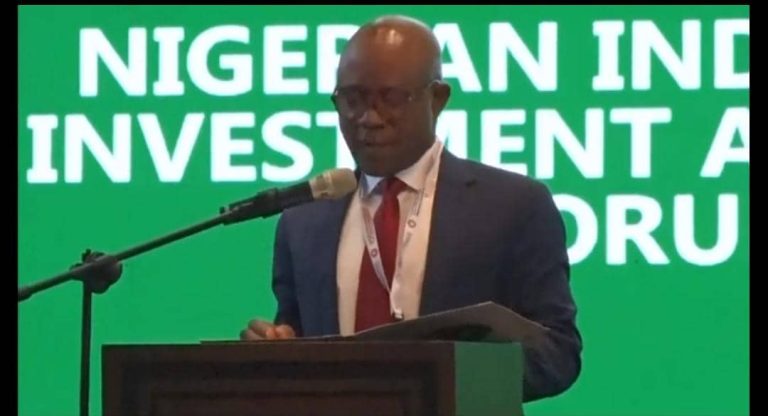 Pix: Gov Mbah
Governor Mbah ,who commended  the growth of trade volume between Nigeria and Indonesia to $4.7 billion,  suggested organisation in the near future of an Indonesia-Enugu Investment forum, where Indonesian businesses interested in entering the Nigerian market can interact with screened Nigerian businesses in Enugu State .to provide a platform for the consummation of truly lasting and mutually rewarding partnerships.
He said," in instances where it is warranted, the State is willing to co-invest with investors to assure them of sustainable alignment of interests with Government in the businesses they have established.
"We are earmarking and developing several Special Economic Zones, which will offer businesses land for lease, access to power, water, waste management, security etc. For Businesses requiring location outside the special economic zones, Governmoperationsent is prepared to undertake all host community interactions on behalf of the Investors to enable them focus on their core businesses
"The Government is also committed to supporting Indonesian and other foreign businesses playing in the State by stepping in to defuse any challenges the business may have as it works towards commencing whether with community groups or with the activities of any government ministries, departments and agencies.
"In general, the Government of Enugu State is positioned to provide all investors the required policy as well as physical support they may require in operating their businesses.
With all of these in place, I can say unequivocally that there is no better place to invest for any investor looking to enter the Nigerian market," Gov Mbah said.
On measures the state government had put in place to improve businesses, Governor Mbah said, "Enugu State has established a functional One Stop Centre, which centralises and facilitates all of a prospective investor's interaction with the Government and regulatory agencies regarding licenses, permits etc".
He explained that with the agency in place, a prospective investor will not have to move from government office to government office attempting to resolve innumerable administrative challenges.
"Now all you need to do is report at the One Stop Shop and an associate from that centre will be detailed to interact with the relevant agency and address your needs.
"We have also just last week launched a massive urban and rural road reconstruction effort, that will result in the construction of 3 major strategic roads and the repairs and modernization of up to 81 urban roads. This will result in improved ease of logistics for the business and industrial community to enable them seamlessly convey raw materials into the factories and evacuate finished products to their customers.
"In addition, we are facilitating agriculture by establishing a major land bank with about 300,000 hectares of land which would be provided to serious businesses both for corporate farmers and for the operation of special agro processing zones which will facilitate the location and operation of businesses. These will take in fresh produce for processing into semi-finished or finished products."
The Governor further said, "Enugu state is also establishing Free Zones across the State to shield productive businesses from local taxes and facilitate production for re-export across the West African and Central African markets.
"We have crossed a major hurdle in the journey to creating a free market for Electric Power in the State by recently signing into law an Enugu State Electricity law which will for the first time permit the State to license all electricity market operators within the State.
"To provide a conducive hosting for hyper scaler businesses like Amazon, Tik Tok, E-Bay etc. Enugu State is also in the process of developing a Tier 4 Hyper Scale Data Center. This will also boost the quality of internet services available to businesses located within the State, and create an enabling environment for the emergence of an outsourcing industry in Enugu as well as the development of an ICT start up entrepreneurship culture in the State.
"We are investing in other far reaching reforms to boost the Ease of Doing Business Ranking of Enugu State especially with specific reference to issues like ease of enforcement of Contract, ease of procurement of land titles (with our recent e-government initiatives, title to land can now be procured in 72 hours), ease of procurement of approvals for property development.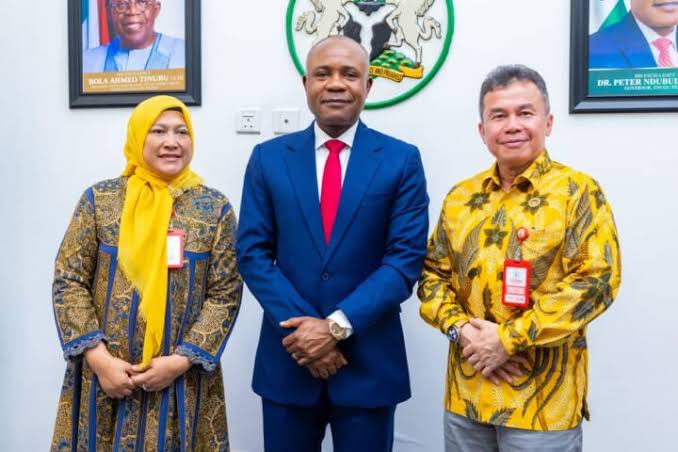 Pix: Gov Mbah and Indonesian delegates
"Beyond the matter of Ease of Doing Business, Enugu State also appreciates that high rates of investment in the State will require that the State is conducive for workers in the new and emerging businesses that will operate in the State so they can live safely in the State with their families," he said. 
On social amenities, Governor Mbah said, "we are also boosting the capacity of our social services to make our cities pleasant and liveable by implementing initiatives like:: expanding the State's security networks to ensure high speeds of response and high levels of deterrence which will assure all residents of the State of a tranquil environment to live and work. This has involved making extensive investment in the security agencies including installing world class surveillance and security command and control facilities.
"Improving Schooling systems which will have the quality to provide world class education both to indigenes of the State and families of foreign workers. We are also revamping our healthcare facilities at the primary, secondary and tertiary levels to provide quality healthcare not only for residents of the State, but also for the needs of neighbouring states many of whom currently travel outside Nigeria at the costs of over $1 billion annually for quality healthcare.
Implementation of e-governance to boost the levels of efficiency of the State public service especially in aspects of social services such as Environment, waste management, water provision etc.
"We have also adopted a number of strategies to support investors and reduce the risks typically inherent in international investment. Some of these initiatives include the following:
Enugu State is prepared to provide access to land for serious investors in key strategic industries, and the State is also able to facilitate the speedy completion of all procedures related to the procurement of land titles and development approvals.
"We have earmarked a number of Special Industrial zones across the State, where industrial investors can benefit from world class infrastructure such as roads, access to power, water, waste treatment etc.
"This is the reason why we are undertaking some of the following development initiatives to make Enugu a pleasant place to invest: To quicken and facilitate these relationships between the Indonesian business community and the domestic business community in Enugu.
"We appreciate that the core objective of the investor is sustainable profit, so I will take some time to share with you a selection of the business opportunities that Enugu has on offer, Gov Mbah said.
In the area of Agriculture, he noted that Enugu is blessed with 100% arable fertile land with a high factor of productivity and good access to both surface and subterranean water that makes all year-round agriculture possible.
"The State population is heavily agrarian and so there is no lack of employable labour required for the operation of large farms. The State is climatically disposed to the production of key produce like Cassava, oil palm, Cashew, spices of various types (including our unique variant of yellow pepper known locally as Ose-Nsukka). These areas offer not only the opportunity for primary agricultural production, but also the opportunity to invest in industrial facilities to add value to these produce for local consumption as well as export.
"The State is also blessed with significant deposits of minerals. In the area of petroleum, Enugu State has proven deposits of oil but more importantly has extensive deposits of natural gas which can be developed either for the purpose of power generation or production of clean gas for industrial and automobile use.
"'Either of these applications would find huge waiting markets not only within Enugu State but even in neighbouring Nigerian States. Other minerals within the State include Coal (which has been globally acclaimed to be of a very clean variety) and which is the basis for the State's sobriquet of 'coalcity state', Gold, some of the best quality kaolin in the world, Gypsum, clay of various varieties and limestone.
"This makes Enugu ideal not only for mining but also for the siting of key industries like cement manufacture, tile manufacture and ceramics production which require these minerals as raw materials and fuels.
Enugu is also a naturally endowed state blessed with scenic hills, rivers, lakes and other topographical features that lend themselves to development for eco-tourism.
He commended the organizers of the event, the Nigerian Indonesia Chamber of Commerce and Industry led by the President Ishmael Balogun and Director, Indonesia Trade Promotion Centre, Lagos, Hendro Jonathan Manurund.
Governor Mbah observed that the trade volumes between Nigeria and Indonesia are continuing to grow and are currently above the $4.7b mark.. '77/,I also recognise the efforts of all you individual Nigerian and Indonesian businesses here today, without you there would be no chamber and certainly this forum would not be happening. We appreciate you for making this event a priority today.
⅞n my view, the holding of an elaborate Investment and Trade forum like this, involving businesses from both Indonesia and Nigeria is not only a good idea, but also is only natural, given the broad similarities between both our countries.
"Alternatively, Indonesian Investors could also consider relationships with Nigerian Businesses already in Enugu State either through Equity or Technical partnerships, or even initially just through supply agreements. These Nigerian partners would give the Indonesian partner an immediate access to the market as well as the benefit of their existing deep insights of the marketplace.
"More impressive still, is the fact that these great developments have been achieved despite many challenges that might have been expected to limit the growth of any normal country. These have ranged from your diverse ethnic and religious groups within the Country, to the unique geography of the Country (given the largely marine and dense vegetation of Indonesia). It is thus to your credit that you have not only surmounted these challenges, but you have converted many of them to advantages and opportunities that have now formed stepping stones for your rise.
"With these levels of performance despite all odds, Indonesia certainly has much that should be emulated. Certainly, my Country will need to borrow a leaf from Indonesia in a number of areas including the development of a thriving agricultural sector, the evolution of a strong industrial base to add value to local produce, and of course the development of a strong and diversified export culture that reduces reliance on crude oil proceeds
"Our capital city, Enugu town, has been a major administrative centre since the colonial times, and served as the administrative capital of Nigeria's Southern provinces in 1920s. The town of Enugu had initially become pivotal to the colonial government due to its extensive deposits of extremely good quality coal.
"Coal production which resulted from this 3 helped to power economic growth both at home and abroad as an import into Britain.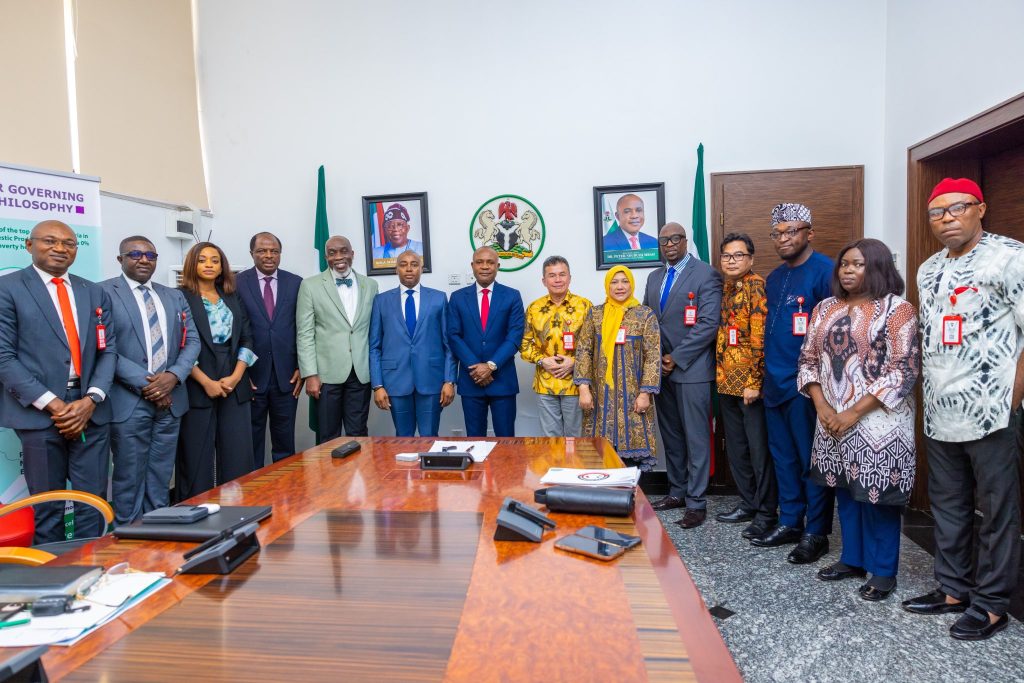 Pix Enugu govt,Indonesian delegates on a visit to Gov Mbah
"To facilitate the transportation of the large volumes of coal produced, a rail line was constructed from Enugu to Ports at the Coast some 230 kilometers away. In addition, the coal also facilitated the development of a thermal power plant at Oji River also within today's Enugu State. 
This early power generating plant was crucial in terms of 5⅝ supply in Southern Nigeria before independence and even thereafter.
"It was this line of thought that led me to set for our State the objective of raising our GDP from the current level of $4.4b to a new level of $30b, and by doing this, eradicate poverty across all areas of our State. Our understanding of what is required to achieve this objective makes it obvious to us that these levels of growth cannot be achieved without extensive attraction of private sector investment and utilisation of strong partnerships both within Nigeria and internationally.
"The State capital being the political capital of the South East holds an emotional place in the minds of people from this region. This makes the State particularly attractive for the development of real estate as people of this region irrespective of where they reside all yearn for a home in Enugu town.
"In the area of Information technology, the State is again uniquely gifted as it hosts the highest numbers of tertiary institutions of all the States in Nigeria. This has given the State a large population of young and technologically aware people, such that with minimal training the State can evolve into an African Bangalore or Bukit Algoritma (Indonesia's domestic silicon valley).
In terms of location, Enugu State sits strategically between the North Central region and the South Eastern and South South regions, which have significant populations of middle- and high-income people, an attractive market for every investor.
"On account of this, Enugu State is a perfect location for the aggregation of agro produce from the North and processing into secondary and tertiary products to feed the needs of the Southern markets. In addition to this as I mentioned earlier, the State is on the Nigerian-Cameroun highway, offering easy evacuation of products to the Central African markets.
Enugu is also taking steps to ensure that the positive strides we have made are sustainable by building strong institutes across the State.
" I will take whatever steps are necessary to de-risk your businesses at least to the extent of external factors. In the light of these, I can assure you that Enugu is on the cusp of an unparalleled growth over the next 4-8 years, that would be a huge boost for investors and businesses who enter the market at this time.
The options for entry are numerous and the possible mechanisms for entry include either a direct investment similar to that executed by Indofoods, or a joint venture with the Government of Enugu State through a Special Purpose Vehicle, such as that which resulted when Indorama invested in the Government owned Eleme Petrochemicals plant all those years ago", he said.
Author: Maureen Ikpeama