By Uche Anichukwu
It is already stale news that the Enugu State House of Assembly recently approved Governor Peter Mbah Administration's request to secure N170bn facilities from Fidelity Bank and Globus Bank to guarantee key infrastructural developments, which are key enablers in the state's economic growth plan
Of course, it is not out of place for governments to take loans. In June, Governor Alex Otti of Abia State got a $115 million loan, well over N100 billion, for the construction of 190.43km of roads in Aba and 58.03km of roads in Umuahia, among others. In July last year, the Anambra Assembly approved N100 billion Central Bank of Nigeria (CBN) loan for the Prof. Charles Soludo administration towards the construction and refurbishment of key infrastructure in the state. Indeed, as the Labour Party presidential candidate, Mr. Peter Obi, usually maintain, loans are not a bad idea; it is what a government does with it and how the loan is structured that matters.
In the case of Enugu State, the credit facilities comprise a N100 billion bank guarantee line by Fidelity Bank for infrastructural contracts issued to approved contractors. However, this will only crystalise in 36 months. Next is a N10 billion term loan by Fidelity Bank with a 48-month tenure and another N10 billion Fidelity Bank overdraft to guarantee workers' salaries . It has a lifespan of 12 months if taken, while the last is a N50 billion Globus Bank facility which crystalises in 42 months.
As could be seen, the bulk of the facilities are bank guarantees as could also be deciphered from widely published government request to the State Assembly. According to Investopedia, a bank guarantee is a financial backstop offered by a financial institution promising to meet the liabilities of a business or individual if they don't fulfill their obligations in a contractual transaction.
A little backgrounder will suffice. The Mbah administration has expressed a humungous vision and wants to do extraordinary things, including making Enugu the premier destination for business, investment, living, and tourism. He wants to grow Enugu's economy from the present $4.4 billion to $30 billion through private sector investments. But this would require massive infrastructural development, which are in themselves key enablers in the state's economic growth plan.
However, how Mbah hopes to fund his vision was a reoccurring question during the campaign and interactions with the media and groups, given the state's paltry IGR and receipts from the Federation Account/FAAC. But right from his manifesto, Mbah has always been clear that the handouts from Abuja are erratic, fast thinning out, and cannot scratch the surface of what he intends to accomplish. This can only manage to support an incremental growth, which, to him, has become untenable, just as the old funding model (FAAC/Federation Account) that supported it. He is an advocate of new and creative funding models to power development. And the structure/nature of the N170 billion credit facilities is just a glimpse of his creative approach to funding.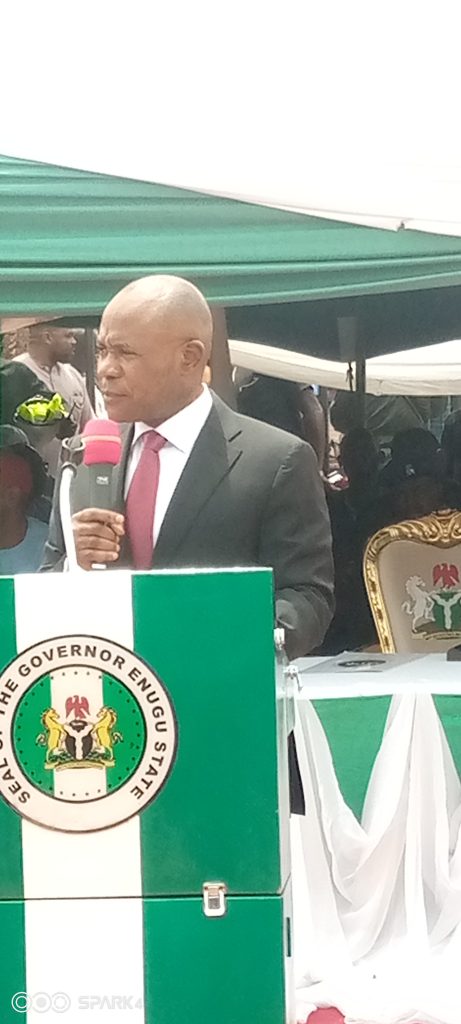 Gov Mbah
Just for clarity, Enugu State has not drawn down on any loan as some mischief-makers want Ndi Enugu and Nigerians to believe, and may likely not do so, anyway. In the case of bank guarantees, for instance, the administration only used them to securitise the contracts for key infrastructural projects earnestly needed to make Enugu State more attractive to investors. Some of the projects are also investments in themselves. Only last week, Governor Mbah flagged off the construction and reconstruction of 71 urban roads to be delivered alongside street lights, drainages, pedestrian walkways, and so on by December this year; construction of a 17km dual carriageway, in addition to feeder roads, and other infrastructure for the take-off of the New Enugu City, which sits on 10 hectres of land, cutting across four LGAs; and a virgin 17km Owo-Ubahu-Amankanu-Neke-Ikem to open up the rural economies and create a gateway to the North Central region.
However, to assure the contractors that they would get their funds as and when due and assure prospective investors that critical infrastructure would be available to support their investments, the administration needed to secure the bank guarantees and credit facilities. It is also noteworthy that in contractual transactions, the more risks there are in a transaction, the higher the cost. For instance, the high cost of construction in Nigeria is partly attributable to poor funding, which often makes projects slated for completion in about year or two drag on for years and decades. This forces contractors to stay on site longer than necessary at great costs.
But in this instance, what the Mbah Administration has done is simply to say to contractors: "Look, we may not have liquid cash, but we have dormant/abandoned but liquid assets that we can easily convert to cash and ensure that we meet up with our financial obligations to you. We are also re-engineering our IGR, automating revenues collections and plugging leakages with the aid of technology. We are strengthening institutions and automating our MDAs. So, let us get to work because even in the unlikely event that we are unable to meet up with our financial obligations to you, there is no shaking, as we have bank guarantees. For instance, you could approach Fidelity Bank after 36 months to get paid for projects tied to the N100 billion facility provided". With this assurance, Enugu will get world class jobs done by renowned firms at minimal costs
In other words, those bank guarantees are not loan in the pedestrian manner they have been innocuously presented by some commentators or mischievously misrepresented by rivals, who do not yet appreciate the fact that elections are over and it is now time for governance
Again, even though the N10 billion overdraft and another N10 billion facility both from Fidelity Bank are accessible in the immediate, the government is not in a hurry to draw down on them. According to the state's Commissioner for Finance, Dr. Nathaniel Uramah, an Economist at the Central Bank of Nigeria (CBN) with interests in Monetary Policy, Public Finance, and External Sector Economics before joining the Mbah administration, the other N20 billion credit facilities were only secured and kept in the cooler to give the government some level of comfort and surefootedness in terms of planning. So, in essence, no N170 billion has been loaded in bullions for delivery to government.
Meanwhile, though the credit facilities are tied to the Irrevocable Standing Payment Order (ISPO) on consolidated Enugu State Internally Generated Revenue (IGR) accounts and domiciliation of JAAC/FAAC/Infrastructure Support just to give the banks something to hold on to, what should have predominated discourse if people wanted to come from the point of knowledge and open mind should have been, what is the Mbah administration doing differently and what is happening differently in the state to earn such great level of trust from the creditors (banks), contractors, and the investing community? For instance, what makes Fidelity Bank confident in the prospects of Enugu State under Mbah to stake N100 billion to guarantee the administration's projects?
Obviously, this lies in Mbah's antecedents and the prospects the state has shown in the few months of his administration. Lest we forget, Mbah is a private sector person or a technocrat on a rescue mission, as the likes of Monsignor Obiora Ike prefer to refer to him. Although, he is a lawyer, he is primarily a finance person, and a guru in project planning and financing. We can always look back at what he did with Pinnacle Oil and Gas, where he took off effectively in an already taken petroleum downstream market in 2008 with two staff in a small Lagos apartment, only to emerge the market leader some years down the line, ahead of the oil majors. His last project before stepping aside as Pinnacle's CEO to run for the governorship of Enugu, was the pioneer $1 billion offshore, subsea petroleum products terminal in Lekk, which was commissioned by former President Muhammadu Buhari in October 2022. It is a pointer to how his mind works..
In just few months, Mbah has expectedly brought his well-established integrity, private sector experience and goodwill to bear on the governance of his home state, thus making it attractive to creditors, investors, and contractors alike. Contrary to the wrong picture painted out there, Enugu is not a poor state as presented by some. It is about how the state is managed. It is about the operating environment, transparency, policies, security, etc.
In just few months, the administration has increased the IGR from N2 billion to N4.3 billion and it is expected to hit N10 billion in a few days. The transport sector alone, where the state used to project about a paltry revenue per annum, is now expected to turn in N13.5 billion. For instance, with the introduction of e-ticketing of tricycles (Keke), which ensures that revenues go straight to a designated Treasury Single Account (TSA), the receipts have risen from virtually zero to N6 million daily for a start.
Indeed, with quality leadership as Mbah provides, for a state that boasts of humongous dormant assets, for a state that is ramping up its IGR profile, for a state blessed with arable land and mineral resources, and for a state that intends to spend between N2 trillion to N3 trillion in four years, a N170 billion credit facility (even without bank guarantee elements as we have in this case) is just but a scoop from the ocean. The positive reviews Enugu receives outside the state and the huge interests it is generating among investors, make the state very credit worthy. The improved security, what the government is now doing with its moribund and abandoned assets, the administration's unfolding plans for the mineral resources, the over $2.1 billion project pipeline, etc. are a great plus for the state.
The MD/CEO of Globus Bank (one of the credit facility providers) , Elias Igbinakenzua, said this much during the recent opening of a branch of the bank in Enugu.
His words: "We have seen the works being done by our able governor and we thought we should come and partner with the government and support those initiatives. The governor has very ambitious plans for the state. And we thought we could play a role to make that happen. There is no fear of insecurity right now in Enugu State. So, for those who are serious, who want to do business, this is a very good place to come".
Case closed.
Anichukwu's writes from Enugu
.