Minister of Agriculture and Food Security, Abubakar Kyari , has commended Enugu state Government for it's commitments and impressive progress made so far in the Value Chain Development Program of the Federal Government/ International Fund for
 Agricultural Development- Assisted Value Chain Development Program, saying that the state Governor, Dr. Peter Mbah  is the only Governor in Nigeria  that has cleared the counterpart funding of the FGN/IFAD-VCDP.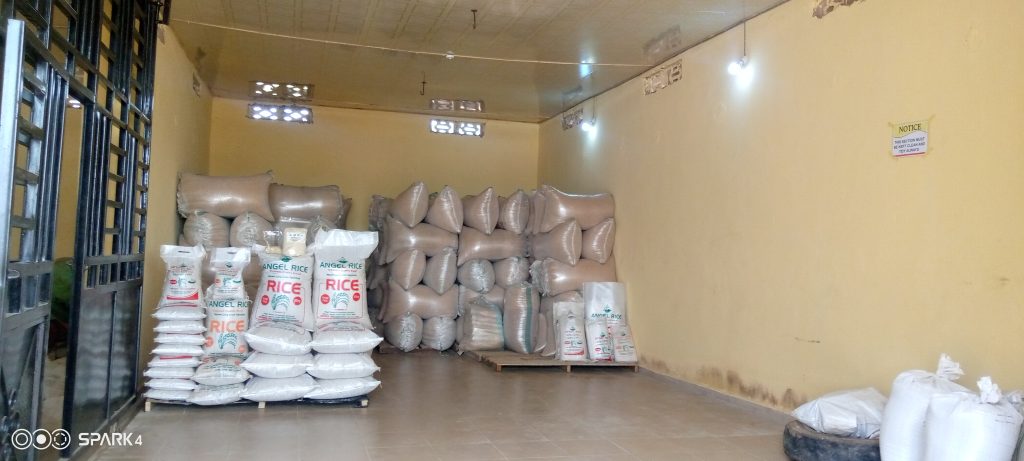 Kyari gave the commendation ,Friday, September 15, during the  field visit to Aninri, Enugu East, Isi-Uzo, Udenu and Nkanu East local government areas of Enugu state, to assess the level of the implementation of the Value Chain Development Program(VCDP) in rice and cassava production.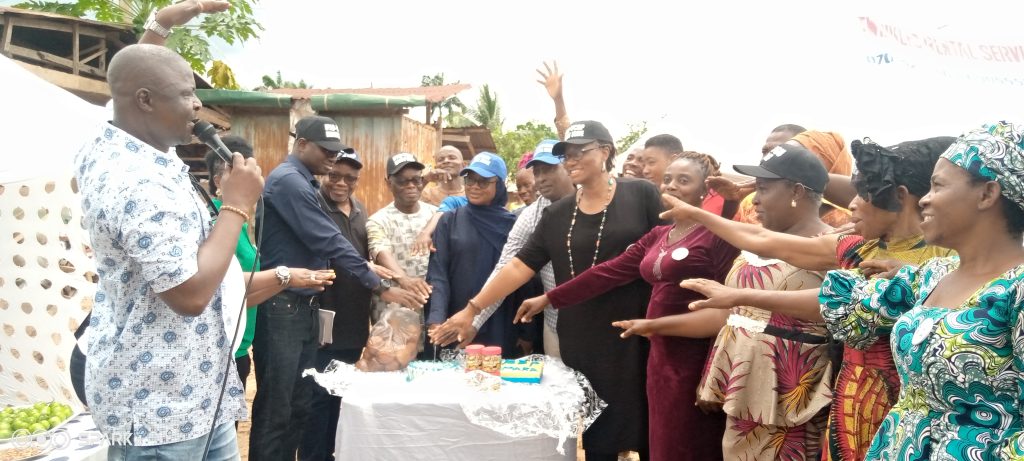 The minister who was represented by the Director, Project monitoring unit, Dr. Peter Kush,expressed joy with what he saw on ground and urged the state government to increase it's counterpart funding to create room for expansion,to accommodate more farmers
The 10Th Supervision Mission Program Report monitoring team led by Samuel Eremie, visited both rice farms, rice processing centres, cassava farms, cassava processing centres and the learning centres of the Gender Action Learning System(GALS) in Nenwe, Mbuluowo, Ogbeke Nike, among others .
The team interacted with the farmers ,processors and machine operators to know their challenges and successes .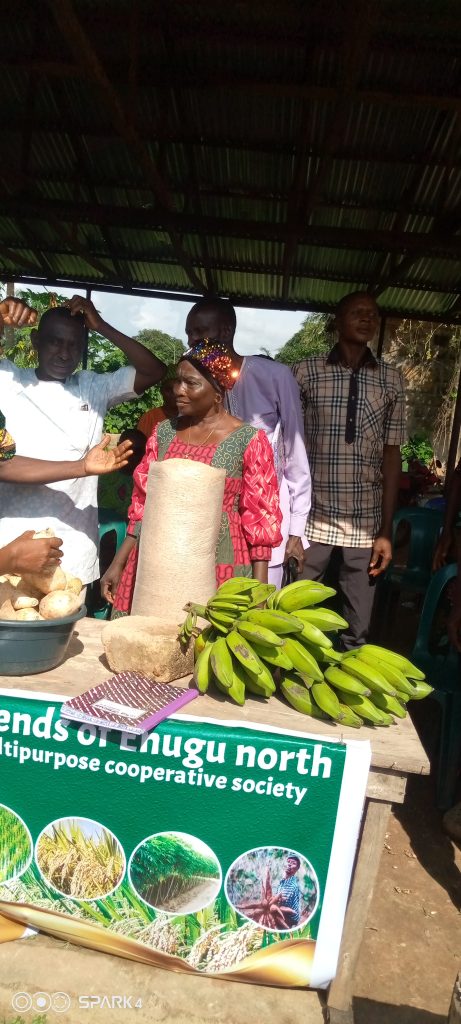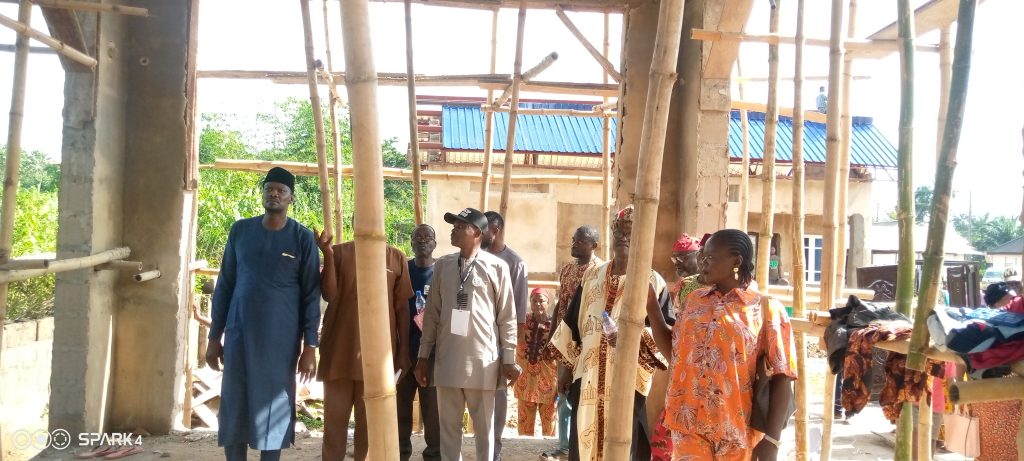 The farmers thanked the federal government, IFAD-VCDP for their support, acknowledging that they were not doing well before, until the FGN/IFAD-VCDP intervened. They added that before now, they did not know one could create wealth from agriculture, but the VCDP program opened their eyes to that . They said with the knowledge they had acquired, they will be able manage, sustain the business
and multiply what was given to them to create jobs and ensure food security in Nigeria, after FGN/IFAD-VCDP must have rounded up in 2024, though they still wanted the program to continue.
A farmer, Mrs Lovely Ejim, thanked the Federal Government, IFAD-VCDP for their support. "We farmers, rely on what we do and the advice of the coordinator and LO. They monitor to make sure that our efforts are not in vain. They let us to know we should be serious."We still want FGN)IFAD-VCDP to continue helpings, to encourage us the more", she said On the progress made so far , she said they successfully cultivated 500 hectres of rice farmlands, have a Gender Action LearnSystem(GALS) centre for enlightenment, they also have a nutrition centre , where they bake cake, make snacks with rice, produce other products ,including shampoo , using improvised ,among others.. She appealed for construction of access road to the farmlands and additional funding to increase their productivity.
Ejim said "about 125 groups have been profiled ,there are extra 22 groups and all of them are active." She added that they have persons living with disabilities amongst them.
Another farmer, Evelyn Nwaaro of Chimelumma group thanked the sponsors for giving them tricycle recently and appealed for transplanting machine to lessen their burden of transplanting manually.
On her part, Agatha Aliukwu of Udodinma group appealed for a promot Distribution of fertilizer and equipment to farmers.
At the Providence Rice processing Mill, Afor-Agu, Nenwe, the chairman, Lawrence Chijioke, thanked the FGN/IFAD-VCDP for their intervention. He appealed for distribution of Rice Par boiling machine and Rice dryer to help them par boil and dry their rice to avoid wastages .He also appealed for a reduction of the 30% counterpart funding they pay to 20%. Angel Rice Processing centre,Nenwe was also visited.
The members of the team , Dr Samuel Eremie, representative of the minister of Agriculture and food security, Dr Peter Kush, National Cordinator, Dr. Fatima Aliyu, Kogi state Program Cordinator,Dr Stella Adejo, Enugu state program Coordinator, Dr Isiwu, Country Director , Dr Bayo Ogunleye, Humphrey Ubanyi, Nutritionist and Gender specialist, Adeline Moheebwa, Ameh Onoja,
At Mbuluowo, Nkanu East local government, the farmers expressed joy for improved yields. They appealed for more assistance saying that the FGN/IFAD-VCDP program has helped them expand their farm businesses.
According to them,apart from the farm inputs, equipment and infrastructures given to them, the technical assistance in business thinking and sustainable training would help them to continue the programme even when IFAD-VCDP finally leave them.
In a remark, the traditional ruler of Mbuluowo, HRH Godwin Arum thanked the group for their support to the VCDP farmers and appealed for more funds. He advised the farmers to continue to do well, sustain their farming activities and utilise the equipment given to them for the purposes they were given.
Leader of the team and National Program Cordinator , FGN/IFAD-VCDP, Dr. Fatima Aliyu, in a remark, commended the Enugu state Governor for paying all the counterpart funding ,which no Governor has done in the country.
Aliyu, who was represented by her Personal Assistant, Gonni Haruna, inspected the Rice processing mill, Mbulu owo, under construction.. The president general , Mbuluowo, Gorge Eze, assured that the project will be completed in December,2023. Present at the event were the Chairman of the traditional rulers council, Nkanu East local government, HRH Igwe Edeani, various farming Corporatives among others.
Some of the cassava processing centres visited by IFAD-VCDP officials were Umualo in Isi Uzo LGA, Umuaga Ezimo in Udenu LGA, Ogbeke-Nike and Ako-Nike in Enugu East LGA.
A cassava farmers, Christian Eze while commending IFAD-VCDP, Gov. Peter Mbah and the State Programme Coordinator, Dr Edward Isiwu, said the project had changed their means of livelihood.
Eze said they were empowered with the garri processing equipment, boreholes, market stores and others, stressing that the capacity training given to them would assist them to carry on when the project eventually wound up.
"We have 30 hectares of cassava planted with improved variety of cassava stem from IFAD and the upgrade of our garri processing centre will help us to produce more garri for the state and Nigeria in general.
"With the upgrade of our processing centre, our quality of garri and cassava flour has improved as they taught us how to produce, process, package and market," he said.
Another farmer, Mark Ndu added that they would soon begin to export their garri given the quality of their packaging and approval by the National Agency for Food and Drug Administration and Control (NAFDAC).
"The upgrade will increase our margin,  revenue, make us have market share in Nigeria and create more employment as we now have women frying our garri and those that market it," he  said.
Author: Maureen Ikpeama