Forecasters warn of "life-threatening flooding" as the storm begins to bring rain to the Southwestern United States, U.S.
Many Palm Spring residents reportedly ,crowded around a pit of sand at City Hall, rushing to fill bags to prep their houses for projected flooding from Hurricane Hilary.
The acting deputy director for the Department of Maintenance and Facilities, Daniel Martinez, said , "Since yesterday about 8 a.m, the crowds have been just like this all day. Nonstop,"
He pointed to another truck, arriving to dump sand into the pit, where residents stood shoulder to shoulder — arms glistening with sweat from labouring amid the thick, hot air.
"As soon as it gets here, you'll see the sand disappear," he said.
Daniel De Selms, the city's emergency management coordinator, said "Since Friday morning, more than 22,000 sandbags have been handed out to residents at local fire stations,
"By noon Saturday, another 20,000 were on track to arrive. Each household is allotted 10 bags.
De Selms said the city was preparing for road closures and potential power outages.
As residents rush to stores to stock up on food and water and to the sand pit at City Hall, he said he wanted to remind everyone that "we're all going to be in this bad weather together. Human kindness goes a long way."
In Palm Springs, neighbours expressed concern for the older population of retired residents, who might not be as fit to manually prepare for the weather — as well as the community of unhoused people who reside along a wash that is expected to flood.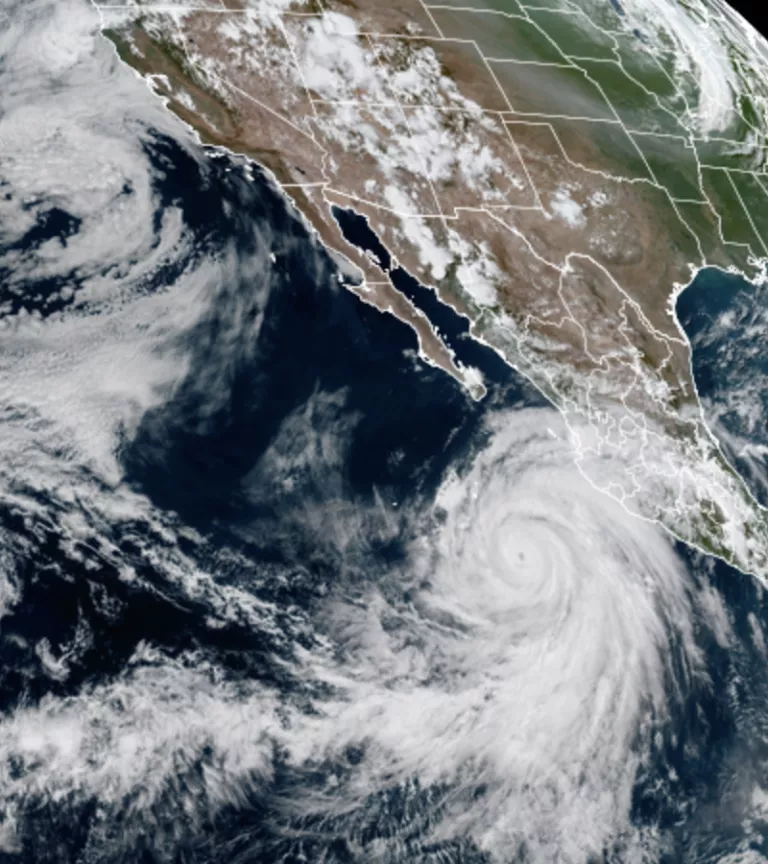 Since Friday morning, the Police Department has been flying helicopters over the washes, urging unhoused people to move their tents away from the creek and into safety, said Mike Vasadan, a patrol sergeant for the Palm Springs Police Department.
National Weather Service forecasters' warning of lashing winds, intense rain and harrowing conditions along the beaches prompted Los Angeles County officials to advise people on Catalina Island, particularly those with medical conditions or those who might be in need of help during a natural disaster, to evacuate on the Catalina Express.
The county noted there could be prolonged utility outages on the island.
Flood concerns also prompted San Bernardino County sheriff's officials to issue an evacuation warning for the Oak Glen, Forest Falls, Mountain Home Village, Angelus Oaks and Northeast Yucaipa areas Saturday morning.
The storm has prompted officials to cancel events and issue dire alerts, with the system expected to move across southwestern California on Sunday and Monday.
The National Weather Service issued a tropical storm warning at 8 p.m Friday (0300 Saturday GMT) for the area from the California-Mexico border to Point Mugu and for Catalina Island.
Around 12:45 pm (1945 GMT) Saturday, the San Bernardino County fire station in Twentynine Palms ran out of sandbags for the second time in as many days.
The station gave out about 2,500 bags on Friday and 3,000 on Saturday, a firefighter said as he taped a sign to the door informing residents that they had no more.
It wasn't clear if another order of 5,000 bags to be split among stations in the Morongo Basin would arrive before the storm, he added.
There was plenty of stuff to fill the bags with, though.
Residents passed around a shovel to scoop sand from the fire station parking lot.
More people were pulled over along Amboy Road leading out of town, shoveling sand from the shoulder of the two-lane highway.
Rebecca Rasmusson and Martin Reem, both Marines, said they'd been fighting about whether they needed to get sandbags ahead of the storm.
In the end, they decided they did.
"I figured we might as well put in the work now so we're not sorry later," Rasmusson said in the fire station parking lot as she scooped sand into a bag. "We're preparing for the worst."
They'd loaded up on water and groceries, including food that can be grilled if the power goes out, and made sure they had flashlights and filled up their car with gas, she said.
Also, the mountains and deserts of Southern California are expected to see the highest risk for dangerous, even deadly, flash flooding from heavy rain due to Hurricane Hilary from Saturday through Monday, according to a climate scientist.
"If you're in the eastern slopes of the mountains in Southern California in particular, especially San Diego and Riverside counties, but also the high and low deserts, from the Imperial Valley up through Inyo County, this is going to be a major flood event," UCLA climate scientist Daniel Swain said in his Friday live YouTube forecast.
"It could potentially be a historic flood," he said.
Hurricane Hilary was creating 130 mph winds (210 kilometres per hour) and churning over the Pacific Ocean, just off the coast of Cabo San Lucas, as a Category 4 storm on Saturday morning.

Even though Hilary's centre isn't expected to reach California until Sunday, and the system will be a weaker tropical storm when it arrives, forecasters are sounding the alarm bells that Southern California will begin to see significant, rare and dangerous impacts on Saturday, which will continue into Sunday and Monday.
While dangerous wind conditions are likely, the larger concern is the tropical moisture surge that the storm is expected to pull into California which could lead to torrential rain and historic flooding.
The National Hurricane Center is predicting "catastrophic and life-threatening" flooding in portions of Southern California.
With the storm's track unlikely to shift substantially in coming days, meteorologists are honing in on those areas that are likely to see the heaviest rainfall and most severe flooding.
California's desert areas could see a year's rain in 2 to 3 days.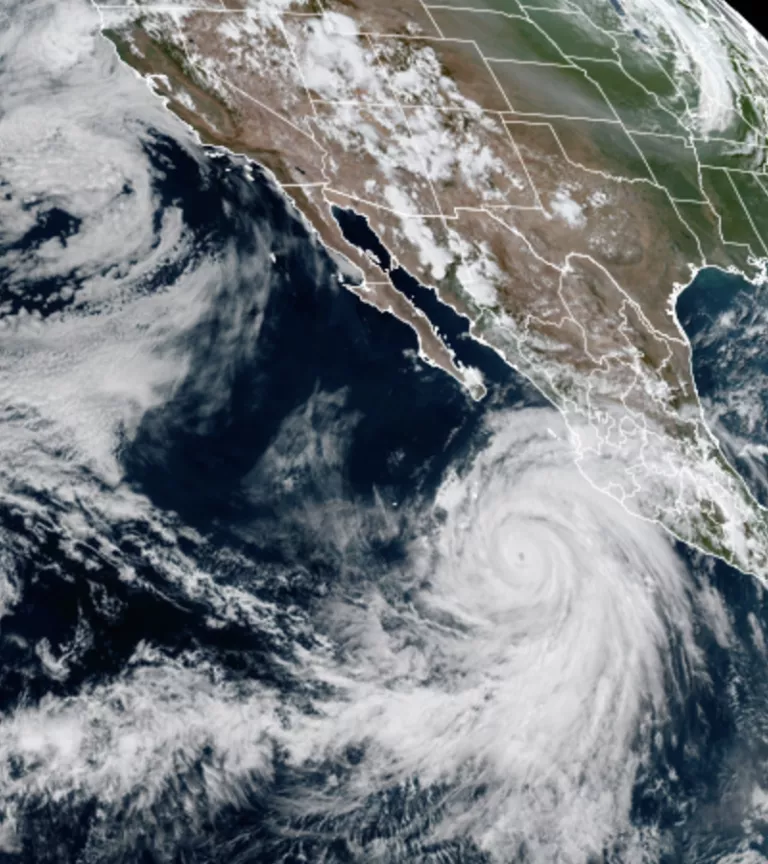 It's not unusual for remnant moisture from a fizzled-out tropical storm to push into southeastern California's desert areas, but it's highly unusual for an intact tropical storm to reach places like Death Valley, the Mojave Desert, Joshua Tree National Park, Palm Springs, Coachella Valley and Antelope Valley.
According to Swain, "once-in-century-level precipitation" is possible in these desert areas that usually receive less than 5 inches of rain in a year.
But with the coming storm, Swain said some desert areas could record upward of 5 to 10 inches across just two to three days.
Interstates and bridges could be washed out in Southeastern California, Swain warned.
Debris flows are possible in areas of higher terrain and in wildfire burn scars, such as in the Mojave National Preserve, where the York Fire is still smoldering.
The National Park Service closed Joshua Tree National Park and Mojave National Preserve to keep people from becoming stranded amid flooding.
Death Valley National Park sees just over 2 inches of rain annually on average.
"They could easily see that in a weekend – especially the mountains of Death Valley," Jenn Varian, a forecaster with the weather service's Las Vegas office told SFGATE for on Friday.
Varian said that the soil in Death Valley can't easily absorb water and that much of the rain that falls will flow across the desert floor.
"There are a lot of washes, which is a fancy word for dry rivers, so they will be flowing," she said.
"It is not at all advised to recreate in Death Valley this weekend," Varian added.
Swain said Death Valley could see "terrain-altering" flooding – flooding that changes the appearance and behavior of rivers, valleys, and other geographic features.
"This is the kind of event that could wipe out national park infrastructure, particularly in Death Valley," Swain said.
Palm Springs records 4.6 inches of rain annually on average and is forecast to receive 5 to 6 inches, while Thermal, an unincorporated area in the Coachella Valley that usually sees just under 3 inches a year, could record 5 to 6 inches, maybe even a little more, said Adam Roser, a meteorologist with the weather service's San Diego office.
"There's a very high flash-flooding risk, especially Sunday and Monday. That's going to be the biggest threat.
We could also see roadways impacted and debris flows or mudslides."
Eastern slopes of Southern California's mountains at risk for catastrophic flash flooding
Eastern slopes of the mountains in Southern California, particularly in San Diego and Riverside counties, are especially at risk for flooding, mudslides, rockslides and debris flows.
Mark Moede, a forecaster with the weather service's San Diego office, said these mountains will become efficient rainmakers in this event as uplift from wind and mountains triggers excessive rainfall rates.
Eastern slopes with sparse vegetation and rocky slopes will be particularly vulnerable to flash flooding.
"This is our greatest area of concern with this system," said Moede.
He said: "The east winds will help support rain development over the mountains and then the rain falls over the eastern slopes, in and over the deserts.
"Due to the desert ground there and the terrain that floods easily," Moede said
Meanwhile, as Hilary continued to inundate Southern California with historic rain, Los Angeles Fire Department Chief Kristin M. Crowley said no injuries or significant damage have been reported so far.
The department fielded a report of a partial roof collapse at an apartment building in the Koreatown neighborhood, and at least one swift water rescue was made in the city's northeast area, she said at news conference.
The city has received at least 15 reports of flooding, Crowley said. There were two debris-flow incidents in Sherman Oaks, where no structures were impacted, she said.
One tree toppled in the Westwood area, the chief said, and two vehicles were found without passengers in the Lincoln Heights community.
The Department of Water and Power reported that at least 5,000 utility customers were without power.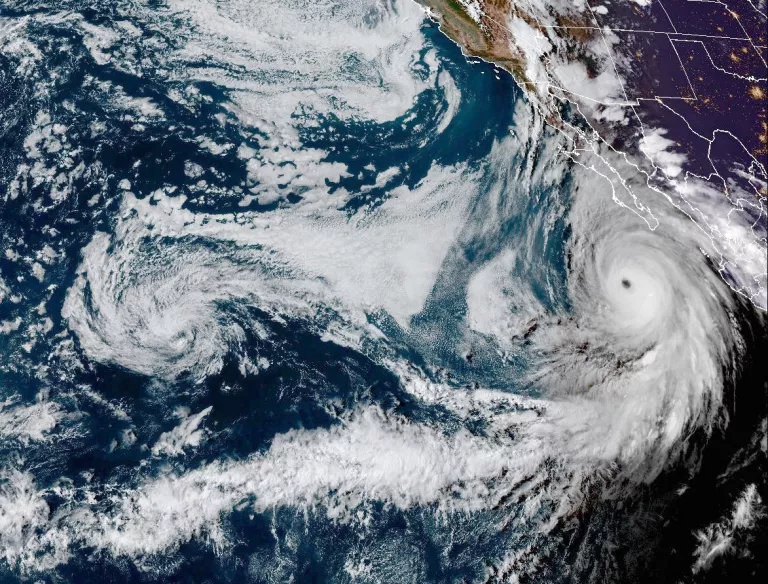 Gave an update.