By Newslineglobal
South Saharan Social Development Organization (SSDO) and WaterAid Nigeria, on Thursday, sensitised members of six Enugu communities on use of awareness and by-laws in tackling open defecation.
The workshop targeted communities, which included: Obollo Orie and Obollo-Afor communities in Udenu Local Government Area; Ihe and Ibagwa communities in Nsukka Local Government Area; and Amufie and Aji communities in Igbo-Eze North Local Government Area.
Speaking at Ibegwa community, Udochukwu Egwim, Project Lead for African Sanitation Policy Guideline Project, said the workshop's primary objective was to empower the communities and local government authorities to develop and implement an anti-open defecation by-law.
Egwim said that the by-law and the awareness will ensure they join in ending open defecation in their communities.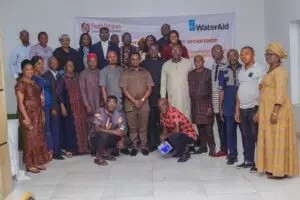 He said that the workshop was a community-led approach and had leaders of the legislative council, president generals, women and youth leaders and WASH coordinators as well as CSO and CBO partners in attendance.
"Understanding this challenge, SSDO in partnership with WaterAid Nigeria, under the Bill and Melinda Gates Foundation project organised this sanitation advocacy workshop to address this issue," he said.
The project lead said that over 47 million Nigerians still practice Open Defecation (OD), and Enugu state is not exempted as about 47 per cent of the populace still practice open defecation.
"Open Defecation (OD) poses a significant sanitation challenge in various communities across Enugu State. It leads to adverse health effects and environmental pollution as well," he said.
A facilitator, Emmanuel Obuna, emphasised on the negative issues and development emanating from open defecation and the imperative of curbing this practice at the community level.
Obuna, who is the Sanitation Officer of Enugu State Small Town Wash Agency (ENSTOWA), enlightened participants on the pivotal role of community-led sanitation and hygiene initiatives, gaining insights into the historical evolution of sanitation practices in Enugu metropolis.
"Key concepts such as Community-Led Total Sanitation and Sanitation Marketing were elucidated, emphasizing their relevance and effectiveness in achieving sustainable sanitation outcomes in communities as it deals with open defecation," he said.
Contributing, , a WASH consultant,Dr Boniface Umoh ,said that the workshop had provided a platform for participants to share their experiences related to open defecation, fostering a collective understanding of the challenges at hand.
Umoh, who is a senior lecturer at the University of Nigeria, Nsukka, noted that from the shared experiences, key factors contributing to open defecation were identified, including the lack of inclusive toilets for persons with disabilities.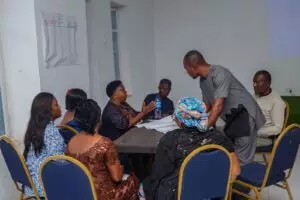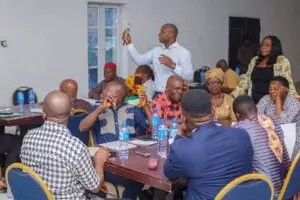 He said the participants also identified inadequate clean toilet facilities in government places and institutions; and a shortage of toilets in public spaces, particularly for travelers.
Umoh also educated the participants on fundamental aspects that should be considered when developing a comprehensive by-law targeting open defecation.
"The participants were also regrouped into their respective Local Government Areas (LGAs) to collaboratively develop context-specific draft by-laws aimed at eradicating open defecation within their communities,' he said.
Speaking, the WASH Coordinator of Igbo-Eze North LGA, Chief Levi Idoko, emphasized the crucial need for cooperation and active involvement from government officials in empowering and enforcing relevant by-laws.
He said that to deepen participants' understanding of the consequences of open defecation, a compelling sanitation advocacy animated video would be screened; noting that the video would direct link between open defecation, spread of illnesses, and associated health risks.
The participants unanimously agreed that enacting by-laws through community leaders and engaging town unions in markets and public places would effectively facilitate the implementation of the by-laws to end open defecation.
One of the participants, Nnanna Nwokorie, said that video visual presentation had helped him to understand the "heightened sense of urgency" for the people to find a solution to open defecation.
He said that the workshop and all instrument of awareness deployed during the workshop reinforced the critical need for collective action.
Another participant, Chief Titus Anigozie, said that the workshop had empowered communities' leaders on initiatives to address the challenge of open defecation in their localities, adding that it created awareness, built capacity and fostered community-led solutions toward ending open defecation.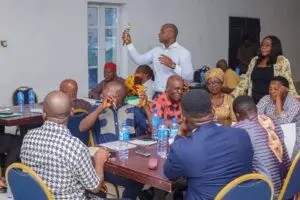 Participants
Hghlight of the workshop was collaboration between WaterAid, SSDO, and the participating communities and council areas, which resulted in developing context-specific draft by-laws and action plans to tackle open defecation.
It is hoped that it will contribute to the sustainable implementation and enforcement of by-laws, improving sanitation practices and eradicating open defecation in Enugu State.
The Two-Day sensitization had almost 40 community and youth leaders as well as Civil Society Organizations (CSOs) and Community-Based Organizations (CBOs) from communities in Enugu North Senatorial Zone in attendance.