South Saharan Social upDevelopment Organization (SSDO) and ActionAid Nigeria have trained and empowered farmers in three Enugu communities on agro-ecology and with 207 improved palm-fruit seedlings.
The farmers weree from Oduma Achara community in Aninri council area; Ihenyi community in Isi-Uzo council area and Umuogili community in Igbo Eze council area.
Speaking at the end of the training in Umuogili on Saturday, Programmes and Strategic Partnership Agreement II Project Lead, Udochukwu Egwim,
said that the farmers had undergone a three-day agro-ecology training in established model farms.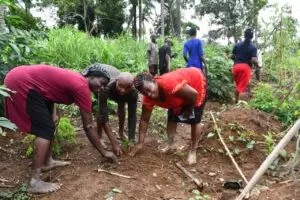 The participants
Egwim said that the impact of climate change had been more evident, especially on agriculture in Nigeria, due to unpredictable and adverse weather conditions.
According to him, erratic rainfall, flooding of farmlands, rising temperature and soil degradation reduce farmers' output as well as increase food insecurity.
"However, agro-ecology has been recognised as an essential solution to Nigeria's food security and sustainability challenges as it offers numerous advantages in addressing environmental degradation and population growth.
"Understanding this challenge, SSDO in partnership with ActionAid Nigeria, organised this agro-ecology training and established model farms under the Strategic Partnership Agreement Programme in three communities in Enugu State," he said.said that the Strategic Partnership Agreement (SPA II) is a groundbreaking four-year initiative funded by the Danish International Development Agency (DANIDA).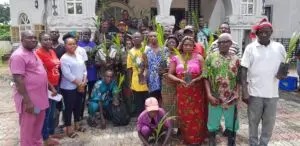 "The initiative is making significant strides in promoting basic human rights, democratic values, and sustainable livelihoods for young individuals, particularly marginalised young women, within disaster-prone and protracted crisis areas in Nigeria," he said.
The SSDO head of programmes noted that in a truly participatory approach, the communities donated four plots of farmlands for demonstration (model) farms during their training and received 207 improved palm-fruit seedlings for their model and personal farms.
"The improved palm-fruit seedlings will help improve the socioeconomic status of the households and communities.
"It will also help communities become more resilient to climate change through afforestation and improved palm-fruit seedlings," he added.
An Agro-ecologist, Dr Celestine Agah, noted that preserving soil health, reducing erosion and minimizing reliance on synthetic inputs ensures food security; adding that this agro-ecology holistic approach promotes sustainable agriculture.
Agah, who is from the Ministry of Agriculture, said that the integration of agro-ecology practices enhances food security by increasing productivity and profitability, while simultaneously reducing the dependence on costly external resources.
"Additionally, it elevates rural livelihoods by bolstering incomes, improving living standards, stimulating economic growth, and alleviating poverty.
"The training conducted enabled farmers to embrace sustainable practices, decrease reliance on harmful inputs, augment yields, and ultimately improve their incomes.
"This, in turn, paves the way for enhanced food security, improved rural livelihoods, and a more sustainable future for farming in the communities," he said.
Another facilitator from the Ministry of Agriculture, Mr Theophilus Ivoh, said that major farming method and knowledge learnt by the farmers included: soil conservation and sustainable water management.
Ivoh said that the farmers were also taught reduction in the use of agro-chemicals and fertilizers; and more use of compost manure, pest control, multiple cropping, rotation and inter-cropping.
A beneficiary Mazi Obinna Madu, expressed gratitude to SSDO and ActionAid Nigeria for their commendable efforts in implementing this transformative agricultural project.
He said: "We are so grateful to SSDO and ActionAid Nigeria. We have gained knowledge and received fast maturing and improved palm-fruit seedlings to empower us and make us replace the aged palm fruit trees around us".
Another beneficiary, Mrs Mary Agu, said that she quite appreciate the immense value of the training received and the great impact it would make in farms within her community and the state in general.
"As we farmers have agreed to teach other farmers and our family members what we have learnt in these three days; I believe that acknowledge will make positive impact on our farms and overall livelihoods," Agu said.
It would be called that the successes of the agro-ecology workshops and training in communities in Enugu State signifies a significant step forward in achieving the goals outlined in the Strategic Partnership Agreement (SPA II).
As ActionAid Nigeria and SSDO continue to collaborate and empower marginalized communities, it is expected that their unwavering commitment to sustainable agriculture and livelihood improvement will yield lasting positive change for Nigeria's farming sector and its resilient farmers.