..Holds road walk with NGOs
Commander, National Agency for the Prohibition of Human Trafficking In Persons (NAPTIP) Enugu command , Sam Offiah , says the agency has convicted 631 human traffickers, rescued,rehabilitated, empowered and re-integrated into the society about 19,000 victims and survivors nationwide.
Offiah disclosed this in Enugu on Friday, July 28,2023 at the end of the Road walk staged by the Agency in collaboration with Non -Governmental Organizations, to mark the 2023 World Day Against Human Trafficking in the state and the Agency's 20th year anniversary coming up on Sunday, July 30,2023.
He lamented the increasing rate of human trafficking in the country., saying that trafficking in persons is a crime against humanity and against especially women and children.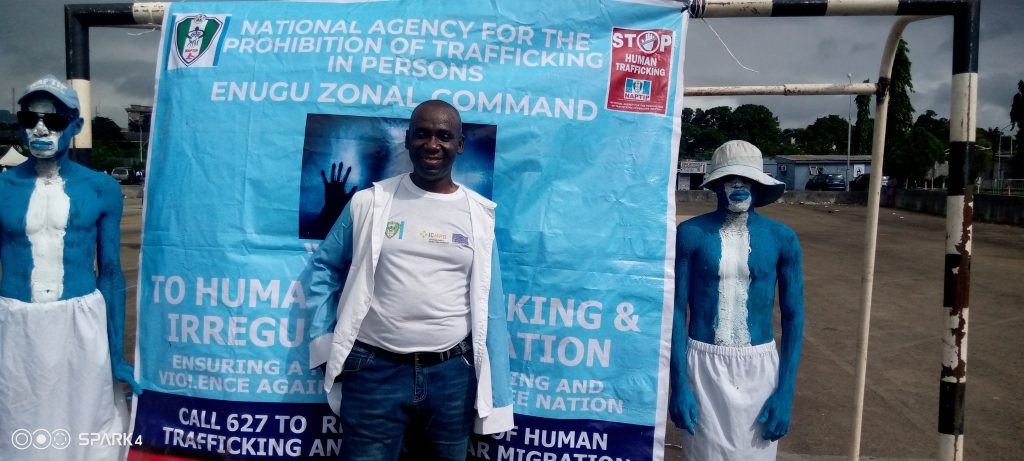 Offia said that many people tend to involve themselves with the crime and that NAPTIP is doing everything humanly possible to stamp the crime out of Enugu state in particular and Nigeria in general.
"We are leaving no stone unturned to make sure that this crime do not surface in Enugu State with the collaboration of other governmental and non governmental organisations.
"In South East, NAPTIP have involved in securing many convictions, engaged in public enlightment, sensitising the youths through schools churches and market places.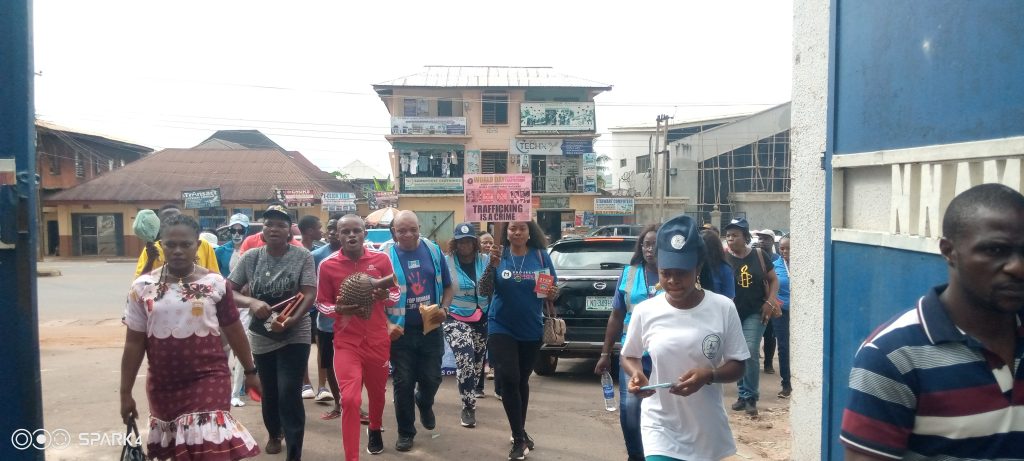 "Our major problem in the fight against the crime has been finance and the victims acceptance to testify against the perpetrators in the court of law during trail," Offiah said.
In an interview, Founder, Women and Child Justice Initiative, Nigeria, (WOC JIN) Amaka Ilodigwe, said her organisation collaborated with NAPTIP in the fight against trafficking in persons. She said they play advocacy role, teaching women and Children their Rights, teaching them the effects and dangers of human trafficking.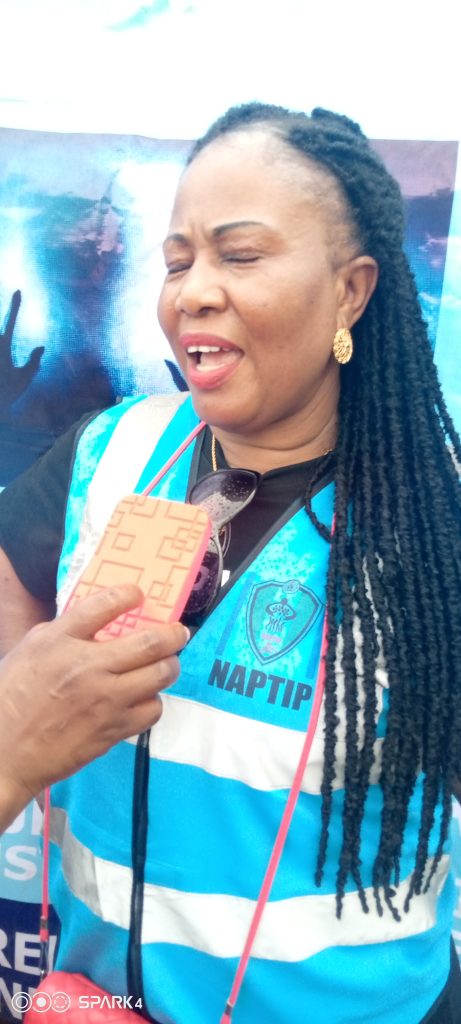 "Most of these trafficking issues come as a result of promises to travel abroad. If you need to travel, do it in a proper way . Do legal migration. Do legal travelling. Don't listen to promises of people that come behind and tell you that they will take you abroad and they will end up taking you out for sexual exploitation. So we educate their mothers, we educate their fathers. We are not gender biased in our mission. We educate the children, we educate the youths too ," Ilodigwe said.
On her part, the state Chairperson of Nigeria Association of Women Journalists,( NAWOJ), Comrade Ngozi Ngene, said that NAWOJ plays educative and informative roles in the fight against trafficking in persons. They sensitise members of the public on human trafficking for them to know when they were being trafficked , "so that they will not engage in illegal migration".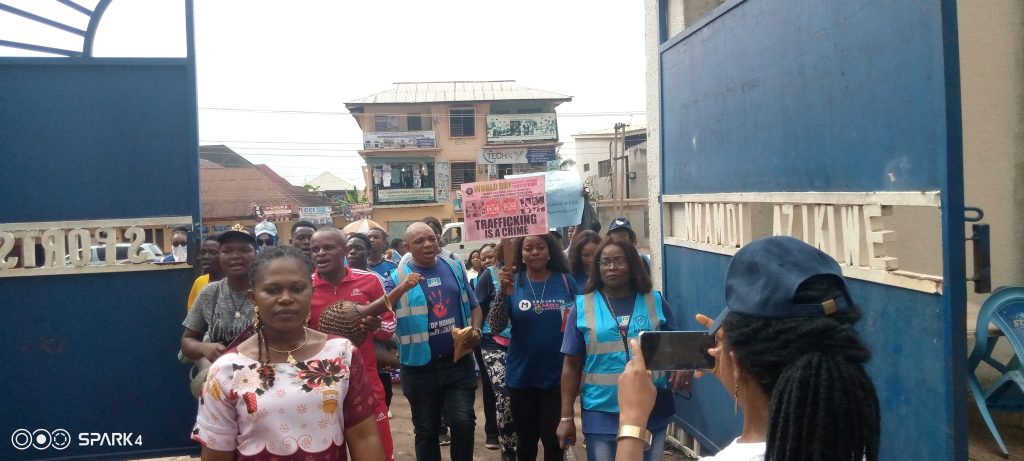 Lending her voice, the State Coordinator, Sexual and Gender Based violence Justice Network, (SJN) , Enugu state chapter, Obiego Margaret, said they joined NAPTIP to say no to human trafficking and sexual exploitation. She said that campaign against human trafficking was one of the projects they were executing presently . Obiego advised parents not to send out their wards to families, villages to go and do what they were not sure of.
She gave some piece of advice to parents and guardians, saying ,'they should be with their children to avoid human trafficking or sexual exploitation. It happens in every home. Even your relatives can do that.Be it your brother, your niece, anybody can do that to your child.
"So, we should try as much as possible to take care of our children,our wards, than sending them to holidays, or to people you think you know but you don't know", Obiego said.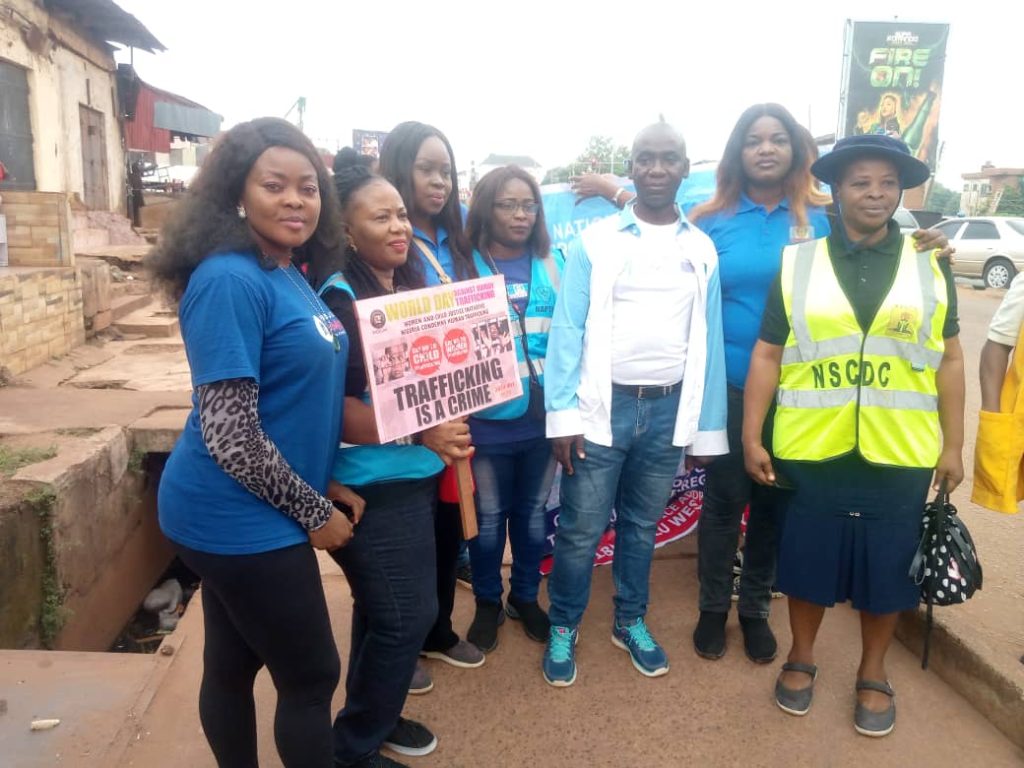 Founder, Heroine and member State steering committee on fight against trafficking, Ambassador Onyinye Mama, said that her organisation fights against trafficking in persons. She said trafficking in persons had increased in number and most times these things happened out of disregard to the law or ignorant. She gave an advice:
" Be your brother's keeper. If you see something you don't understand, speak out. Our new language is say it the way it is", Mama said.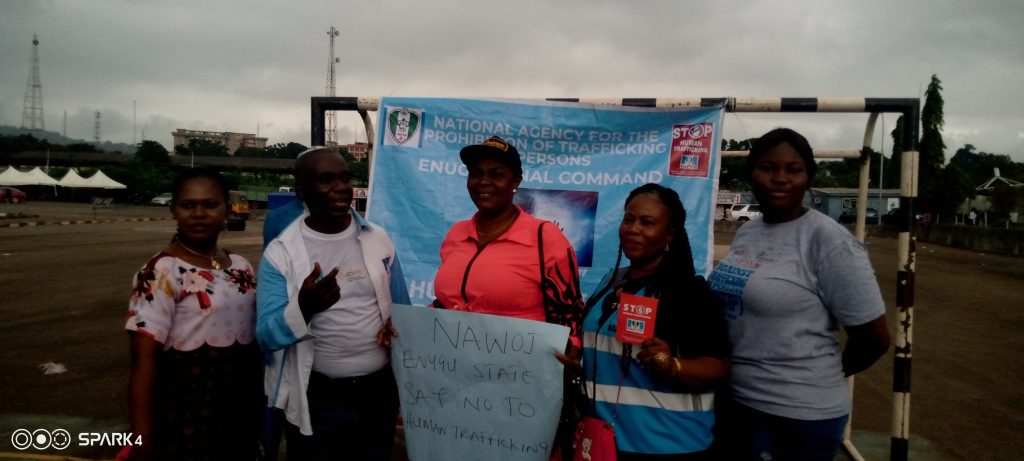 Nnenna Alozie of League of Women Voters ,Nigeria, also participated at the event. Her organisation, she said, sensitise people on the dangers of human trafficking.
The road walk started from the Old Artisan axis of Ogui road ,Enugu to OSISATECH Roundabout and terminated at the Nnamdi Azikiwe Stadium.
NAPTIP was established on July 14, 2003 with a mandate to prevent all forms of human degradation and exploitation.
Author: Maureen Ikpeama