Worried about continuous rise in criminal activities in the country, the Prelate of the Methodist Church, Nigeria, Most Rev Dr Oliver Ali Abba, has called on the federal government to include Religious education and History in the nation's schools' curriculum as was done some years ago.
He said that removing the two subjects from schools' Curriculum had contributed to the increase in moral decadence in the society.
The Cleric made this known while fielding questions from newsmen at a press conference to mark the end of the 40th Methodist Bishops Council conference held at the Wesley Methodist Cathedral, Enugu on Sunday .
The Prelate frowned  at the rate at which some people, especially some Nigerian  youths took to occultic practices and other criminal acts, just to make money.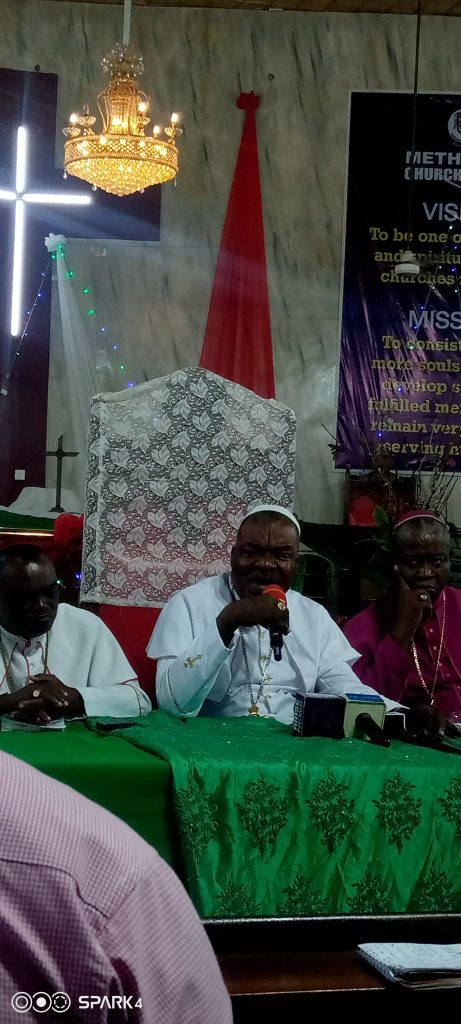 Pix- Prelate Ali Abba(middle)
He  said that  the Church, Methodist Church will not  condone such way of life, hinting that "going back to peganism is a result of joblessness. 
" If our youths were given jobs, how will they go back to peganism?" He asked. "Some have gone to cyber crime, some have gone into occultism..If it is not arrested now, our society will be in danger," he Prelate said.
He went further to say that our parents did not do that and we, the parents, have much to do.
" Your child who is not working will bring huge money and give you, you will collect without asking questions. Ask questions and know where he got the money from.
"The problem we have in Nigeria is that Nigeria is moving to capitalism. Until we say no to the appearance of every individual. Until this is brought to the minds of our children, Nigeria is in trouble," he said.
The Prelate recalled his days in Primary school and said," in our primary schools we had religious education and after that you took examination and after that level, you move to secondary school. Today, that aspect of Religious studies had been removed and replaced with Civic education. We need to have History in our Curriculum. I don't know who are these people drawing the new Curriculum. Are they really Nigerians? , he asked.
He maintained that the issue of getting involved in all sorts of crime to make money has become a serious problem in the society, both for Government and our parents. "Now ,we have known. Let Christian Religious Knowledge and History be re-,introduced in our schools' Curriculum," he said.
The Cleric who stressed the importance of teaching History in schools, recalled that when he was in Primary Seven, they were taught about Mansa Musa of Mali in History. The Prelate said that he admired Mansa Musa's charitable character of sharing gold and other things to people and saw him as his mentor. He stressed that History and Religious education will expose the children to moral values and will help in building a better society. He therefore, called on the federal government to bring back teaching of Religious education and History to schools as they would help in moulding the character of the children.
On occultic practices by some people, the Prelate appealed to Nigerians, especially youths to say no to such practices, noting that ", it is time for us to stop the evil trend , so that Nigeria will have peace."
Author: Maureen Ikpeama