No fewer than six persons reportedly died and many sustained different degrees of injury in a multiple fatal accident that occurred Tuesday morning, July 11, at the "Ugwu Onyeama ,Army check point " axis of the Enugu.-Onitsha Express road, Enugu.
It was gathered that the accident happened around 9am-10am. Eye witnesses said a tanker laden with a petroleum product , had a head -on collision with a trailer carrying cement and the crash affected other vehicles
An eye witness, Ubi Chime said he was a passenger in one of the vehicles that were involved in the accident. Though he said he does not know the cause of the accident, Chime said that he.was a passenger of a fully loaded GUO bus travelling to Lagos from Ebonyi State.
According to him, three persons died in the branded bus he was travelling in. He said that a private car with a couple and their young son, an unbranded bus, were also involved in the accident.
The deputy Governor of Enugu State, Ifeanyi Ossai was at the scene of the incident for an on the spot assessment. He visited the hospitals where the injured victims were taken to.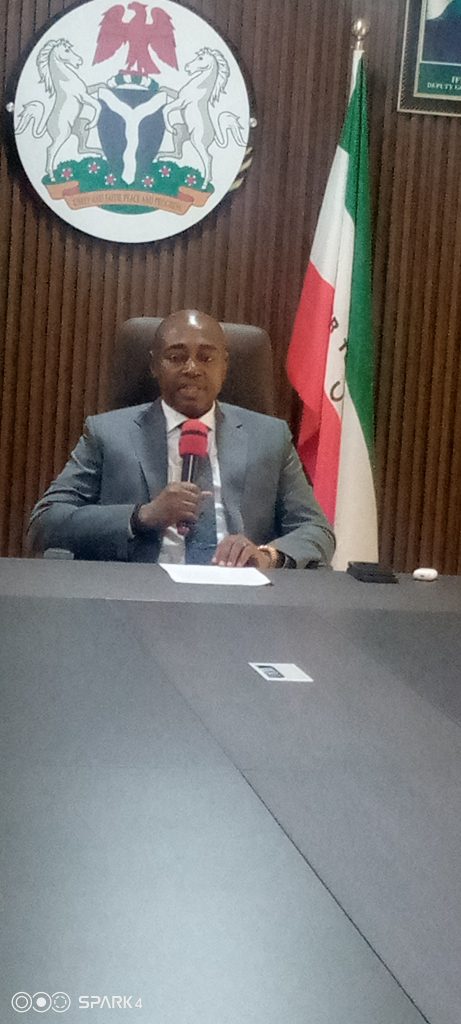 Pix- Deputy Gov, Ossai
He thanked Medical personnels at theb the hospitals for the promptness in treating the victims as well as the first respondents for their efforts in reducing the number of  casualties.
In an interview, the Deputy Governor said:"We visited the private clinic at 9th mile where substantial number of our citizens are hospitalised and we are also here at the orthopaedic hospital where some of the victims are receiving treatment.
"We are also grateful to the Doctors for their prompt interventions because am sure but for their interventions, we would have had more losses. We are also grateful to the first respondents; the military personnel, Road Safety Corps, fire service, DSS and police and all the institutions that came and effected immediate response and ensure we didn't lose more persons than we lost, he said."
The deputy Governor assured that the state government will assist the injured persons in their treatment and foot their bills.
He said the incident has also exposed the need to strengthen the institutions responsible for maintaining accident free roads as some of accidents are avoidable. Ossai , stressed the need for a regular vehicle maintenance and training programmes for the drivers.