Governor Peter Mbah of Enugu State has set development targets for the 17 local government areas of the state, reiterating the need for the state government's structured partnership with the local government areas to deliver ambitious programmes in areas such as rural infrastructure, education, healthcare, electricity, water, and sanitation.
Mbah read out the targets during the inauguration of the Enugu State Economic Planning Commission at the Government House, Enugu, Friday, describing it as "a creation of the law designed to create a platform for the exchange of ideas, sharing of knowledge, and for a new partnership for the growth of Enugu State economy and for the benefit of our people".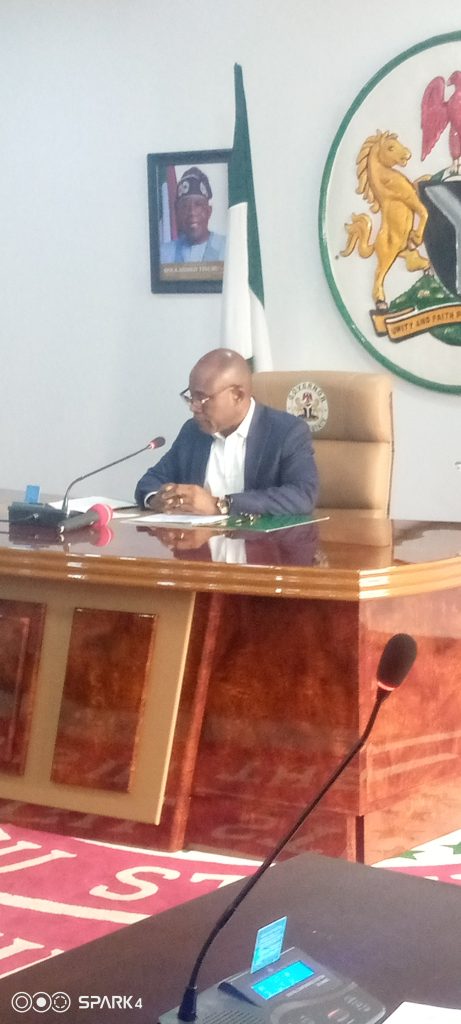 Pix- Gov Mbah
Inaugurating the Commission, which has himself as the Chairman, as well as the Deputy Governor, Chairmen of the 17 local government councils, Commissioners or Representatives of the Ministries of Health, Works and Transport, Finance, Commerce and Industry, Agriculture, and Works and Transport, and Permanent Secretaries responsible for State Budget and Planning, Rural Development and Water Resources, and the Primary School Management Board as members, the governor stressed that going forward, local government councils would be regularly appraised on good governance and rural infrastructure.
He said: "As the people closest to the rural dwellers, it is incumbent on us to partner with you if we must eradicate poverty, raise the state's economy to one of the top three economies in the country, raise our Gross Domestic Product (GDP) from $4.4 billion $30 billion, among other promises. This is why we have spared no time in setting up this economic planning commission.
"The idea of having a platform such as the Enugu State Economic Planning Commission is to have a partnership where we can identify projects that we would execute and pull funds together and ensure that we execute them.
"We must be very sensitive to the will of the people and the best way to do that is to take development to them. That is why we are excited that we are inaugurating this Commission today with a single purpose of making sure that we drive government down to the people.
"We want you to be concerned about how you can ensure that our rural dwellers have access to water. You are going to be trusted to make sure that none of our rural dwellers is beyond five minutes from running and potable water.
"Also, in the area of sanitation, it is not acceptable that in the 21st century, we still have communities that still practice open defecation. That must end, and that can only end through the provision of toilets.
"Recall also that we have promised to do a minimum of 10,000km of roads in the next eight years. That is about 1,250km each year. That again is another area we are going to be working closely with you at the local government to ensure that we execute".
Speaking on behalf of other members, the Chairman of the Enugu State chapter of the Association of Local Governments of Nigeria (ALGON) and Council Chairman of Nkanu East LGA, Hon. Sydney Okechukwu Edeh, commended the setting up of the State Economic Planning Commission, describing it as a catalyst for synergy and transparency in the administration of local governments.
"Quite often, the activities of the local government in terms of development have been quite misunderstood and with this collaboration, I believe there will be greater transparency. The financial activities of the local government will be x-rayed and everybody will see what we are doing. And I can assure you that we will now do more to take the dividends of democracy to the people".
Briefing newsmen, the Secretary to the State Government, Prof. Chidiebere Onyia, said the Commission would promote synergised development and shared accountability in a very short time.
"Eliminating poverty starts with well-structured plans and strategy and that is what we are going to be doing. There is going to be a strong monitoring and appraisal framework behind it. So we are sure that within the short term, there will be dividends of this collaboration to make sure that we reduce our poverty headcount", Prof. Onyia stated.