By Newslineglobal
Mmesoma Ejikeme, student of Anglican Girls Secondary school,Nnewi, Anambra state ,who scored 362 , in the 2023 Unified Tertiary Matriculation Examination (UTME) and was accused of forgery, manipulating her Unified Tertiary Matriculation Examination (UTME) result, by the Joint Admission and Matriculation Board,JAMB, has spoken up, saying she is a brilliant girl, cannot forge her own result and she is traumatised by the statement from JAMB.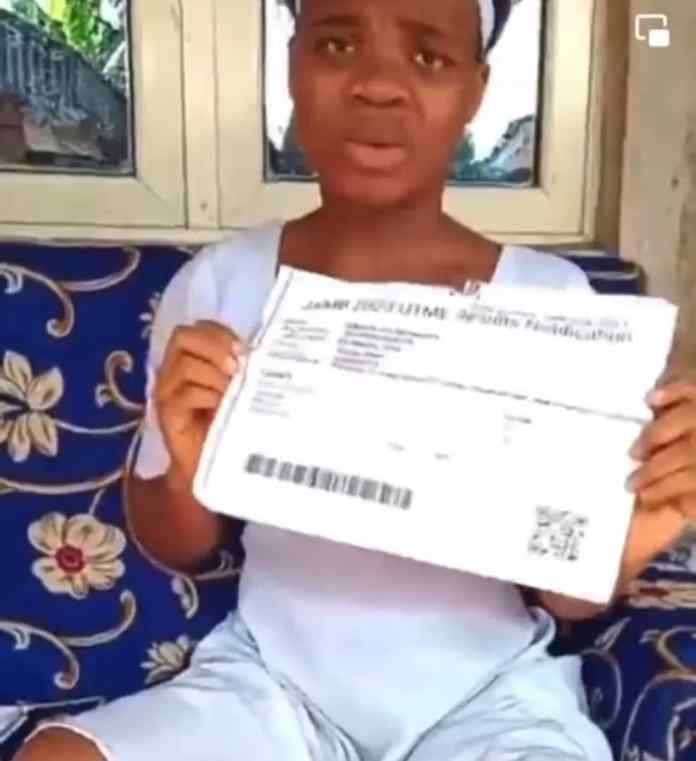 JAMB had on Sunday,July 2,2023 in a statement made available by it's spokesperson,Fabian Benjamin,said the student, who was widely celebrated for scoring 362 said to be the highest for 2023 UTME, actually scored 249 in the exam.
Benjamin said the student manipulated the original result to get favour.He announced that the result would be withdrawn while Mmesoma would face prosecution.
Reacting to the JAMB's statement, Mmesoma Ejikeme , in a video she released on Monday, July 3,2023, said she is the owner of the result she downloaded and printed from the JAMB portal. Hear her:
"I am Ejikeme Mmesoma. Am the owner of this result. I went to JAMB portal to print this result .This is what they gave me .
So, this is my aggregade 362, It is exactly how I printed and  downloaded it from that site . So, they now said that I forged my result. This  is what I don't know and am traumatised that they accused me of forging my own result  because I am not capable of this. This is the evidence.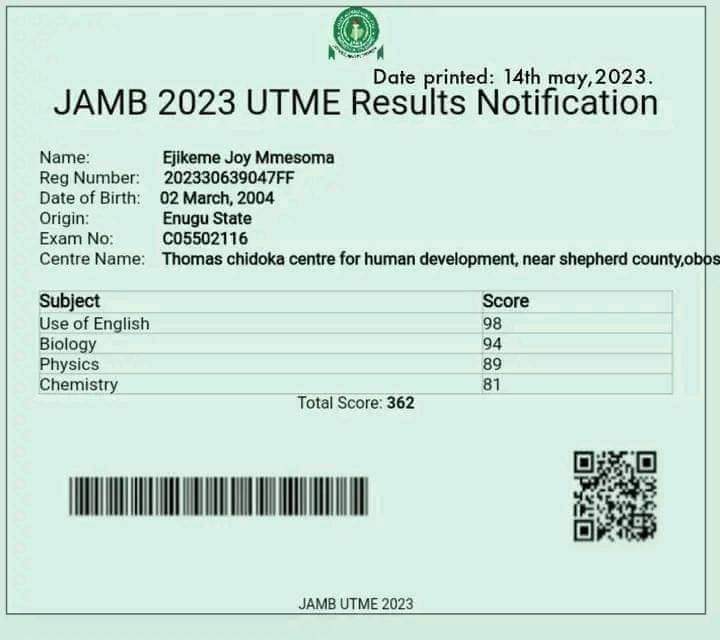 Pix- Mmesoma UTME result showing 362
"Okay, they said that I forged my own result. They scanned this QR code there ,it showed another name , a Yoruba name, Omotola Afolabi, 138 and that same person that got 138, they checked it and the person got 338 , meaning that there is problem  There is problem somewhere.
""So, and we went to Commissioner for Education office,on Friday last week. My Principal, Educational Secretary of Anglican Girls Secondary School , Anglican , Diocese.So, we went there, we showed all these results to the Commissioner for Education, both this one and the SMS they sent to me and she snapped it and sent to the JAMB officials. They called back and said that this is a forged result that I forged it , that JAMB Office doesn't have such record ,that I forged it and they called the DSS over to come to their office.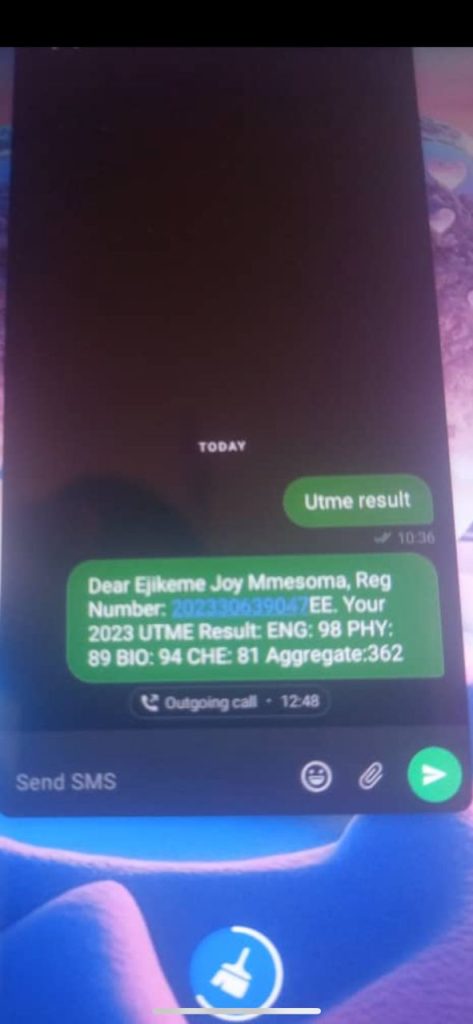 Pix- SMS – UTME score 362 JAMB sent to Mmesoma
"The DSS ,they took us to their office and we made our statement there and they said they will contact us to know where the result came from. So, that's what they said and instead of them to wait for the investigation ,they went and posted that I forged my result without confirming. So, am really really sad about it.
"Since my Nursery school I have been taking first. Am a brilliant girl. It's not that am an illiterate person that would go and forge her result because am not intelligent to impress people. I have been taking first since my secondary school Even my common entrance, it was 300 and something,So, it did not start today", Ejikeme said..