Nigerian Export Promotion Council NEPC ,South East zone Tuesday, held a youth export development programme in collaboration with the Enugu state young farmers Association ,ENSYFA, with a Theme, "Making agricultural Export attractive to youth"
At the event held at Amadeo event centre Enugu, special guests who spoke, advised that Agriculture should be mechanised for it to be attractive to the youth and yield the desired result.
They appealed to the youth to come together as a union and decide on area of interest inorder to boost their agricultural productivity for export.
In her welcome address, the NEPC south east regional Coordinator, Mrs Esther Ikpeorah said that the Youth Export Development Programme(YEXDEP) is a platform created by NEPC for the mainstreaming of youths into the non- oil export value chain using export promotion to realize the concerned targets of the Sustainable Development Goals, SDGs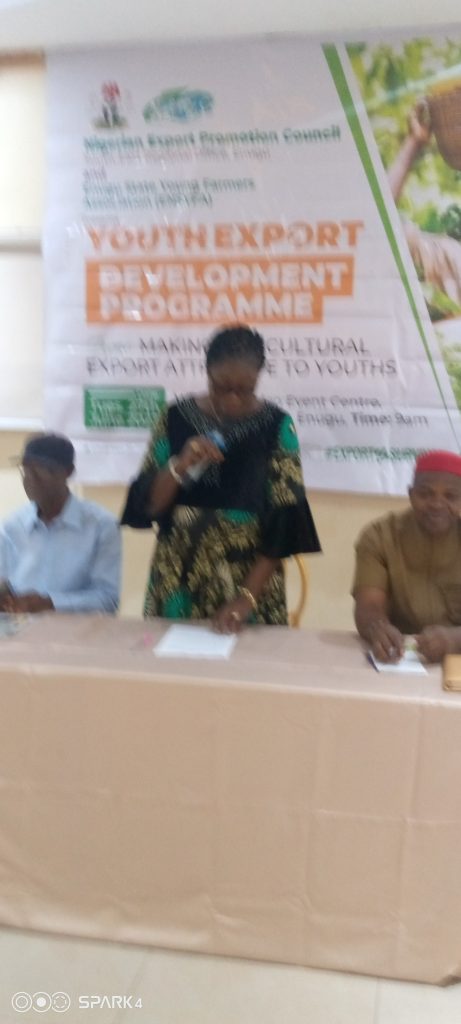 Pix- Ikpeorah
She said the Nigerian Export Promotion Council, (NEPC) is a federal government's Apex institution for the promotion, development and diversification of exports.
"NEPC has over the years, worked to achieve it's mandate by coordinating and harmonizing export development and promotion activities in the country, taking the lead in all national export programmes and interfacing with international trade agencies on Corporation and capacity building, Ikpeora said.
She noted that the Theme of the workshop , "Making agricultural export attractive to youths" , was aimed at getting the youth develop interest in Agricultural produce and exportation.
Ikpeora hinted that there was a clarion call for diversification of Nigeria's economy and people should embrace agriculture.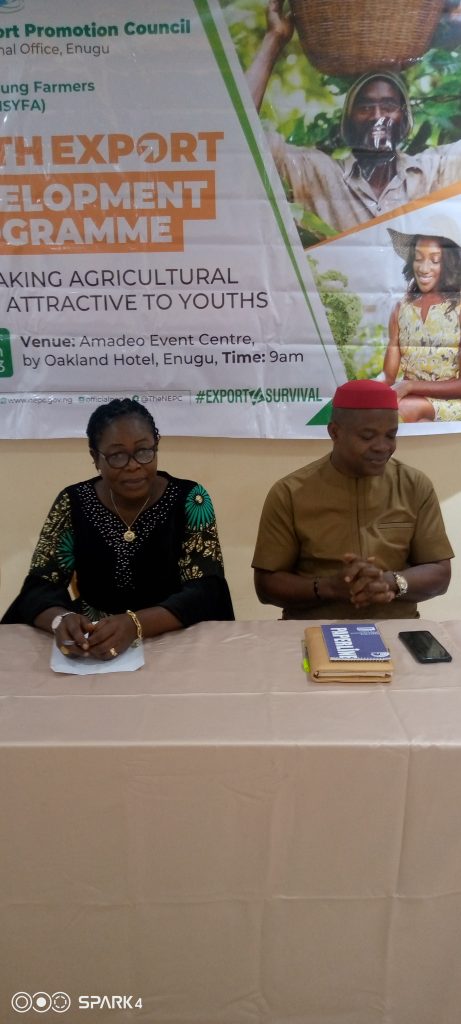 R-Iduh, L -Ikpeorah
She said that NEPC observed the strength in Nigerian youth, what they can do and came up with the development programme.
The South East coordinator hinted that the beneficiaries of the programme are youths with no experience in non- oil export as well as youths already engaged in various export related ventures.
"At NEPC, we recognise the massive potential of youths in development of the economy in general and in the non- oil export sector in particular.
"Opportunities abound for youths in the export of non- oil goods and services and the Council is committed to assisting youths harness these opportunities.
The council has a special unit dedicated to youths under her youth export development programme(YEXDEP). In addition, the Council has created separate youths desks in NEPC offices across the country to enable her interface adequately with the youths towards encouraging them imbibe the export culture", Ikpeorah said.
She listed the strategies of the programme to include identifying youth entrepreneurs, liaising with youth groups, sensitization and capacity building for youths" .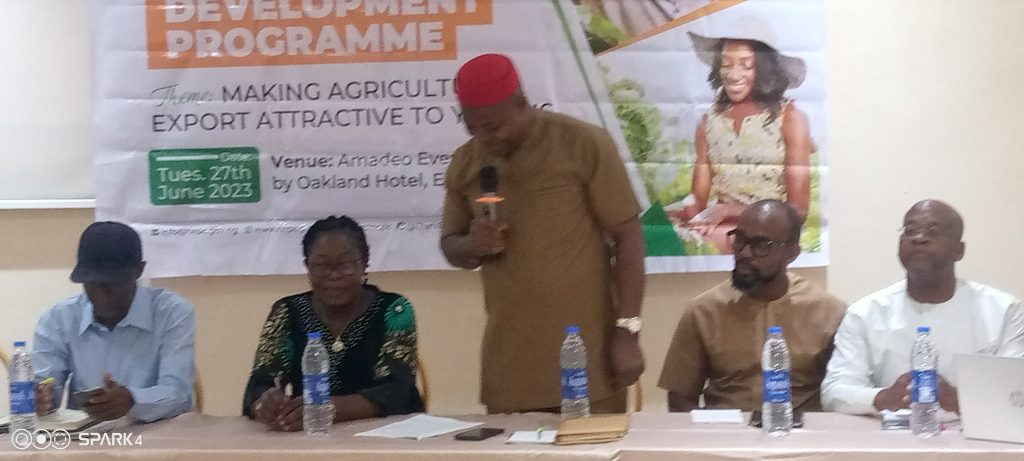 The southeast Coordinator disclosed that the Council had trained over two thousand youths in various sectors of the economy and "quite a lot of them are exporting today.
" It is hoped that at the end of today's programme, participants would be better prepared to venture into the international market and export quality, value,added non- oil Agricultural products and services from Nigeria," she said.
In his presentation,the President of the Enugu State Young Farmers Association (ENSYFA), Ken Ezeh, spoke on why the youths were not engaging in Agriculture, how to bridge the gap, how technology integration can make farming more efficient, sustainable and appealing to young people, especially in Enugu State.
He said that Agriculture can be made attractive to youths in Enugu state by promoting Farming in Primary schools to raise young people's interest in the food sector.
He showcases varrious Farm Apps and Technology that could be used to know everything about Agriculture and farming from day of planting to harvest.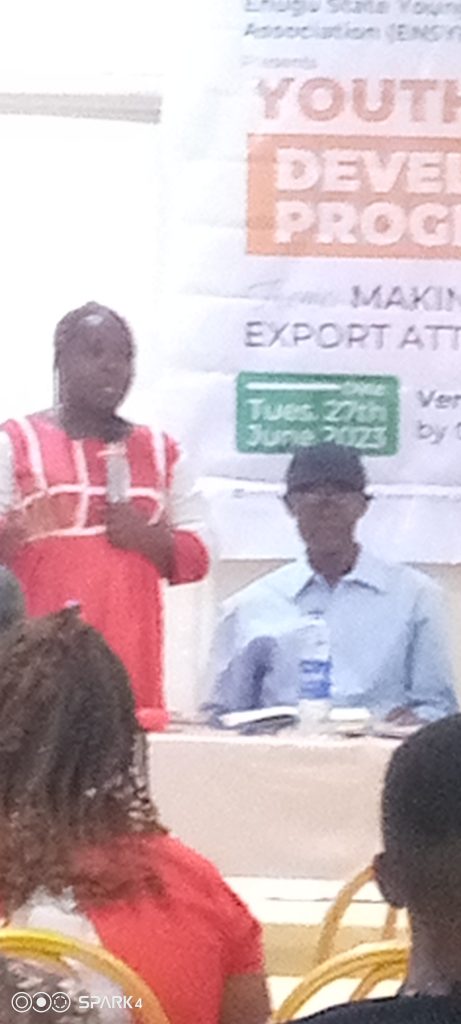 Pix- Ejim
He listed some of the challenges young people in Enugu state face in Agriculture, to include scarcity of lands, capital, and the technological know – how.
Ezeh appealed to Enugu State Government to ensure that the right set of young farmers are empowered and supported in Agriculture and not bringing in their friends and family members when it's time to give loans and grants.
On the issue of Export, Emmanuel narrated how youths can register with the council and be certified with all the necessary documents to Export.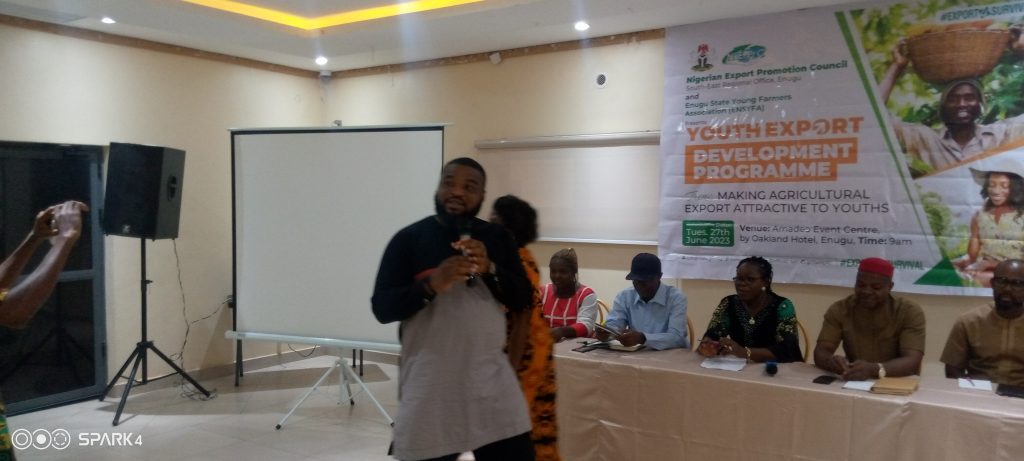 In his goodwill message, the immediate past Commissioner for Agriculture ,Enugu state, Hon. Mathew Iduh, commended NEPC for organizing the programme. He expressed the joy that youths had started going into agriculture, saying, that Agriculture should be made attractive to youths so that they can go into agriculture
Iduh was of the view that agriculture has to be mechanised so that it could be attractive to the youth.
Others who delivered goodwill messages were a former commissioner for agriculture, Achi Kalu and the president of Women in Agriculture , Mrs Lovely Ejim. They all applauded NEPC for their support to the youths,
Ejim adviced the youth to follow the line if they must export. " In production, don't jump the line if you want to export, go organic,it pays", she said.
Hon. Ogbonna Onyeisi, the chairman Enugu Agricultural Development Programme (ENADEP) also thanked the President for calling these youths together. He urged them to continue and that he's ready to keep supporting them as he has always done.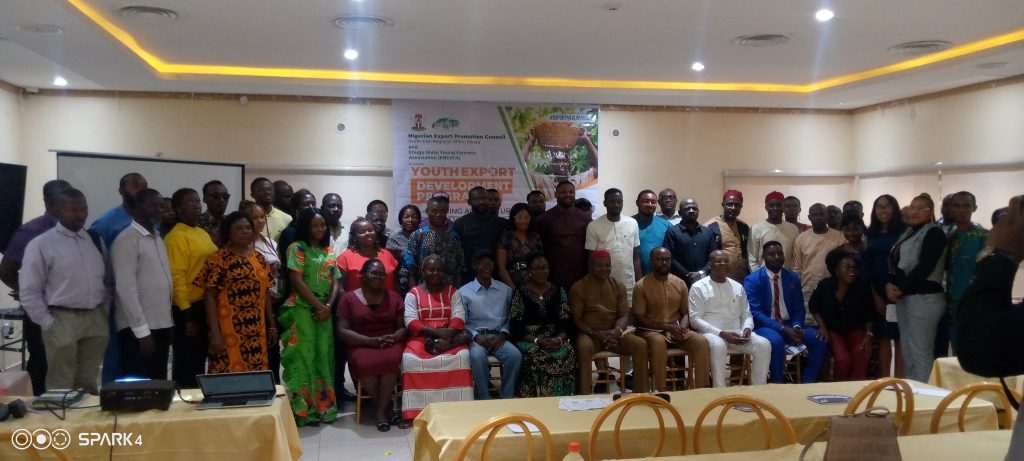 Pix – Participants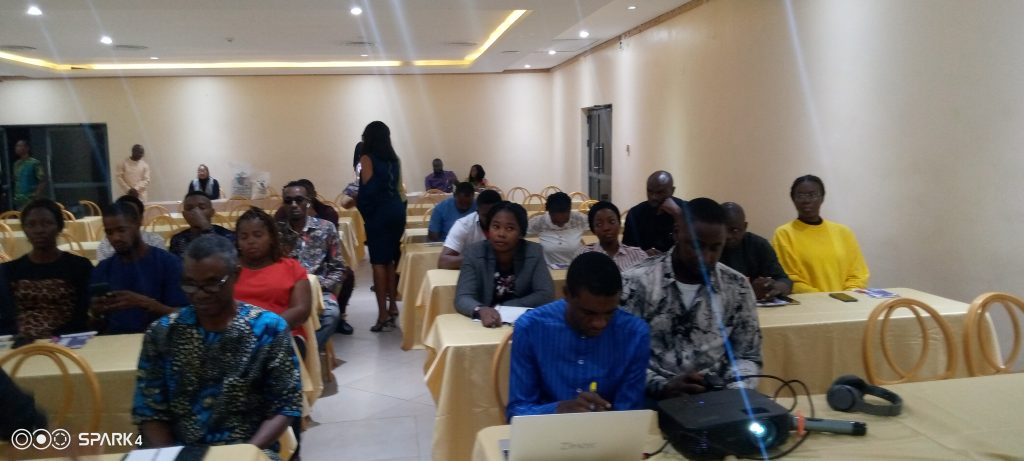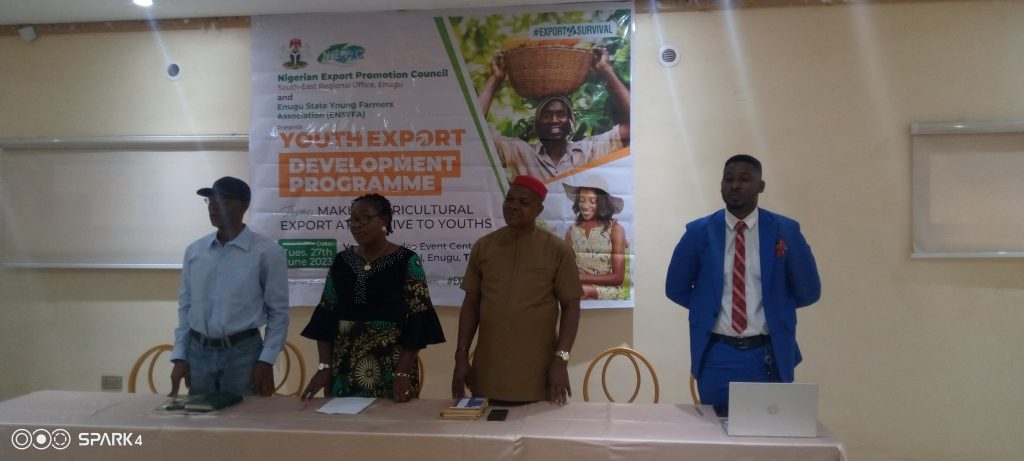 Author- Maureen Ikpeama