Enugu state Governor, Dr Peter Mbah Thursday, swore-in the newly appointed Chief of Staff,Victor Udeh and six Special Advisers, with a charge on them to join him in achieving the social performance contract he had entered with them, by delivering his campaign promises to the people of Enugu state
Speaking immediately after the swearing in held at Government House ,Enugu, , Governor Mbah congratulated the new appointees. He charged them to brace up for the challenges ahead and face the task of crafting out deliverable strategy as time was already running against the high expectations of the people who voted en masse for him. Governor Mbah noted that their appointments were carefully made based on their qualifications, skills and character needed for the jobs.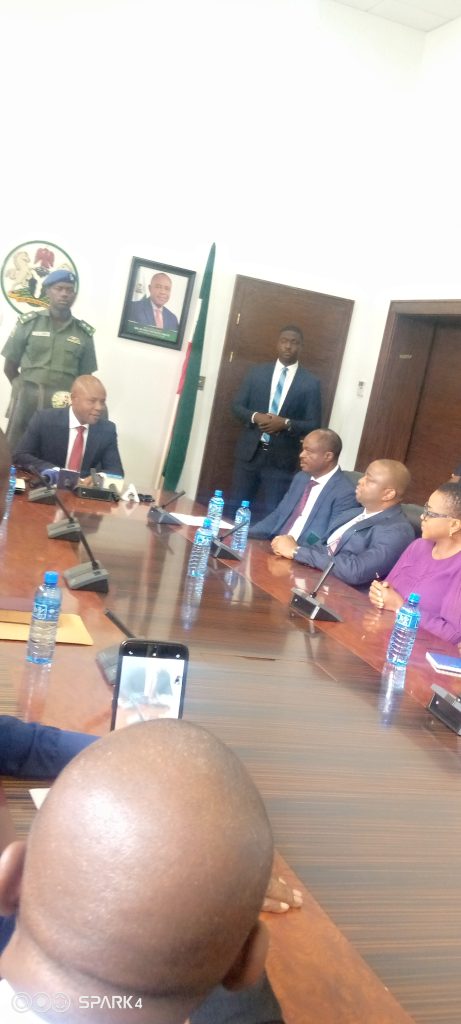 He said,"let me start by congratulating this group on your appointment to serve. I also want to commend the profundity of thought that went into the decision of your selection. I want to commend the stellar image that you bring to the leadership of Enugu State.
"The Chief of Staff has just said something that struck the cord that we have a social contract with the people of Enugu State. So what we are witnessing here today is that I am also entering into a social performance contract with you people.
"As you know, there is no way that we can achieve all that we have promised the people of Enugu without your input; and you know the people are expectant because we made humungous promises to them by expressing a massive vision of what Enugu could achieve under our watch.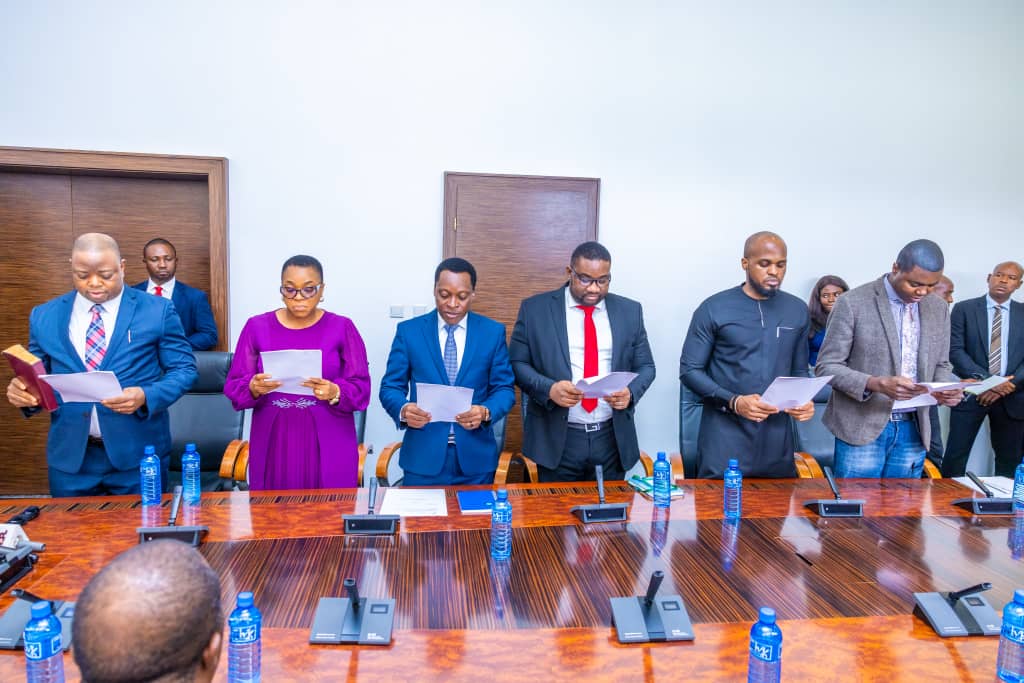 "We cannot grow our economy exponentially and we cannot eradicate poverty just because we wished it or just because we have expressed it. We have to craft the right strategy and most importantly, we would need the right human resources to be able to take our people to that destination we have promised them.
"We are all today at the threshold of history and I want you to know that this is a social performance contact that we are signing with you today. What we said to the people of Enugu is not vague at all. We have not only told them about our destination, we have also given them measurable indicators of when those things will be realised. And that is the same way you will be measured because you are now going to be with me in the forefront. We are all going to work together to take Ndi Enugu to that destination I have signed off with them.
"I can only pray for the Solomonic wisdom and energy as you know Enugu people are not giving us breathing space because I have started receiving text messages from them as a reminder of how many days remaining to give them water. I have just been reminded it is 157 days. And that is how it has been across all the sectors you are all going to head. We believe that what we have done is to seek you out from wherever we could find you and we have no doubt that you have the competence to be able to lead our people to where we have promised them we are taking them to," he further said.
The governor also reiterated his resolve to create a better future for the young ones by rolling out programmes and policies that will integrate them into the digital age of globalisation.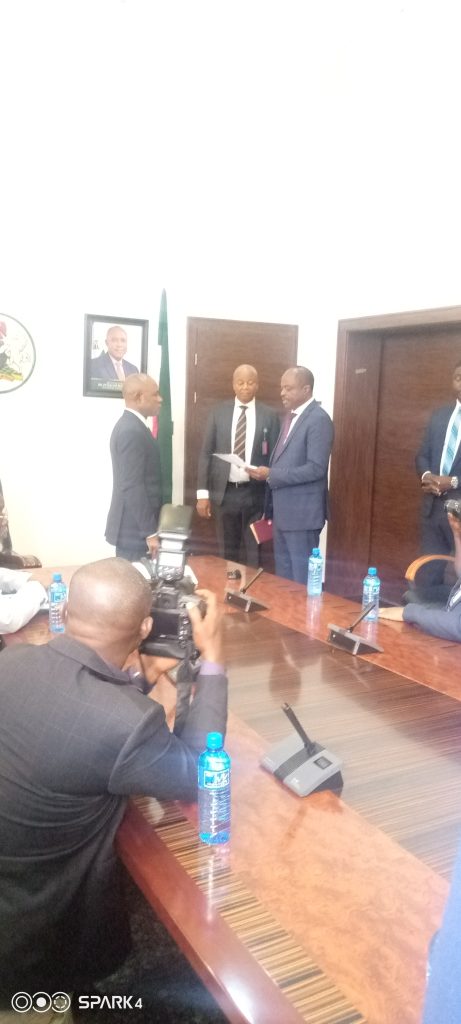 "We are talking about an emerging future. We are talking about the future where our young people will be equipped with the right skills but above all, they'll be able to play in those spaces where we have digital economy, robotics, artificial intelligence, augmented reality, virtual reality, crypto economy, fintech, cyber security, e-commerce. So that is the future where we want to take these our young people to and we believe that with the skills we have assembled here today, we have no doubt at all that tomorrow is indeed here."
Speaking on behalf of other appointees, the Chief of Staff, Victor Udeh thanked Governor Mbah for appointing them to serve . He reminded the Governor of the promises he made to the people of Enugu state in the areas of education, health, justice, water, others, and they accepted by voting him into office, saying, " so, we have a social contract between you and the people of Enugu state."
He assured the governor of their support for him to perform his social contract, saying, "we will do everything in our power to ensure that you succeed in your own part of the contract, so that at the end of the day the people of Enugu will revalidate you when the time comes",Udeh said.
He promised that they would spare no time putting up their think cap in ensuring that the vision and mission of the administration was actualised to the people.
"Your Excellency, on behalf of myself and my fellow appointees, I thank you immensely for this honour and privilege of appointing us from the vast pool of human resources available in our dear state and the country as a whole.
"Your Excellency, we recall that in the course of your electioneering campaign, you made some offers of what you are going to provide to the people of Enugu State as encapsulated in your manifesto in the areas of education, justice, health, agriculture, infrastructure, technology, provisions of social resources such as water, environmental sanitation, among others. It was an offer that you made to them, and I know as a lawyer, you made that offer to them and they accepted by voting you into office as the Executive Governor of Enugu. So, there was an offer, there was an acceptance. So, we have a social contract between you and the people of Enugu State.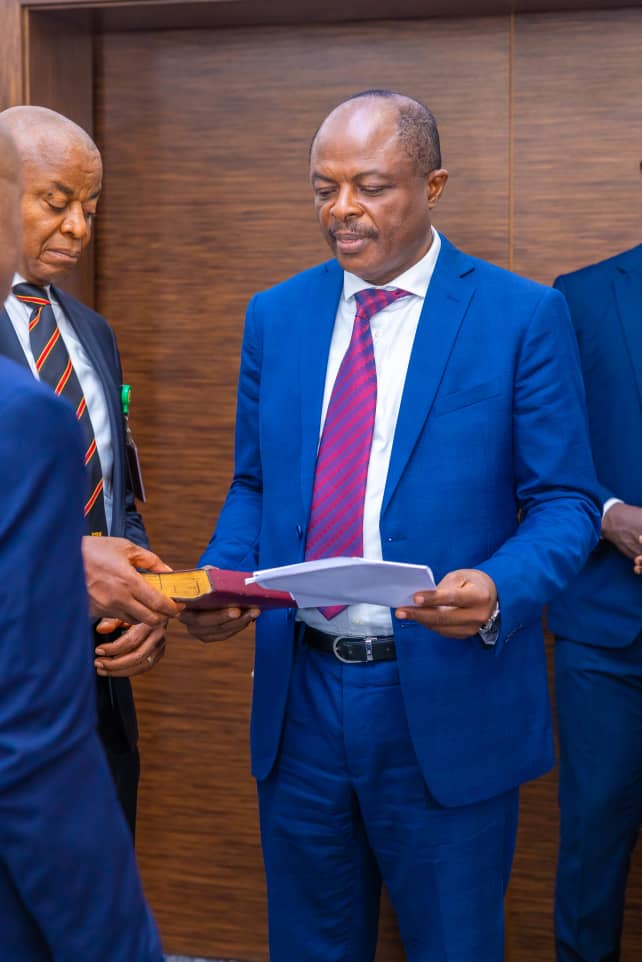 "I want to assure you of our individual and collective agreement to assist you in performing your own part of this contract so that the breach will not be from you. We can assure you that we will do everything within our powers to ensure that you succeed in performing your own part of this contract so that there will be amity and at the end of the day, the people will resoundingly revalidate your mandate when the time comes," Udeh added.
The six Special Advisers sworn in are,
Prof. Linda Obiamaka Egbo, Public Financial Management Arinze Chilo-Offiah, Micro, Small and Medium Enterprises, Dubem Onyia (Jr), Donor Relations, Mike Ogbuekwe, Agriculture, Osinachi Nnajieze, Legal, and Osita Onuma, Senior Advisor, Digital Transformation, Technology, Innovation, Industries of the Future and Industrial Strategy
.Author: Maureen Ikpeama