Author: Maureen Ikpeama
Coming to Anambra state through Ugwuoba two, three months ago,was a nightmare, very frustrating due to bad, depiladated Enugu-Amansea- Onitsha roads (Express and old roads) as a result of long traffic jam occasioned by bad road. Often times, trucks ladden with loads got stuck on the roads, especially during raining season, keeping travellers at Amansea for hours.It was such a terrible experience no one will ever want to have .
Different governments came and gone with little or nothing done on the road. So many calls were made on the Federal and state government to intervene but the calls fell on deaf ears. It took the intervention of Anambra state Governor, Professor Chukwuma Soludo to fix the roads recently, to ease traffic.
On assumption of office, on March 17, 2022 ,Anambra state Governor, Professor Chukwuma Soludo in his inuagural speech, promised to work for ndi Anambra and make Anambra state the Dubai and Taiwan of Africa.
Governor Soludo's contract with Anambra People are contained in, (a) "Anambra Vision 2070—a 50-Year Development Plan", which he chaired the drafting; (b) "The Soludo Solution: A People's Manifesto for a Greater Anambra"; and (c) "The Transition Committee (Combined) Report"—which built upon the first two".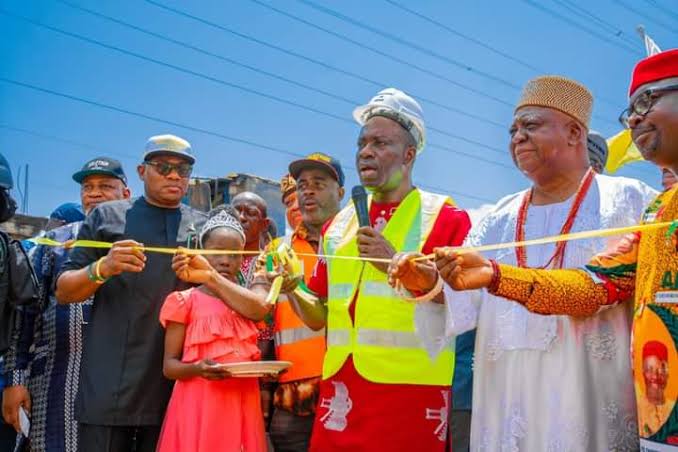 The Anambra State Soludo Solution has five pillars, Law and order (homeland peace and security);Economic transformation as Nigeria's next axis of industrial-tech and leisure.Competitive and progressive social agenda (education, health, youth, women, and vulnerable groups).Governance, the rule of law and a rebirth of our value system; and Agggressively tackling our existential threat posed by the environment—towards clean, green, planned, and sustainable cities, communities, and markets.It also includes a vision of a new framework for service delivery and development in Public-Community Private Partnership (PCPP). Tasks under PCPP include adopting schools, building roads/infrastructure, managing government assets, receiving and managing development matching grants, participating in sanitation and securing law and order..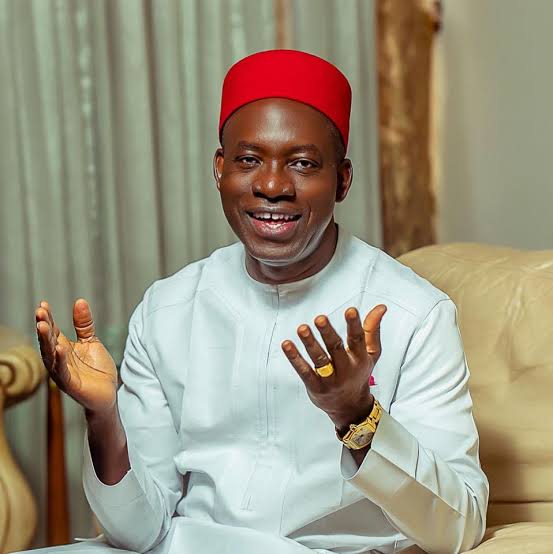 The Governor explained at different fora that Soludo Solution is anchored on "Eat-Buy-Use Made-in-Anambra." For him, everything must meet the "Anambra Standard" which is "Excellence", with him serving as the "Chief Marketing Officer." The Akwete revolution which he initiated is already getting buy-ins from across the country.
Leadership by example one could say, Governor Soludo and his deputy Ibezim, chose an IVM all-terrain vehicle (jeep) as official vehicles, thereby ,saving millions of naira that would have been spent in buying foreign vehicles and patronising made in Anambra product. "We are making a statement when you see me in Innoson vehicles or my Akwete dress with a pair of shoes made in Ogbunike/Nkwelle Ezunaka and Onitsha.," he said.
With lean resources, Governor Soludo had done a lot. He said,"I know the lean financial base of the state. I know the limitations imposed upon a subnational state such as Anambra by the peculiar structure of our federation. But here's my promise: I will give it my all. I will work very hard every day, with you, to make Anambra proud. Every kobo of your tax money will be deployed to provide you maximum value.
Governor Soludo in 2022, signed the 2022 revised budget of N170 billion into law.He said that the budget fell short of N250 billion estimates for building critical infrastructure in the state. The governor said though the resources at the government's disposal were abysmally lean and earnings from the oil sector were so low, his administration would bridge the deficit through multiple strategies, including cutting expenditure and a prudent procurement process.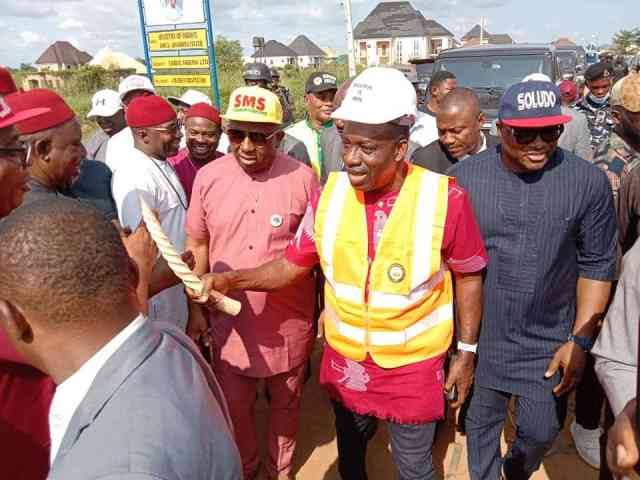 In keeping to the dreams of Anambra people , Governor Soludo had within one year in office carried out massive developments in infrastructure, health, education, agriculture, water resources, security among others, with lean resources..
An Analyst, Chamberlain Aneke said that Anambra dream solution is laudable, it created room for areas not attended to by past administration to be remembered. He observed that Governor Soludo's pioneer activity of going to the Okpoko slum in Ogbaru Local Government Area showcases a governor who wants to see and do things by himself.
Okechi Enemchukwu, a public servant,noted that Professor Soludo had within one year in office ,done that which his predecessor did not do in road infrastructure, citing the Amansea-Awka road(Cattle market axis) which was in a very bad shape as an example. He said, "that road was a nightmare.Before Soludo solution came, that road was something else. The heavy traffic jam experienced there was frustrating. People spent hours on that road, so many missed business opportunities as a result of traffic jam on that road, property and lives lost because of the bad road.
"Soludo did magic on that road. The surprising thing is the huge amount of money he saved from the facility maintenance fund of N137million the immediate past Governor, Willie Obiano approved for monthly maintenance of government facilities. Professor Soludo came and reduced the fund from N137 million to N11million, saving N126million monthly for other projects.
A public servant, Chijekwu Emenna ,said Governor Soludo has within one year in office embarked on many infrastructural projects, some were roads that past governors did not think of, for example, the construction of the 9.4 kilometers Ezira-Umuomaku road among others. In confirmation of this, Chief Press Secretary to the Governor, Christian Aburime highlighted Governor Soludo's achievements on road construction and rehabilitation to include, 3.341 km Akpaka-Nsugbe road, , 10.95Km , Mmiata-Anam-Nzam road (Section 2), on-going nine roads in Okpoko, Ogbaru local government area.. The nine roads measuring 14.053 kilometres; dual carriage of 2.884 kilometres and Single Carriage of 8.28 kilometers include Obodoukwu-Owerri Road, Ogbuagu-Mgbuka road, Edeh-School Rd-Awalite-Ojoto-Owerri Road and School Rd-Umuobom-Ojoto.
Others are; Umuobom-AdaziAni Street-Owerri Road, Umunweke Street-Umeojiako Street Road, Awalite Street-Anumudu Mgbuka Amazu road, Uzi Street-Mission Street Road and Anumudu Street-GMO Road.Ugwuagba Obosi road ,10.953-kilometer Igboukwu-Ikenga-Ekwulobia Road, which has a spur to Nanka and Isuofia .Ugwuagba Obosi road, 3.2 kilometers Okpunoeze-Nnewi Hotel road, the 2.2 kilometer Isaho Umuezeogu-NAUTH (Teaching Hospital Permanent site) road, the 4.26km Savimovo-Umuofor-Nkwor-Umuhu-Obahu-Okija road (Lot 1)and 4.3km Savinovo-Umuofor-Bright Street-Nkwo-Umuhu-Ubahuezike road (Lot 2), the Akpaka/Federal Housing road , the 7 kilometer road construction at Ugwuagba Obosi, Idemili North Local Council.
Others are the 26-kilometer Ufuma-Awa-Okpeze-Ndiukwenu-Amansea Road, this road will definitely ease transportation and provide link between Anambra south and Anambra Central zones.
In achieving the dream of Anambra state of turning Anambra to a smart mega city, these roads will ease movements, attract more investors to the state, help farmers in movement of farm produce from one community
Governor Soludo in an event recently said that "Anambra is spending close to N2 billion naira on federal roads because most of them are not motorable. Our people are facing untold hardships passing through these roads.
"We are delivering quality roads to our people and ensuring the palliatives endure for some time.Not all the borrowed money will be spent this year; it will be re-fenced and used for critical infrastructure development, particularly in building roads, bridges and others," Soludo said.
Member representing Ihiala 11 constituency in the State House of Assembly, Dr. Paschal Agbodike said he attracted two roads to Okija. With a sum of N3.2 billion, Professor Soludo awarded the construction of two roads in Okija,Ihiala local government area. The two roads, N1.7 billion Nkwo Okija- Umuhu road and the N1.5 billion Savinovo -Umuofor- Nkwo Okija, will be completed in April and June 2023 respectively.
Agbodike, said the N1.7 billion Nkwo-Umuhu road, which was first awarded by former Governor Willie Obiano administration, had to be reevaluated, adding that a fresh tender was made and a new contract awarded.
On revenue collection, there is an improvement. Governor Soludo assured that his administration will operate a tax system that will be very fair on the poor and will ensure the revenue of the state goes to the government for the provision of basic infrastructure to ndi Anambra.
On water transportation, the Governor expressed his commitment to developing the Water Transportation System, pointing out that his government will provide standard speed boats to transport people from Mmiata-Nzam to Onitsha and its surrounding areas to sell their produce.
Commissioner for Information,Paul Nwosu observed that the government's overhaul of the transport sector is actually meant for the drivers and sundry transport owners to pay reduced fees directly to the government digitized the revenue process to block leakages.
And while the government engaged in putting the digital revenue process in place. The benefits of making the payments include: getting a card and sticker that permits the person to operate unhidered, enjoying discounts, driving into any government park to load and offload passengers; protection by the government such that he will not be intimidated, harassed or extorted and also any other benefits as would be announced by the government. By removing the touts from the roads, the fee charged by government is even lower on a day-by-day basis.
Apart from roads, Governor Soludo in line with the Anambra dream, boosted educational development. He employed 5000 teachers recently and has skills acquisition training for over 4,000 youths to empower them.
A teacher, Nnenna Okonkwo, said, "With Governor Soludo, we can only hope that Anambra State is back on track in cutting the cost of governance for the general good of Ndị Anambra.
According to the Soludo Manifesto, the present government aims to develop the competence of teachers in the state and restore teaching as a profession of pride, develop rigorous quality assurance in private and public schools, among others.The governor said his "administration is currently cleaning up the state wage bill and the payroll system.
There was serious insecurity when he assumed duties as governor with little or no fund left for him to start off .Within a very short period of time he swung into action established ,the Anambra State Joint Security Task Force (ASJSTF) comprising the police, military, civil defense corps and the local vigilante and the spate of criminal occurrences such as theft, kidnapping and other violent crimes have drastically reduced .
It is believed that within a very short time Ndi Anambra will start reaping the benefits of Professor Soludo's government in all sectors. With the rate of development recorded so far, within his one year in office, Anambra State would no doubt be turned into a prosperous and pleasurable smart mega-city in line with Governor Soludo's master plan for the State.