United States (U.S.) President Joe Biden on Monday, paid a surprise visit to Kyiv and promised new military aid for Ukraine worth $500 million ,almost a year to the day since Russia's invasion.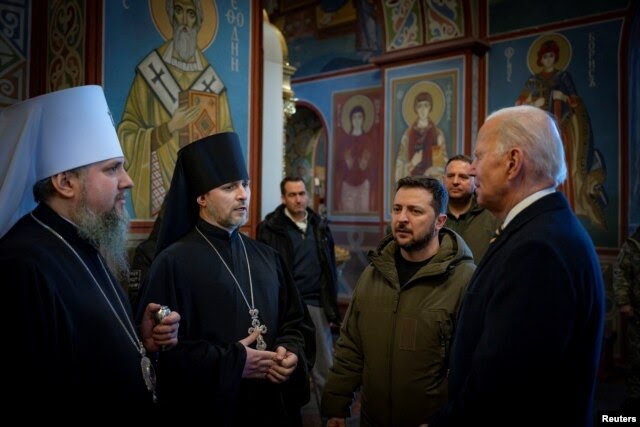 In a trip showing solidarity with Kyiv, Biden also said additional sanctions would be announced this week against the Russian elite and companies trying to evade sanctions to "back the Russian war machine".
The military aid package will include artillery ammunition, anti-armour systems and air surveillance radars "to help protect the Ukrainian people from aerial bombardments," he said.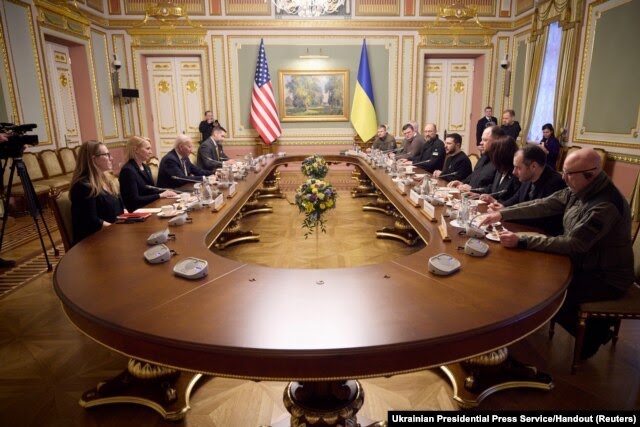 "Freedom is priceless. It is worth fighting for as long as it takes. And that's how long we're going to be with you, Mr. President. As long as it takes," Biden told President Volodymyr Zelenskiy after talks.
It was not certain if Biden made  mention of fighter jets, which Ukraine has been seeking from Western allies to help it push back the Russian forces.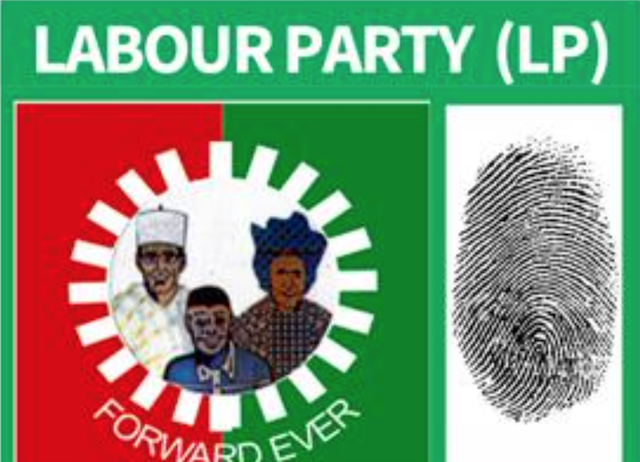 Air raid sirens blared as Biden, 80, walked with Zelenskiy through central Kyiv but there were no reports of Russian missile or air strikes.The cost that Ukraine has had to pay is extraordinarily high. Sacrifices have been far too great," Biden told reporters.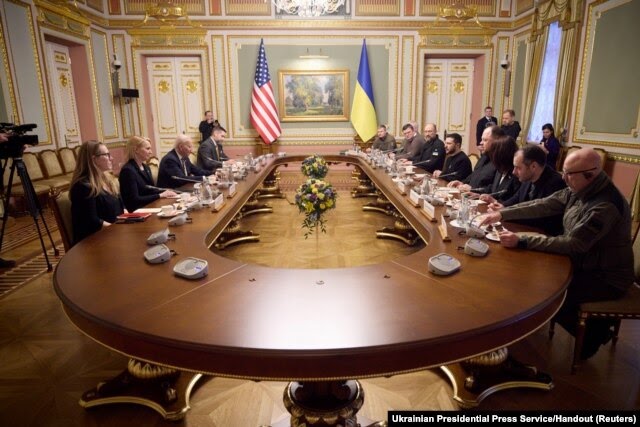 Describing the trip as "historic", Ukrainian Foreign Minister Dmytro Kuleba said both Biden and Zelenskiy were pleased with their talks and that the visit sent a message of resolve to Russia, which he called "the swamp".
"This visit is the victory of the Ukrainian people and President Zelenskiy… It is a clear signal to the swamp – no one is afraid of you!" he said.Visiting Kyiv for the first time since Russia's invasion on Feb. 24, 2022, Biden said Washington would stand with Ukraine as long as it takes.
He said his trip was intended to "reaffirm our unwavering and unflagging commitment to Ukraine's democracy, sovereignty, and territorial integrity."