Enugu. State health practitioners on Tuesday, January 31,2023,joined their counterparts all over t on world to celebrate the 2023 World Neglected Tropical Disease (NTD)Day, with a call on Development partners, stakeholders and health care providers to invest in research and development towards diagnosis and management of the Innovative Disease Management (IDM),NTDs.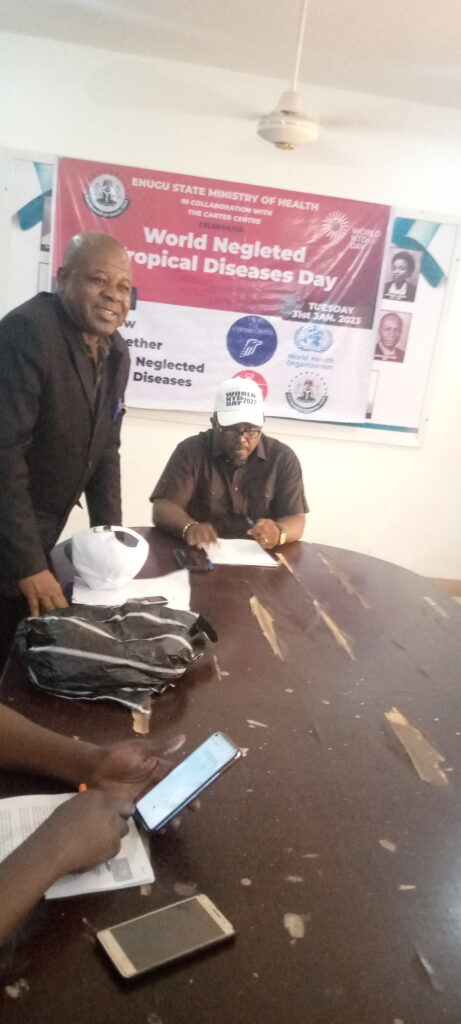 State Commissioner for Health, Dr Emmanuel Ikechukwu Obi, made the call at a press conference held at the ministry of health,G.R.A ,Enugu , in commemoration of the day .
He said that the World NTDs Day 2023 is the fourth celebration of the 2012 London Declaration on NTDs.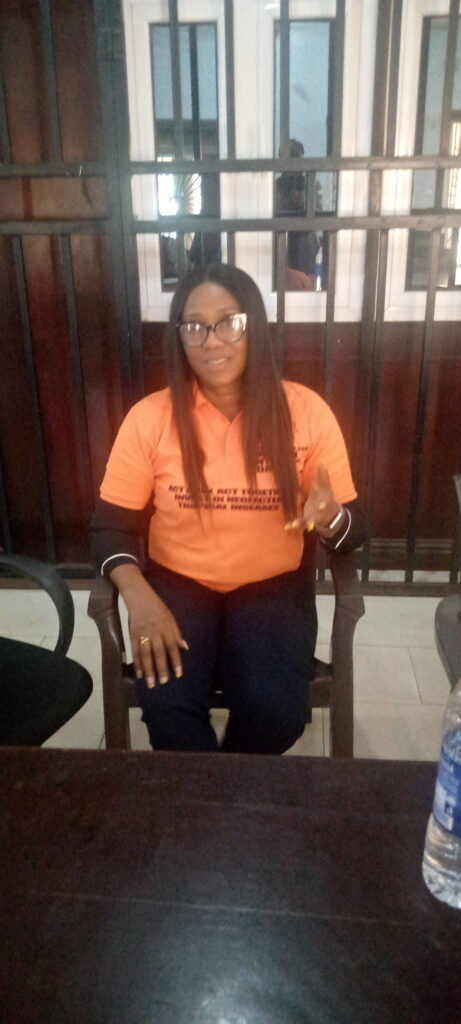 " It is another opportunity to create awareness for NTDs, showcase and add momentum to the hard-earned huge progress the state has made and advocate for commitments and investments to beat NTDs and end the neglect.
The Commissioner explained that , "NTDs are a diverse group of 2 diseases that are widespread in the world's poorest region , where water safety, sanitation and access to health care are sub-standard, perpetuating a cycle of poor educational outcomes and limited professional opportunities".
These 20 diseases caused by a variety of pathogens , according to him, include, viruses, bacteria, parasites, fungi and toxins. They are a threat to more than 1.5 billion people globally with estimated 122 million persons in Nigeria at risk of one or more of them.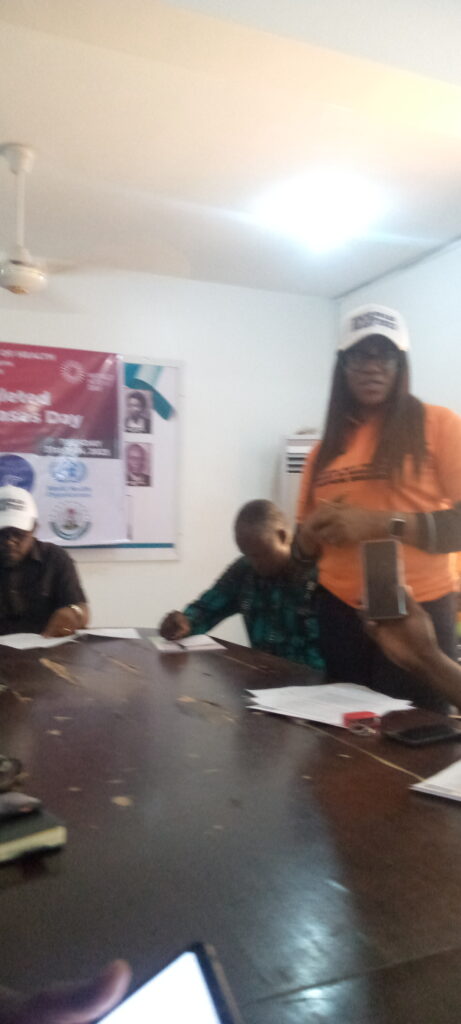 "These diseases are neglected because of low awareness, ignorance, poor funding. They are not well reported, can take many years to develop and kill slowly thus, people do not pay attention to them as they do to other diseases with florid symptoms that attract societal attention like malaria and COVID-19.
"These discuss are associated with chronicity, morbidity, disability, disfiqure and stigma. Good news is that there are preventive drugs for some of them, while water sanitation and hygiene (WASH) is an essential tool to control and aliminate the scourge", he said.
The diseases he listed included, schitosomiasis ,soil transmitted helmnthiasis, river blindness, lymphatic filaasis, leprosy, trachoma, scabiesleshmaniasis, yaws, buruli ulcers, dengue, rabies, snakebite Chagas among others.Obi disclosed that in Enugu state, "with about 4.4million people at risk of infection and many already infected, at
inception of the program.17 local government areas were endemic for River blindness at 40percent prevalence rate.14 local government areas were endemic for lymphatic filarsiasis at 7 percent prevalence (Aniri, Igboeze north and Uzo-Uwani not endemic) 16 local government areas were endemic for schistosomiasis at 4percent prevalence ( Ezeagu, not endemic) while soil transmitted helmnthiasis is found in all the local government areas in varying endemic proportions qualifying only 10 local government areas for Mass drug administration at 26 percent prevalence.
He said that Enugu state has been actively committed to achieve the targets of these NTDs control elimination ,especially, the ones that are of high prevalence since1995 (27years) for River blindness and 2014 for LF through Mass drug administration of preventive chemotherapy in all the 6,407 villages and schools for River blindness, lymphatic filarsiasis, soil transmitted helmnthiasis and schistosomiasis which had significantly reduced the disease burden.
The Commissioner disclosed that the outcome of the recent evaluations and surveys have put Enugu state at zero percent prevalence for River Blindness and 0.3 percent for LF, though, Ezeagu local government area produced the highest number of blackflies vector that transmit RB in the country ."Entomological assessment on the 16,853 blackflies in the state showed no presence of causative organisms. In otherwords , transmission of onchocariasis has been halted to zero and transmission of lymphatic filarsiasis interrupted in 8 local government areas.
" Enugu state is at the threshold where with a final push over the next few years , River blindness and lymphatic filarsiasis will be confined to the annals of history, just as we have eliminated Guinea worn disease. As the global community reels from the hits of epidemics and insecurities, there is every need to sustain this huge progress towards elimination of these NTDs", Obi said.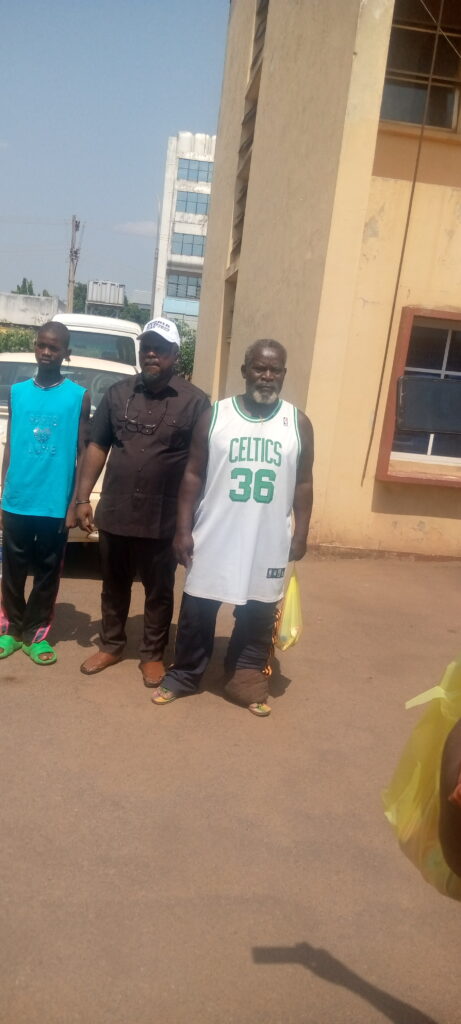 According to him,"When NTD services and interventions reach the most affected population, we are certain we are ending the neglect.
He noted that , "NTDs, having been formally recognised as targets for global action in S D.G. 3, implies that sustainable development can only be achieved if NTD's goals were met .
"Therefore, investing sustainably in NTDs reduces poverty, allowing families to live healthier more economically productive.
The Commissioner said that SMH advocates for more commitment by stakeholders, development partners, health professionals and citizens towards a concerted effort to eliminate the NTDs, adding that Legislation, policy, guidelines, will help achieve this.
He described the Theme of this year's event, " Act Now, Act together , Invest in Neglected Tropical Diseases" as apt, " now that the WHO is calling everyone to act together for more investments to address the inequalities that characterise the NTDs for equitable access to quality health care.
Fielding questions from news men, the Commissioner advised anyone who wants to keep pet to have a Veterinarian to control diseases in the pet because they can pick rabies from other animals. Obi said that the state government through the ministry of health and it's partners had carried out advocacy visits to the people the state, especially ,those in the rural communities He urged members of the public to always take their children to health centres for immunization to prevent diseases. The Commissioner also advised members of the public to visit the hospital anytime they see something they don't understand in their bodies.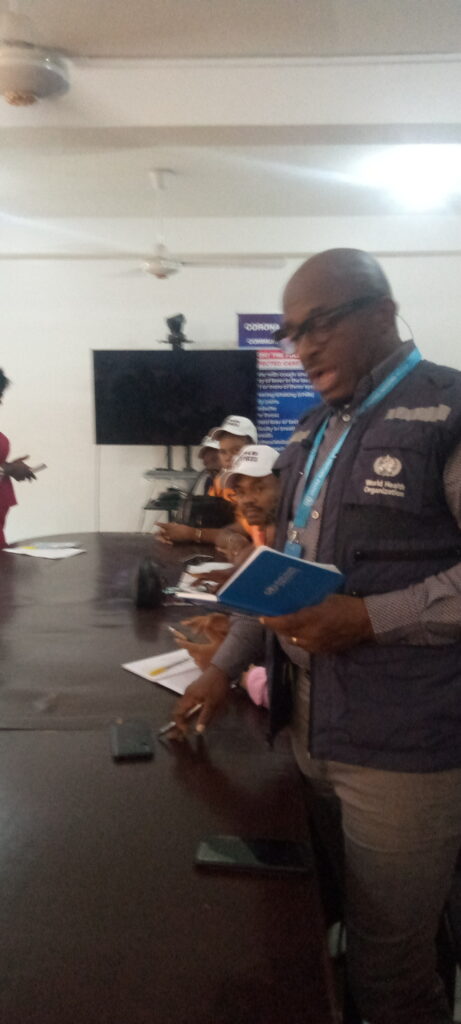 In Goodwill messages from partners, the representative of Carter Centre, Dr Ifeoma Otiji, a health development practitioner and Enugu state Coordinator, NTDs , said that Carter Centre has been very supportive to Enugu state government in the fight against River blindness for the past 25 years .The Centre helped in the areas of mass drug administration, advocacy, and disease management, which recorded huge successes.
Dr Otiji said that they would move to other diseases like Schistosomiasis and others
On his part, the representative of the World Health Organization (WHO), Dr Ik Chidolue called for a multi-sectorial approach in fighting against NTDs.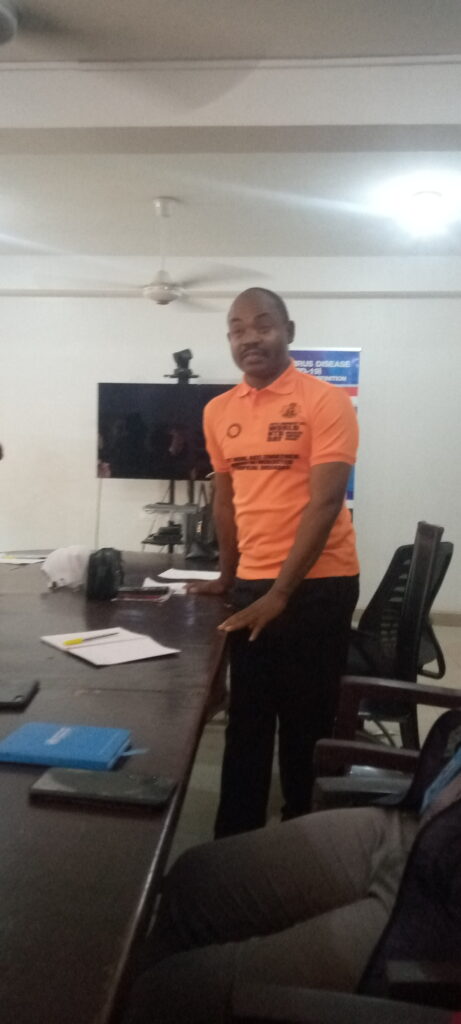 Dr. Ekeke, of the German Leprosy/ RED AIDS, while speaking, highlighted some of the areas they had assisted Enugu state , and said, "For the past 59 years, we fought leprosy and provided surgical interventions and of recent , attention of WHO was focused on Enugu on the neglected tropical disease.
The representative of WHO, Dr Ik Chidolue, spoke largely on a tropical disease called yawns. He said yauns was found in some African countries , Nigeria. excluded.
He disclosed that two years ago,
WHO trained some young people in Nsukka on yawns and they went from house to house, school to school and screened people and no case was found.
He appreciated Enugu state ministry of health for their partnership and promised more collaborations.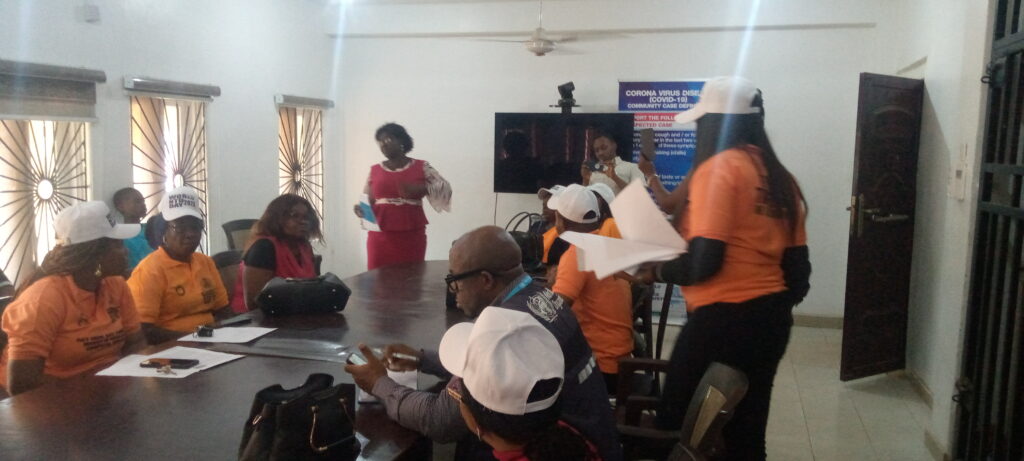 Others who spoke at the event were , Dr Ifeanyi Agujiobi, permanent secretary, ministry of health, a patient from Mbulu Owo, Nkanu East local government area, Ugwu Donatus, among others.