Apex body of the Igbo socio-cultural group, Ohanaeze Ndigbo Worldwide, has announced February 10,2023 as the burial date of it's President-General (P-G), Prof. George Obiozor, in his home-town Awo-Omamma in Imo.
The Secretary-General of Ohanaeze, Amb Okey Emuchay, announced this in a press briefing after the Ohanaeze's second emergency meeting of National Executive Council (NEC) held at Ohanaeze National Secretariat in Enugu on Saturday.
He said, "at the meeting NEC was informed of the new date for the burial of our P-G; Ambassador and Professor George Obiozor, which will be on Friday, Feb. 10, 2023 at Awo-Omamma in Imo State.
"As you are aware, our Deputy President-General, High Chief Joel Kroham, who also died last year will be buried on Saturday, Feb. 4, 2023 at Ahoda in Rivers State.
"So, NEC was duly informed about the change and there would be activities prior to the burial of our late P-G.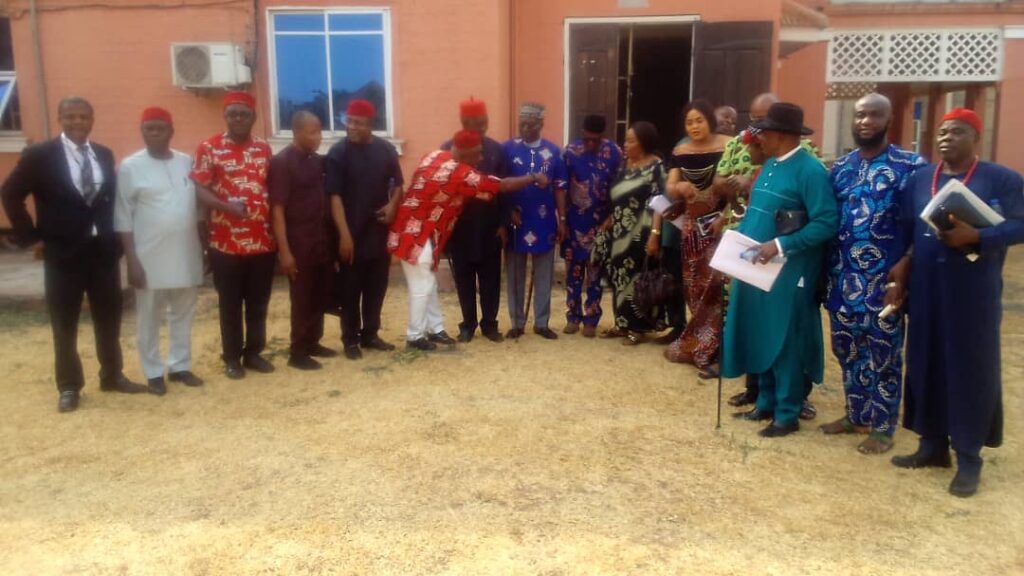 "We are going to have an all Ohanaze members valedictory session at our national secretariat in the particular building renovated during his service and the present building we have our Imeobi meetings.
"We are going to have activities to honour him in other state Ohanaeze chapters especially in Lagos and at the Nigerian Institute of International Affairs (NIIA) in Victoria Island, Lagos, where he previously headed.
"Other groups/chapters of the apex Igbo socio-cultural in Abuja want to organize events to also honour him.
"We as NEC members will also have our own valedictory session to honour him as well," he said.
Emuchay said that the former President-General of Ohanaeze, Chief Garry Igariwey, would be the Chairman of the burial committee; while the secretary of the committee would be the President of Ohanaeze in Imo State, C.B. Ihenedu.
He said that all members of NEC would be the members of the burial committee as well as other stakeholders and Ohanaeze members of seven states that made up the apex body.
The Secretary-General said that there would be a central planning committee as well as other specialized sub-committees to see to a befitting burial.
"The chairman and the secretary will handle the details of the members to serve both at the central committee and sub-committee levels," he said.
Emuchay lamented that it was the first time in the history of Ohanaeze, that two vital seats of the body would be vacant at the same time and having two of its helms in the mortuary at the same time.
"But Ohanaeze wants to assure that the ship of Ohanaeze is in safe hands. We will pass through this very difficult period with grace and be stronger.
"We will ensure that the P-G, Deputy President-General and elder statesman, Chief Mbazulike Amaechi, first Republic Minister of Aviation, who is going to be buried on Feb. 16 are given befitting burials," he said.
Emuchay appealed to Ohanaeze Ndigbo members and its various chapters and structures both in Nigeria and in Disapora to take out time and participate as some of them would be members of the burial committees.
He noted that various chapters and structures both in Nigeria and in Diaspora had been directed to open condolence registers for these great sons and for people to have the opportunity to say bye bye to our great brothers.
"Formal letters will go to the Governors of the seven Ohanaeze Ndigbo states, to the leaders of our partners in Southern Nigeria and the Middle Belt Forum, together with the leadership of Northern Elders' Forum.
"We've been in touch with them and they are shocked at what has happened. So we will write to them formally as we have done with the seven Ohanaeze governors.
"And other stakeholders including the former President of Nigeria, Chief Olusegun Obasanjo, and others, to convey the new date of Feb.10, 2023 for the burial of our departed P-G," Emuchay added.
The seven Ohanaeze member states included: Abia, Anambra, Delta, Ebonyi, Enugu, Imo and Rivers.
It would be recalled that Obiozor's demise was confirmed by Gov. Hope Uzodimma of Imo on Wednesday, Dec. 28, 2022 night in Owerri.