As the 2023 general elections are fast approaching,people of Igbo-Etiti Local Government Area of Enugu State have pledged maximum support to all the candidates of the Peoples Democratic Party, PDP.
They said they would support the candidates , in thr state because of the unprecedented track records of the gubernatorial candidate of the party, Dr. Peter Mbah, both in the public and the private sectors.
They made this known at the town-hall meetings held at Ikolo and Ukehe, headquarters of Igbo-Etiti Central and Igbo-Etiti East Development Centres.
The stakeholders in the area commended Mbah for what they described as his rare citizens' engagements, and the people at the grassroots, said his words command confidence
They expressed confidence in what Mbah will do once he assumes office as next governor of Enugu state.
Speaking at Ukehe, the executive chairman of the Igbo-Etiti local government area, Barr. Ikenna Nwodo said that Ukehe and other communities in the development centres are the home and cradle of the PDP. He pledged to deliver Mbah's candidacy, saying, "our people have already transferred their trust and confidence in Dr. Peter Mbah."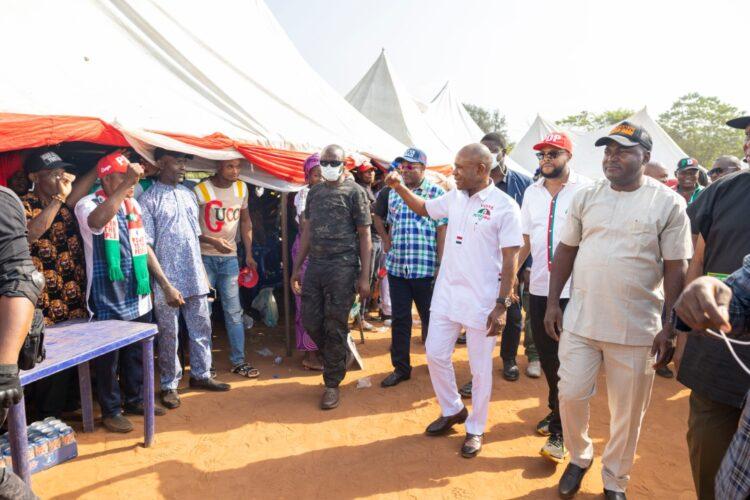 Nwodo assured that PDP will clinch all the votes in the local government. In their separate speeches, representative of Igbo-Etiti and Uzo-Uwani federal constituency, Hon. Martins Oke, House of Assembly member for Igbo-Etiti West constituency, Rt. Hon. Arch. James Achaadu, former deputy governor of the state, Hon. Festus Ishenyi, Chief Okechukwu Itanyi, Hon. Victor Obute, others, reiterated their loyalty to the PDP , saying there's no room for the opposition in the area.
The people commended the PDP administration led by Governor Ifeanyi Ugwuanyi for empowering their sons and daughters, supporting the former President General of Ohanaeze Ndigbo, Chief Nnia Nwodo and provisions of more infrastructure in the state
Addressing newsmen at the interactive session, a stakeholder from one of the communities, Hon. Chidera Nwodo said his team had embarked on aggressive grassroots campaign, saying their voter education and sensitization were being conducted ward to ward, house to house and market to market.
Nwodo expressed confidence that Mbah's $30 billion dollars economy is not only possible but also achievable.He added that youths in Ukehe and its environs have vowed not to leave any stone unturned until Dr. Mbah is declared victorious in March 2023. "Dr. Peter Mbah is going to ride to the Lion Building on our mandate, and we are supporting him because of his excellent and exceptional manifesto. Elections are cast and won at the polling units and not on social media. Nsukka people have taken ownership of this project. It's our project because Mbah has effectively addressed our fears, needs, concerns and expectations,"Nwodo said.
Some of the speakers called on Mbah to attract more development projects in their areas in order to create jobs, open up their rural communities
Responding , Mbah assured the people that PDP under his administration will continue to deliver good governance by prioritizing the people's welfare and improving their living conditions.
He assured them that equity, justice and fairness, and politics of inclusiveness, will be the dictates of his government, further added that their decision to vote for him and other PDP candidates have imposed collective responsibility on them to discharge by reciprocating their gesture.
"You have imposed an obligation which we'll discharge in a manner that will be satisfactory to you all and even exceed your expectations. We have a comprehensive programme that will see that our youths are productively engaged.
"We have an integrated rural development programmes that will open up our rural communities to development, and we'll ensure uniform development across the state. No community will be left behind in our development plans.
"With our plan to construct 10,000 kilometers of roads, we are going to link the 17 local government areas, including feeder roads to farmlands that will facilitate easy accessibility of farm produce.
"We plan to wage war against hunger and unemployment by eradicating poverty. We'll do this by creating special economic zones across the state, establish agro-allied processing zones with a value chain that will include processing, packaging, storage and attractive market for our agricultural products," Mbah added.
Mbah, enjoined the people not to allow themselves to be deceived by those that are ill-prepared for the job, promising to exceed expectations of the people, when elected..