By Maureen Ikpeama
Detained leader of the Indigenous People of Biafra IPOB, Mazi Nnamdi Kanu has urged people of the south east to ignore the 9-14 December sit-at-home order by some people, saying those behind it are bandits ,working against his freedom.
Kanu's counsel, Nnaemeka Ejiofor, in a voice note, said that he and other lawyers including Ifeanyi Ejiofor and Mike Ozekhome SAN visited the leader on December 5th, and were instructed by him to deliver a message to the spokesperson for the IPOB, Emma Powerful regarding his position over the 5 day sit-at-home declared by some people in entire Igbo land.
Below are the words of Ejiofor, from a voice note being circulated to the people since last weekend. It was delivered in Igbo language:
"Emma Powerful, this is a message from Onye Ndu.
I am among those who went to see Onye Ndu (our Leader) yesterday.,5th December 2022 at the DSS. My name is Nnaemeka Ejiofor. There is a message he asked me to pass on to Emma Powerful and others, to rebroadcast.
The message is that he (Kanu) learnt that there are those who are planning to enforce sit-at-home from 9th to 14th December, minus 13th. He told me to tell you that those who are passing this message and planning to enforce it are those who do not want him to be released from the dungeon.
That they have been paid by the Federal Government and Malami and they have been able to create confusion in Igbo land. They are the ones enforcing sit-at-home, both acceptable and unacceptable.
Why will anybody declare sit-at-home in Igboland in December, a month when our brothers and sisters return home? So he is telling you that the sit-at-home of 9th, 10th, 11th, 12th and 14th, he has cancelled it. He is asking me to tell you, Emma Powerful to tell Chinasa Nwaoru and Edozie that they should broadcast it that he has cancelled the sit-at-home declared from wrongful source.
According to him, only the head of the Directorate of States, Chika Edozie can declare sit-at-home. Any other declaration from any other quarter is illegal, is unlawful and must be stopped.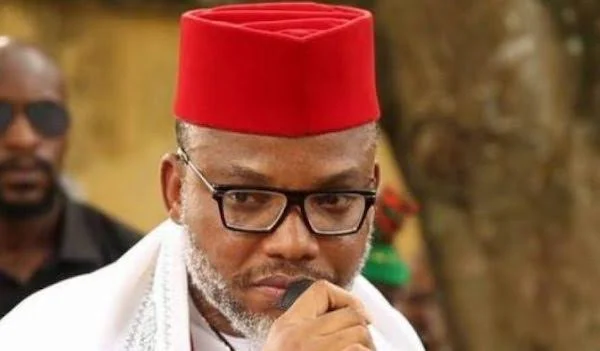 He said anybody who is Igbo and supports the freedom we are after should not enforce sit-at-home on the 9th, 10th, 11th, 12th and 14th December 2022. He said he doesn't like the criminality going on in Igbo land. He said anyone involved in kidnapping, in killing of ndi Igbo is fighting against the cause of Biafran freedom. You cannot be killing, kidnapping or stealing the property of those who you want to liberate and expect them to support you. That is not the spirit under which IPOB was formed. That also is not the spirit of the Igbo man, to kidnap, steal, rob or kill his own. Its not in our DNA.
Those involved in these acts are recruited bandits who may be speaking Igbo but are no more Igbos due to this character. Anybody, whether within or outside Nigeria, commanding you to kidnap or kill people, especially Igbo people, or tells you to snatch vehicles, or to rob or to kill isn't Igbo, and as such, Igbos should never have any dealings with them.
Ndi Igbo in all ramifications must fight against such people. Biafra or IPOB does not kill its own, does not kill other humans at all. All we want is freedom," he said.