Enugu state Governor, Ifeany Ugwuanyi has assured the state government's continuous support for rural farmers to reduce poverty and enable the IFAD/FGN programme succeed in the state.
He gave the assurance during the Enugu State (IFAD/FGN Assisted) Value Chain Development Programme(VCDP-AF) Mid-Term  review meeting  held on Wednesday in Enugu.
Represented by the Commissioner for Agriculture, Mathew Iduh , Governor Ugwuanyi said that the Mid-Term review meeting was aimed at looking at the programme-s activities carried out , identifying the problems and proffering solutions to the problems.. "It is a time when field workers will let you know what you face in the field, and put heads together, come back again to redesign for a better result.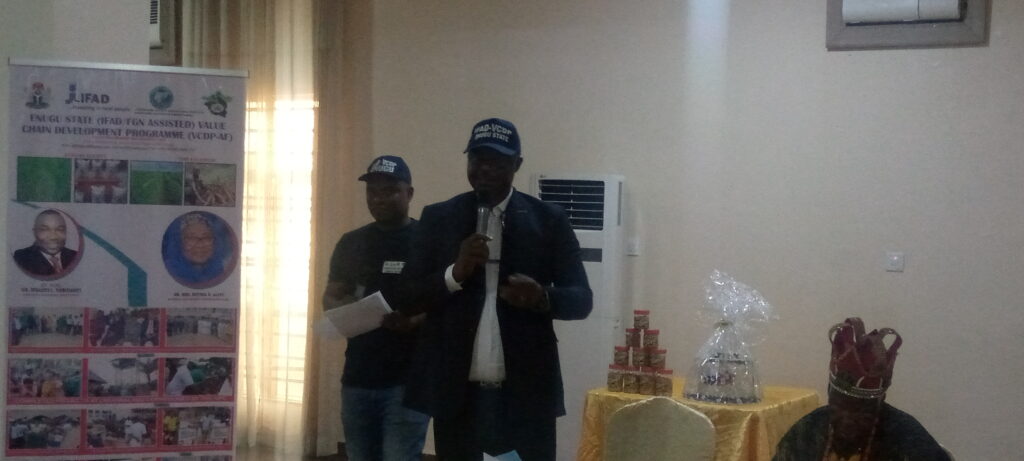 "So, your mission here is good for us. Today, we are in five local government areas. Enugu state has Seventeen local government and we have Twelve local government areas left. . Enugu state is 98 percent agriculture," Iduh said.
Presenting the activities of the Value Chain Development Program, FGN/IFAD-VCDP(AF) , the State Programme Coordinator , Value Chain Development Programme, Dr Edward Isiwu, said that the programme was aimed at reducing rural poverty . He disclosed that 80% of the beneficiaries had access to financial support.
According to him, a sum of N940,055,847.48 was disbursed to the beneficiaries, 536 farmers were trained ,6 innovation platforms were established, 175 rice processors trained, ,One- stop- agro- shop given to persons with disability.
Isiwu added that seedlings were distributed to farmers, 600 beneficiaries were sensitized, youths were empowered with tricycles . Farmers were trained on good agro-nomic practices for rice and cassava production in Enugu ,among others.
He said despite the achievements recorded there were challenges which included, lost of goods and services, farmers-herders crisis,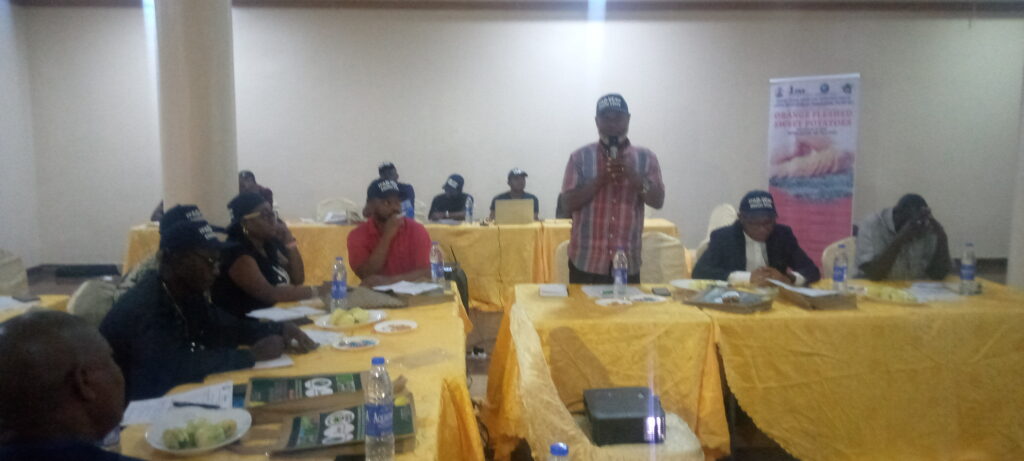 Isiwu appealed to the government to provide more tractors to support the farmers.. He thanked the state governor Rt. Hon(Dr.) ,Ifeanyi Ugwuanyi, the Commissioner for agriculture and other stakeholders for their support. He promised that they will ensure that the goals of the programme were achieved in Enugu state.
Others who spoke at the event were Abssallam Jamilo of the Programme Coordinating Unit (monitoring and evaluation), Federal ministry of Agriculture, Abuja, Agric. production Adviser, Prof Chyke Unammah and Igwe Able Nwobodo, the traditional rural.of Nara community, Nkanu East local government area of Enugu state. They all lauded the programme and appealed for more support for the success of the programme.
The second part of the review will be field visit to Aninri, Nkanu East, Enugu East, Udenu, and Isi -Uzo local government areas of Enugu state on Thursday.