Governorship candidate of the All Progressives Grand Alliance (APGA), in Enugu State, Frank Nweke Jnr. on Thursday, said he will tackle the issue of multiple taxation , reduce cost of governance and turn Enugu into an industrial hub, if elected governor in 2023.
Nweke, who made this known at a Business community meeting held in Enugu, said he anchored his manifesto on what he tagged: 'Seven Key Thrusts for Reigniting the Coal City state.'
He gave a run down of his 7-point agenda – leadership, governance,security, human capital development, environmental sustainability and infrastructural Economic transformation and technology and innovation.Dwelling on Economic transformation, the APGA governorship candidate said he could will tackle the issue of multiple taxation nsimplify the taxation through digitization and curb the unlawful and unnecessary harassment of small scale traders in the state.
He said, "We are going to work with the state board of internal revenue to digitize the taxation system in the state. we are going to expand it, make it more open and more transparent.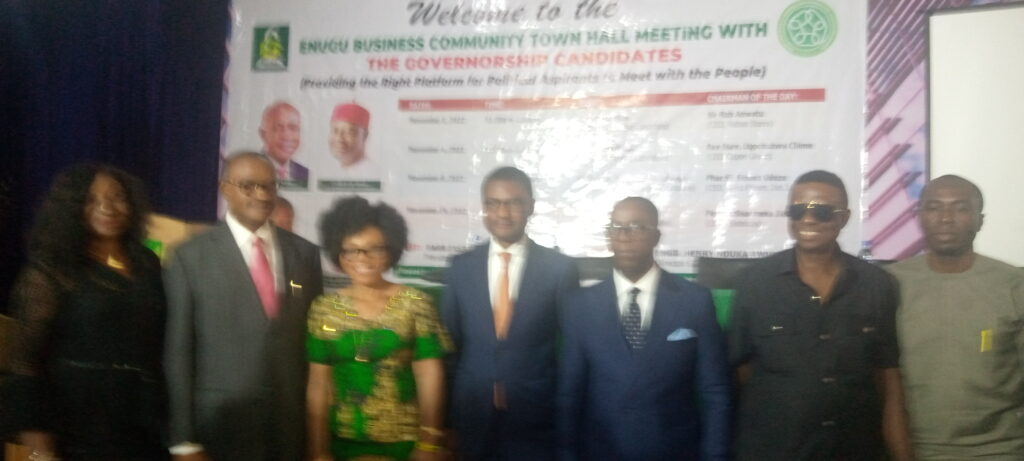 "We know about the multiplicity of taxation and levies administered by multiple agencies. There is no way business can strive under such circumstances."
He promised to restore trust in government and block all leakages in expenditure. Nweke Jnr. who served as minister of information in the country,,added that his administration would focus on creating wealth and harnessing the state comparative advantage towards enabling the people and their businesses to thrive well.
"One thing we will focus on  significantly ijs the issue of Economic Transformation, we will make a conscious departure from the politics of managing poverty to 6creating wealth, we will change the ideology," he said .
On corruption, he said he will have zero tolerance for corruption , assuring that public resources would be used for public good.
The former minister of Information promised to harness the youths in Enugu State and provide the enabling environment for them to achieve their potentials.
He said that it was time people took back the state and voted individuals with the capability to transform it, saying that he was the right person for the job.
"With the right leadership, we can leverage on the rich potentials in Enugu State to bring transformational leadership and make life better for our people," he said
He said that the 2023 general election was another good opportunity for the citizens to elect who had shown great passion to serve, insisting that if they failed to act fast, development might continue to elude the state.
On inclusive government, Nweke said he will not discriminate against non indigenes. He promised to harness the the oil and gas deposit in the state .
On water supply, the APGA governorship candidate said ,if elected, he will ensure supply of portable water in the state.
He also said he would improve on the security apparatus in the state and ensure teachers and pensioners were paid.
The APGA governorship candidate was accompanied by his deputy, Dr Edith Ngozi Ugwuanyi and supporters.